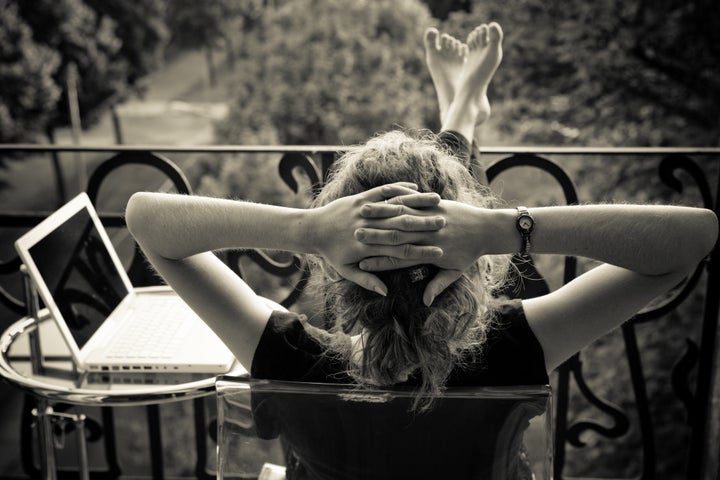 So here we are, another year comes to a close. Recently I spent some time reflecting on 2012. It was a big year for me: I finally listened to my yearning to leave my New York City box dwelling and move to California. I went back to school to study psychology. I re-focused my life on health and wellness.
But upon my arrival in sunny California, my new apartment was burglarized, my moving costs ended up being more than twice what I had anticipated and I found that being faced with the question of "what am I going to do with the rest of my life?" was more stress-inducing than exciting. I wondered if I had made a mistake. California was supposed to be my land of almond milk and honey, abundance, love, inner peace, health and yoga pants all day long, plus hot surfer boys. Isn't that what you get when you follow your heart? Wasn't I supposed to feel like I had finally arrived?
Well, I did find my surfer, and he is more of a man than a boy, but sorting out the rest is still a work in progress. Isn't life all just learning anyway?
Here are twelve things I learned for sure in 2012:
If there is a lesson you needs to learn, it will come up forever and ever and keep biting you in the butt until you have resolved the underlying issue. What you resist, persists. The unhealthy relationships you keep finding yourself in, the unbearably hungover state you wake up in and the fears you are a lousy human will pop up on your path forever until you deal with the root cause of these disturbances.
Your life is never good enough until you decide you are good enough -- just as you are. Yep, right now, in this moment. Not once you've landed your dream job, written your book or lost the chub rub between your thighs. Right now. Do I need to say it again? Right now.
I don't need to rely on someone stronger than myself. I've managed to travel the world, support myself since high school and make friends any place from a black tie gala to a campground outhouse. I have all the inner resources to get myself through anything. In other words, I don't need a Mr. Big, someone higher on the career ladder or with more social status to be okay. However, the next one is important, so keep reading.
Gratitude for benefactors, friends, family, teachers and those people who have helped me on my path is essential. Pay it forward.
Ugh. I hate this one, but it's true. When someone else really pisses you off, it is almost always because you have some part of whatever bothers you about them inside of you.
Goals are good, but what I'm really seeking to achieve is the feeling I want to feel when I get to where I want to go. I want to feel safe, happy, loving, fulfilled and peaceful. Getting the most exciting job of my career last year and moving to fantasyland didn't bring those feelings. I had to learn to blossom them on my own. How? By recognizing how I want to feel all the time and doing more things that make me feel that way. Easy breezy, right?
There is no such thing as balance all the time. Giving up the goal to live in balance and just be more present in the moment you are in is really the key. Being mindful in the present makes it easier to recognize what within our human experience must live and what must die. Then space opens for what is really important. The irony is how balanced you can feel when you let go of all that doesn't feed your soul.
Being present (yeah, that means iPhone off the table and ears fully open) is the best gift you can give someone.
My real life purpose is to embrace more and more of my authentic self, the real woman that I sometimes want to hide away in the closet because she's feeling bitchy and judgmental and wants to eat pumpkin pie every night from October until January. Sharing my unique gifts with the world is what I'm here for.
Love exists, you just have to turn your taxi light on and be available. That means you have to kick out the passengers that aren't paying the full fare first.
The old-fashioned ladies were right. Holding out on sex until you really know someone is the way to go if you're looking for a relationship. Hold out until it hurts. The benefit is that you will either realize you would never sleep with that person in a million years when you find out they have a collection of super heroes lining their bedroom walls and want to take you to a gynecologist on your third date to make sure you're ready to pop some good babies out (true story), or, if you finally decide to do the deed, it will be fireworks.
If you don't get your hands dirty, get messy and tend to your creative fire, you will go crazy.
And one extra in salute to 2013: A truly wise woman knows it is her duty to listen to the women that came before her, and continue to pass the torch.
Calling all HuffPost superfans!
Sign up for membership to become a founding member and help shape HuffPost's next chapter