In all probability, by now you have probably forgotten or given up on some of your goals for 2014.
I was standing in front of a Starbucks counter on New Year's Eve when I had the flashback of a New York City billboard about having an apple a day. Whatever its marketing ploy or subliminal messaging, it was decided, I thought, I would do exactly that. I had already not followed my own advice of doing pre NYE resolutions to a T.
As I get older, I'm mindful of keeping the doctor away. Only recently did a British study put the Victorian proverb to the test and found the phrase "an apple a day" has stood the test of time, helping in the fight of adults aged 50 and older against death and disease. The fruit holds a good chunk of dietary fiber and usually comes under 100 calories. Besides, the forbidden fruit doesn't count against Weight Watcher points.
It doesn't mean the apple's nutritional profile is perfect. An average apple carries 13 grams of sugar. But I've become somewhat of a sugar addict, and there's the underlying desire my daily intake will help curb my other cravings. What I've found in the last few weeks is, an apple cannot truly replace a meal everyday but I've been able to practice a little more control by snacking. If I can think it, I can try it until it sticks -- despite lapses.
I also discover more tidbits and small revelations through nature's sweetness: You see how quickly fruit browns, but have you ever noticed how your teeth marks in an apple? Were you really aware of the a variety of apples at farmers' markets and grocery stores? How's a red "delicious" and what's the origin of the name Macintosh?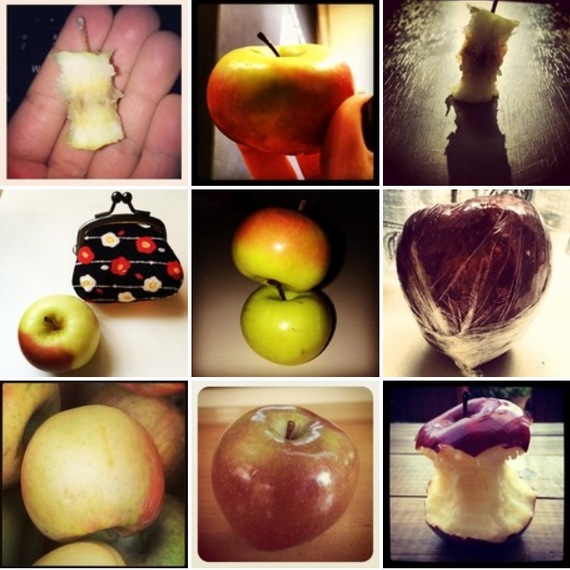 This project was designed from its onset to become a creative outlet. I've been documenting my apple-ventures with my own hashtag on Instagram (#koresolution2014), hoping to keep myself in check. Very early on, some of my friends/followers suggested other alternatives like apple pie or apple butter, but I'm not tired of an apple a day yet. I'm hoping it won't become an unhealthy obsession. And if banana is to Warhol as apple is to Magritte, perhaps this resolution won't define me necessarily but become a definitive spark into something better -- a newer me.
In addition, A is for ambition. I recently moved back to the city, and I'm promising myself that this year will be a happy, prosperous and fun-filled one. I'll likely spend less than $365 on this practice, plus, I'm open to it evolving. Time will tell, but I truly hope to report back in December with a different core. At best, it will supplant or remind me of my other objectives. After all, I'm just getting settled into the Big Apple once again, one purposeful bite at a time.
Related