You started gung-ho strong, diligently waking before sunrise, logging your runs, and keeping your FitBit and Garmin busy ticking off the miles. And then one morning you sleep in. And then the next, and the next. Before you know it, February is here, and all that pumped up new year running motivation has started to gasp for air. Even seasoned runners often feel a dip in their motivation and seek out a catalyst beyond their own personal or selfish reasons for running. Enter the charity race, because when your running become less about you and more about humanity, you can't help but get out the door in the morning.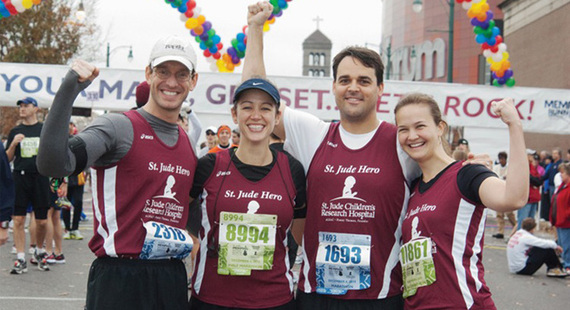 Three reasons to run a race as somebody's hero this year
Right now, the only person keeping tabs on your miles is you. And for some, that is enough. For others, they may need a little more, let's say, public input. When you choose to sign up for a race as a fundraising runner for a non-profit, you may need to canvass friends and family around the country for donations. And this means one thing: Since everybody knows you are training for a race, there is no backing out. Hence, that fear of shame that may accompany quitting turns into one heck of a motivator. Plus, when people generously open up their wallets for your chosen charity, they are also eager to read updates on your training, and share your enthusiasm for race day. They may even toss a few "You can do this!" messages your way. It often takes a village to get and stay in shape.
2. An entry into the big popular races
As half and full marathon running continues to gain popularity at Kenyan type paces, the so called "big" marathons have been forced to go to a lottery-based entry system. Translation: It may be years before you get to cross running the New York City or Chicago Marathon off your bucket list. Running for a charity? Then you are guaranteed an entry. The lists of non-profits with guaranteed race entry can usually be found on the race's website, or you contact your personal favorite charitable organization and see if they have a team joining the race. In addition, non-profits such as St. Jude Children's Research Hospital offer the opportunity to run as a St. Jude Hero for many well-known regional races across the country, both big and small. Can't get to one of those? No problem. If you have your own event or smaller local race, you can still run as a St. Jude hero by joining Team St. Jude. Non-profits endurance programs, like the St. Jude Hero program, offer simple to make and use personal fundraising websites, so collecting money and keeping track of donations are not a headache. All you have to do is train!
Sure, in the beginning, especially at New Year's resolution time, running is totally all about you. Maybe you have a few pounds to lose, blood pressure and cholesterol to get under control, or depression and anxiety you want to manage with exercise. After months of running and finally seeing favorable results, a time may come when your running may need to be about something, or someone, other than yourself. There are hundreds of worthwhile causes, hundreds of cures to be found, and an abundance of awareness programs and platforms that all need your support. And when you are struggling to get a through a tough workout, fighting to just get the miles done, it helps tremendously to remember those miles have the ability to truly make a real difference in someone's life. Someone you may never meet, but for whom the pavement and your effort will touch beyond comprehension. So on race day, when your legs feel limp, your breathing gets heavy, and you think you cannot go another step, know this -- there will be a spectator there, who because of your running is both a fighter and a survivor. And as a charity runner, so are you.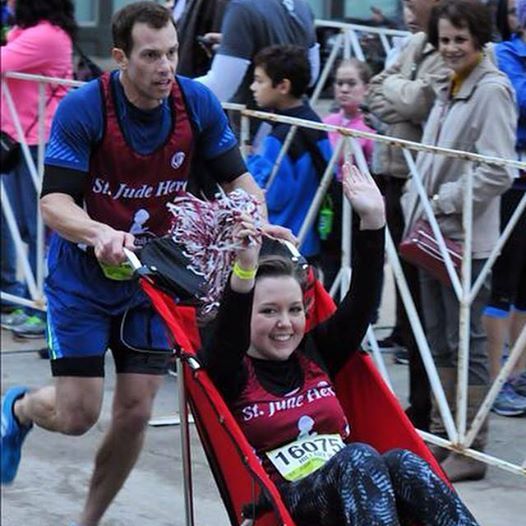 New York based health, wellness, and fitness expert Jay Cardiello, a St. Jude Hero, pushes St. Jude patient Hillary during December's Memphis Marathon.
For more information on St. Jude Children's Research Hosptial Hero program, and how you can run and be a hero, click here.
Ladies, do you need a basic training plan to run your first 5K, half, or full marathon? The women at Another Mother Runner can help get you moving.
Melissa Fenton is a humor writer. Find her in the laundry room, kitchen, or running through a pasture, and also writing about her four sons at 4boysmother

Facebook
and twitter at
Twitter
Related
Popular in the Community