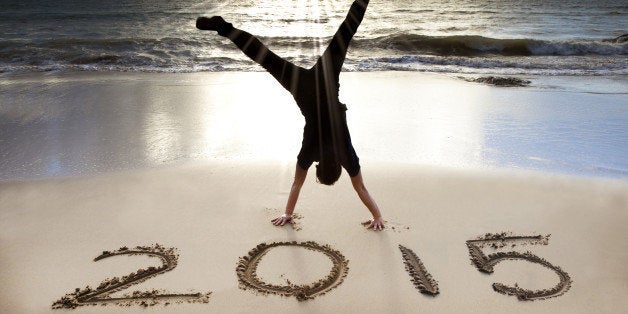 I don't do New Year's resolutions. I do New Year's slogans.
Like most people, I used to make resolutions and burn out before the end of January. So, I took the pressure off and felt like a slogan would allow me to still feel accomplished because I have the whole year to live out some cool slogan. I could certainly do that!
Some of my past favorites...
Drama Free 2009
That was a good year for dumping all the drama and dramatic people. I was recently divorced and sick of hearing about all the things I was supposedly doing. Taking the silent high road takes time for payoff. Only after time did the truth come out. It's interesting to note that 2009 was the year I booked the most acting gigs.
In It To Win It 2011
I started the year winning an IPPY award for my book, Stop Looking for a Husband: Find the Love of Your Life. My mother offered to take me to Paris to see my brother run the Paris marathon. We took the kids to Disney World and they were at the perfect magical age to enjoy every single second. We found out that we were pregnant again and this time, it was going to work. Webb began working for a race team and they win!
Love and Fun 2012
Poppy D made her appearance on Valentine's Day 2012 (backstory: She was the baby that I was told by a prominent fertility specialist here in Dallas I would never have without a donor egg.) We had family come in town quite often and the big kids had a great year! We went to Napa and San Francisco with three of my besties and their hubbies for the girls 40th birthdays. Talk about FUN!
Take It To The Next Level 2014
Each one of us has stepped it up something better this year. We finished December by visiting some of the tallest trees in the world at Big Basin -- talk about taking it to the next level. Webb is playing a New Year's Eve show with Randy and their band, General Session. You guys rock!
2015 is going to be the year of YES and Magic.
Saying yes to opportunities and little things that can make big differences. I chose magical thinking because we have three children that deserve a loving and magical childhood. The world will be harsh soon enough.
Wishing you a wonderful 2015!
Support HuffPost
A No-B.S. Guide To Life
Related
Popular in the Community