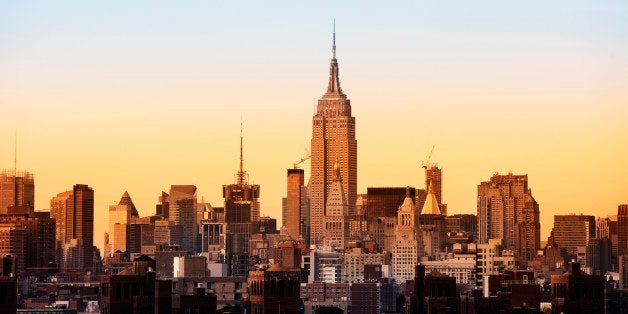 Breathe easy: New York City's air quality has reached the cleanest levels in more than 50 years, according to a statement released by the mayor's office on Thursday. Mayor Michael Bloomberg attributed the transformative results to his 2007 project, PlaNYC, an initiative aimed at creating sustainable green reforms around the city from better air quality to more affordable housing.
"Our PlaNYC agenda set an ambitious goal of having the cleanest air among the largest U.S. cities," BLoomberg said at a Climate Week event in the Lighthouse at Chelsea Piers. "Today's results show that we have already made major progress towards that goal, which is saving lives and improving the health of New Yorkers."
In the city's Community Air Survey, officials found that levels of sulfur dioxide in the air have dropped by 69 percent since 2008 and the level of soot pollution in the air has dropped by 23 percent thanks, in large part, to PlaNYC's Clean Heat program, which was aimed at reducing pollution heavy heating oils. Clean Heat was successful thanks to three key reforms: decreased amounts of toxic heating oils, lowered sulfur content in heating oils and expanded natural gas supplies and local gas distribution.
Over 2,700 polluting buildings have phased out toxic heating oils as of 2011 and there are currently 2,500 buildings working on conversions, even though the estimated 10,000 buildings in the city that burn toxic heating oils have until 2030 to make their reforms.
The cleaner air, Bloomberg said, is estimated to prevent as much as 800 deaths and 2,000 hospital visits due to lung and cardiovascular diseases annually, compared to 2008 records. Manhattan, northern Queens and the South Bronx achieved the greatest improvement in air quality through natural gas conversions.
"The substantial reductions in air pollution we're seeing translate into healthier New Yorkers who are breathing cleaner air," said Michael Seilback, Vice President for Public Policy and Communications at the American Lung Association of the Northeast. "As more buildings convert to cleaner burning fuels, we will see even greater health benefits."
To capitalize off of this momentum, the Department of Environment Protection also sent a proposed update to New York City's Air Code to the City Council. If enacted, this update will be the first major revision to the code in 38 years. The new code will update emission standards and focus on the most notorious sources of pollution like commercial cooking establishments.
Other green reforms like the addition of hybrid and electrical vehicles to the municipal fleet, reduced school bus emissions and zoning changes to encourage more transit-friendly development have all contributed to the current clean air levels, according to the report. The city intends to continue these efforts and officials predict even greater improvements to air quality and health in upcoming years.
Related