Crowds of protesters filled a New York City airport where migrant children who had been separated from their families along the U.S.-Mexico border were reported to be arriving late Wednesday night, carrying their few belongings with them.
The emotional demonstration at LaGuardia Airport in Queens ignited shortly after workers with the immigrant advocacy group Make the Road New York reported seeing several children deplaning around 10 p.m.
Walter Barrientos, organizing director for the group's Long Island office, told HuffPost that he and two other members had gone to LaGuardia after receiving a tip.
"Within minutes I saw a group of about four kids that were clearly being escorted out. They were all very small," he said, estimating the children to be between the ages of 4 and 10.
Barrientos said he had seen other children getting off flights and they enthusiastically stretched their legs and released pent-up energy. These four kids behaved differently.
"They looked very scared, they looked very numb. They were all carrying little plastic bags with the few belongings that they had," he said. "It just looked like it had maybe a piece of underwear, a T-shirt, a toothbrush ― it was that small of a bag."
An adult escorting the children to a van told one of Barrientos' colleagues that they were migrants and that they were being taken to a facility in Westchester County, New York. One of his colleagues tried to speak with the kids, Barrientos said, but they didn't respond.
"It was really heartwrenching, and that's why we made the call for others to come [to the airport] ― because we expected that there were other children coming, and there were," he said, basing his conclusion on photos of other arrivals posted on social media.
The call from Make the Road New York ended up drawing a few hundred like-minded activists, according to Barrientos.
"I think there were at least 250 people. We were spread across two terminals and there were people that were kind of walking in between," he said. "Throughout the night, some people came and went. But even at the end, we had at least 125 at the end of the night, if not more."
The protesters left around 2 a.m. Thursday, after the last flight had emptied, Barrientos said. Make the Road shared photos and videos on social media of the crowds who had gathered.
"We are here tonight to stand with the thousands of children who remain separated from their families," the ACLU tweeted.
The New York Times took video of at least seven boys being quickly escorted through LaGuardia after arriving from Texas on Wednesday night. It wasn't clear if those boys were among the children who had been separated from their parents.
More than 2,300 children have been torn away from their families in recent weeks as part of President Donald Trump's zero tolerance policy on illegal entry into the United States. Earlier on Wednesday, Trump signed an executive order that shifted that policy slightly by directing that children be generally kept in detention with their parents.
Barrientos, who noted that he had immigrated to New York from Guatemala at age 11, vowed that his organization would continue to follow developments and demand that the already separated children be reunited with their families and released.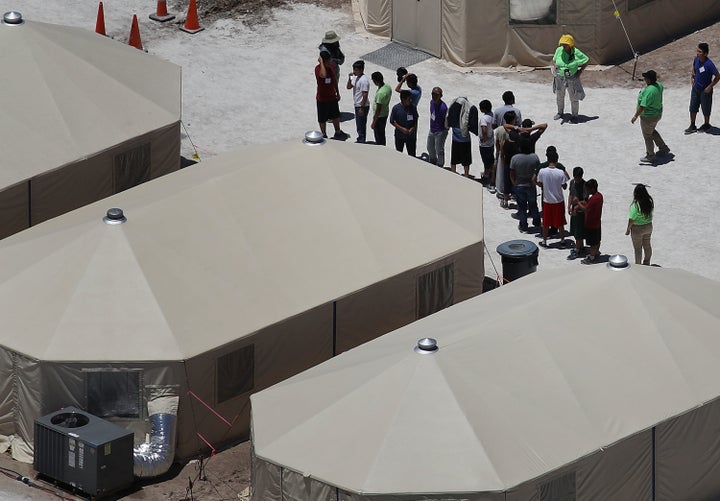 "They are going through the legal process of seeking asylum in this country and this country is changing the rules around on them," Barrientos said of many of the parents and children trying to enter the U.S. "We will have people monitoring the airports and we know that this probably won't end anytime soon so we will show up."
Also on Wednesday, New York City Mayor Bill de Blasio said that 350 migrant children had arrived at one of the city's social service agencies in Harlem. One of the youngest placed in foster care was 9 months old.
De Blasio said that the agency gave him that total and that the federal government was not providing city officials with the exact number of children being sent to New York. Gov. Andrew Cuomo's office also told The New York Times that the state did not know the exact number.