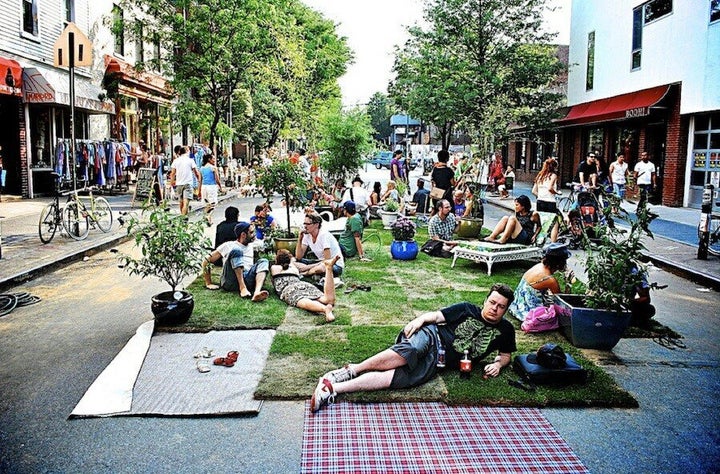 I first met Aurash Khawarzad in early 2012, when the Occupy Movement had gained significant local and international traction. Public spaces throughout Manhattan became heavily guarded by police patrol and the proliferation of iron barricades were clear indicators of preventative measures against Occupy reiterating in other public spaces. Aurash, founder of Change Administration and co-founder of the Brooklyn-based interdisciplinary collective DoTank has produced public interventions throughout New York as a counter-narrative to governmental urban planning and impersonal public spaces.
Intervening in public space with refurbished shipping pallet chairs, interactive community-curated billboards, and with the forthcoming exhibition for U.S. Pavilion at the 2012 Venice Architecture Biennale -- the works are visually provocative inasmuch as they voice groundswell in changing practices and interdisciplinary collaborations in art, urbanism and civic participation. Committed to exploring the multiple intersections between art and urbanism, Aurash speaks about creating the post-Hipster city, gentrification, and what it means to (re)build New York City from the ground up.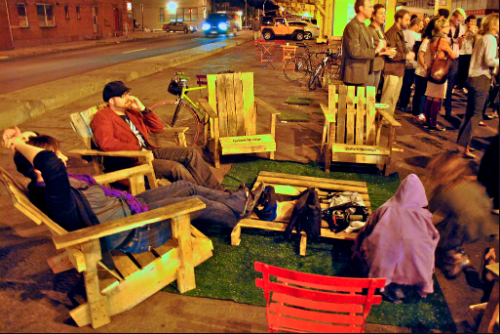 TT: How do you see yourself and your work fitting within New York city, how do you collaborate with such a diverse and interdisciplinary group of people? AK: I'm fortunate enough to live in Brooklyn, NY, where there's an incredibly diverse community of people and professions. And what I like to think we do is bring that diverse group of people together to work on immediate ways to improve the built environment. It's somewhat different than how planning, or even community activism, generally works, in that our collaborations are very broad, but there's immediate action that can inform the long-term process. TT: And how did DoTank and now Change Administration form? What was the impetus for the two organizations?
AK: I would say that they formed for two different causes. One cause is that there is so much talent and intellectual capital in New York that's not being harnessed for the benefit of planning, architecture, and design of the city.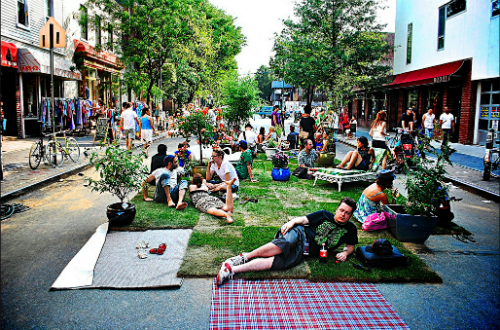 And the second reason my collaborators and I began these efforts is that we recognized a failure in the formal process of urbanism in adapting to new environmental realities/opportunities. One failure in the formal process that we want to confront is its inability to learn quickly based on experimentation. In our case we want to experiment in making better public spaces. Cities are built in a very formal and classist fashion, which is at odds with the good that rapid production and public participation can do for urban development.
TT: How you do get the community involved when putting work in public space?
AK: We work non-linearly when it comes to community involvement. It's not as much about gathering input from the community up front, then incorporating it into a design or plan, as much as it is developing a process that allows anyone to be much more involved in decision-making, skillsharing, and benefiting from what the project is. This may mean bringing people together by working on a public space intervention, then looking critically at what the project did, and how it can guide next steps.
For example, the project we are now starting with the Queens Museum and DSGN AGNC, creates a process for programming and installations in a new public space. The process will hopefully lead to long-term ownership by the community over the space. It's tempting to simply create something beautiful, but what would be more beautiful is people being empowered to carry out their own actions.
TT: And now the Chair Bombing project will be exhibited at the 2012 Venice Architecture Biennale as part of the U.S. Pavillion. How do you feel about presenting your work within an institutional setting?
AK: We're happy to be participating, and to be in such good company. I think it's evidence of a groundswell of support for rethinking the way cities are made. It may just be a pendulum swing, but it's a rebuke to the formal process, and privatization of space, that will hopefully be noticed by the profession.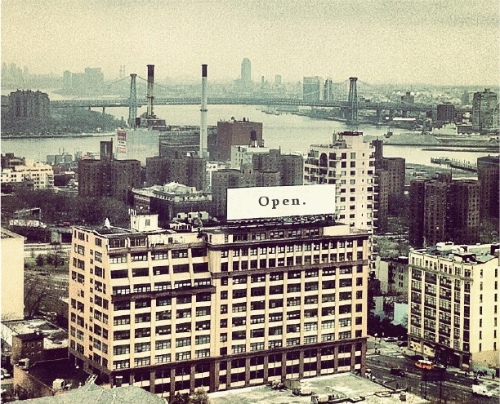 TT: You recently founded Change Administration in which the motivations of your work seek to advocate the model of a post-Hipster City, what is this concept?
AK: The idea of the post-Hipster city, is a city where we are stopping DIY-displacement, and we're focusing on creating equitable communities. Society has been subjected to an incredible increase in the disparity in wealth -- a significant contributor to that is hipster-level consumption. I think we're now at the point where many of us, even hipsters, see that the disparity in wealth and rapid gentrification have brought the city to a tipping point in losing what makes it special, which is diversity and a healthy commons, among other things. Now is time to pull back, and focus on contributing to a better city, not only consuming it.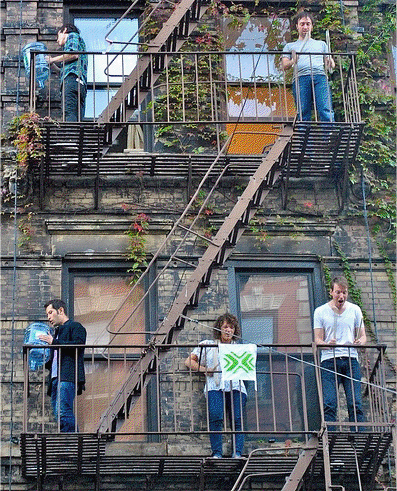 TT: Were you born in NYC? What is your ideal NYC? And how do you see yourself and your work within the city?
AK: I was born on a farm in Indiana, but that's for another time. I don't think there is an ideal NYC. It's a constant, beautiful, struggle. I just want the average person to be able to pay their rent, so they have a chance to enjoy the struggle.
Calling all HuffPost superfans!
Sign up for membership to become a founding member and help shape HuffPost's next chapter