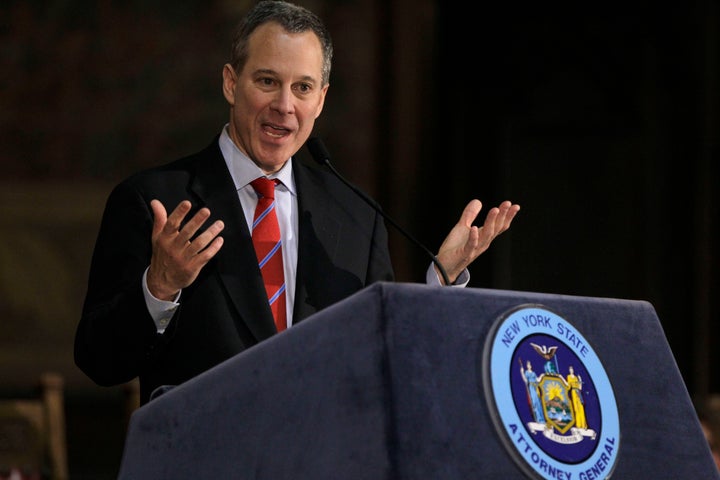 WASHINGTON -- New York Attorney General Eric Schneiderman on Tuesday was kicked off the committee leading the 50-state task force charged with probing foreclosure abuses and negotiating a possible settlement agreement with the nation's five largest mortgage firms, according to an email reviewed by The Huffington Post.
Schneiderman was one of roughly a dozen state attorneys general leading the talks with the five companies, alongside representatives of the U.S. Department of Justice, the Department of Housing and Urban Development and other federal agencies. The government launched the negotiations in the spring after widespread reports of foreclosure irregularities, such as so-called "robo-signing" and illegal home seizures, emerged.
Schneiderman, a Democrat who's in his first term as New York's top law enforcer, has been among a group of state legal officers who has also questioned the desire for a speedy resolution. He's leading his own investigation into mortgage improprieties, subpoenaing documents from the nation's largest financial institutions and reviewing court records for possible illegal home repossessions.
The Obama administration officials -- in particular, Treasury Secretary Timothy Geithner and HUD Secretary Shaun Donovan -- have publicly stated on numerous occasions that they want a quick resolution to the 50-state mortgage probe.
Sources said attorneys general like Schneiderman, along with the top legal officers from Massachusetts, Delaware and Nevada, among others, were complicating that goal by questioning the plan to scuttle the state and federal investigations in exchange for a settlement.
These attorneys general have said they're reluctant to sign on to an agreement that effectively kills their ongoing investigations or prevents new ones from being launched. Beau Biden, Delaware's top law enforcer, remains on the states' executive committee.
In a statement of support for Schneiderman, Biden said that the "events leading up to the mortgage crisis must be fully investigated, including origination and securitization practices, before any broad immunity is granted."
"The American people deserve an investigation," he added.
Top Obama administration officials recently reached out to Schneiderman and his allies, effectively requesting he get in line, people familiar with the discussions said. The New York Times editorial board on Tuesday declared that Schneiderman "should stand his ground in not supporting the deal."
The email announcing Schneiderman's dismissal from the states' executive committee was sent just after noon to more than 50 people by Patrick Madigan, a top lawyer in the Iowa Attorney General's Office. It read: "Effective immediately, the New York Attorney General's Office has been removed from the Executive Committee of the Robosigning multistate."
This month, Schneiderman accused Bank of New York Mellon, the 11th-largest U.S. bank by assets, of "repeated fraud and illegality" when it came to its actions as a trustee for various mortgage securities, and he accused Bank of America of fabricating missing documents when foreclosing on some homeowners who defaulted on their mortgages.
Bank of America's stock price is down more than 55 percent over the past six months. Investors haven't seen a closing price as low as Tuesday's -- $6.30 per share -- since March 2009.
The state and federal discussions with the targeted banks -- JPMorgan Chase, Bank of America, Wells Fargo, Citigroup and Ally Financial -- center on the banks providing distressed homeowners with reduced monthly payments, lower mortgage principal amounts or other relief in exchange for a release from liability for past illegal actions. An agreement could yield up to $30 billion to be used to allow troubled borrowers to remain in their homes or to help others move into rentals, according to people involved in the talks and documents reviewed by HuffPost.
The bigger the effective grant of immunity from potential government civil lawsuits, the more cash the companies are willing to pay to settle the accusations, these people have said.
The Obama administration, along with the top legal officers from other states leading the talks, including officials from Iowa and Illinois, has said the deteriorating state of the housing market should be a priority. By their reckoning, a resolution to these outstanding issues needs to be quickly achieved in order to save potentially hundreds of thousands of homeowners from foreclosure and to allow proper home repossessions to fully resume. Many companies halted home seizures last autumn after news reports of widespread robo-signing.
Foreclosures have since crawled to a halt, even though the number of homeowners delinquent on their mortgages remains sky-high, according to data compiled by Lender Processing Services and RealtyTrac. New delinquencies have ticked up, according to the Mortgage Bankers Association. Home prices continue to drop and are not expected to resume climbing until 2013, experts forecast.
Schneiderman is "committed to a comprehensive resolution," his spokesman, Danny Kanner, said in an emailed statement. "While we will continue to work with Delaware, Nevada, Massachusetts, and our other federal and state counterparts to achieve those goals, ongoing investigations by attorneys general cannot be shut down by efforts to settle quickly and those responsible must be held accountable."
Kanner said Schneiderman was removed at Iowa Attorney General Tom Miller's "prerogative."
Miller, through a spokesman, said that Schneiderman was "intimately involved in every aspect of this investigation and possible settlement" from the launch of the probe last October to this past June. Schneiderman was "on every internal [executive committee] conference call and participated in all conference calls and meetings with the top five mortgage servicers. As such, New York had a large influence on the actions and decisions of the multistate."
"Since that time, New York has actively worked to undermine the very same multistate group that it had spent the previous nine months working very closely with," Miller continued. "While we certainly respect the right of any state to choose to no longer participate in a multistate and to pursue another path, working to actively undermine a multistate while still a member of the Executive Committee simply doesn't make sense, is unprecedented and is unacceptable. Accordingly, today I informed New York that it is no longer a member of the Executive Committee."
Schneiderman's removal will likely make it easier for state and federal officials to reach an accord with the five banks. However, the potential amount of money they'll be able to extract will likely decrease.
Schneiderman, armed with New York state's Martin Act, can bring suit against alleged fraudsters without having to prove that they intended to commit fraud, a much more lenient standard than available to federal securities regulators. New York's top legal officer is investigating whether banks followed the state's laws when bundling mortgages into securities.
That probe could prove explosive.
"If mortgages were not properly transferred in the securitization process, then mortgage-backed securities would in fact not be backed by any mortgages whatsoever," Adam J. Levitin, a bankruptcy expert and professor at Georgetown University Law Center, told a congressional panel last November. Levitin said the problem could "cloud title to nearly every property in the United States" and could lead to trillions of dollars in losses.
The banks targeted by state prosecutors and federal officials would rather settle claims that they improperly bundled home loans into securities than allow those probes to continue. In exchange, they'd shell out more cash to help homeowners and help the Obama administration avert foreclosures.
With a settlement into those investigations seemingly off the table, the banks would likely be willing to pay less in penalties.

Related
Popular in the Community