Weeks after Pennsylvania's attorney general released a damning report on child sexual abuse in six of the state's Roman Catholic dioceses, officials in New York and New Jersey have promised to bring justice to victims in their own states.
On Thursday, New York's Attorney General Barbara Underwood subpoenaed all eight Roman Catholic dioceses in her state as part of an investigation into how leaders have handled abuse allegations in the past, a law enforcement source told The Associated Press.
Later that same day, New Jersey's Attorney General Gurbir S. Grewal announced the creation of a special task force to investigate Catholic clerical abuse in his state. The group, composed of detectives and prosecutors, will have the power to use subpoenas to compel testimony and the production of documents. 
"The [Pennsylvania] report revealed that sexual assaults on children ― and efforts to cover up such assaults ― were far more widespread in Pennsylvania than we ever thought possible," Grewal said in a statement. "We owe it to the people of New Jersey to find out whether the same thing happened here. If it did, we will take action against those responsible."
The new initiatives in New York and New Jersey come on the heels of investigations or reviews announced recently in Missouri, Illinois, Nebraska, New Mexico and Florida.
Pennsylvania Attorney General Josh Shapiro, who led a two-year grand jury investigation into Catholic clerical abuse, said he's heard from more than a dozen attorneys general and a senior Department of Justice official since his state's grand jury report was released Aug. 14. 
"Our work in Pennsylvania has spurred a movement ― the time for institutions to place their own interests above protecting our children is over," Shapiro said in a statement Thursday.
Tim Lennon, president of the Survivors Network of Those Abused by Priests (known as SNAP), said he hopes to see grand juries formed in every state. 
"I have not hope or expectation that the corruption of church hierarchy will be eliminated by itself," Lennon told HuffPost. "Our best protection for the safety of our children and our community is to have outside, independent investigations."
Unlike its counterpart in Pennsylvania, the New York attorney general's office doesn't have the ability to independently impanel statewide grand juries. Instead, Underwood's office said it is teaming up with district attorneys to investigate any punishable criminal offenses. 
The office announced Thursday that it has launched a civil investigation into how New York dioceses and other church entities "reviewed and potentially covered up" allegations of the sexual abuse of children.
Underwood and Grewal have both set up abuse hotlines that victims can call with complaints about Catholic clergy abuse. 
"The Pennsylvania grand jury report shined a light on incredibly disturbing and depraved acts by Catholic clergy, assisted by a culture of secrecy and cover ups in the dioceses," Underwood said in a statement. "Victims in New York deserve to be heard as well — and we are going to do everything in our power to bring them the justice they deserve."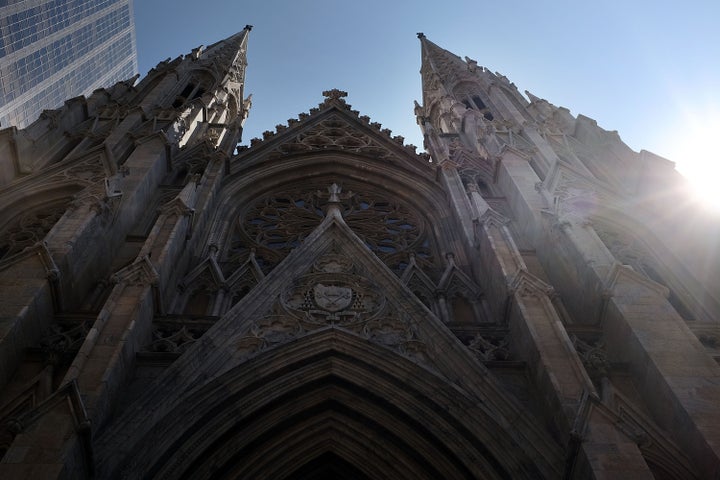 New Jersey has four Roman Catholic dioceses ― Trenton, Camden, Paterson and Metuchen, and one archdiocese in Newark. New York has seven Roman Catholic dioceses ― Albany, Brooklyn, Buffalo, Ogdensburg, Rochester, Rockville Centre, Syracuse ― and one archdiocese based in Manhattan.
Soon after news about the Catholic sexual abuse crisis first broke in 2002, the Archdiocese of New York and the Diocese of Rockville Centre were subjected to grand jury investigations, according to The Buffalo News. Both investigations found evidence of an effort by leaders to cover up the criminal conduct of priests. The investigations didn't result in any criminal charges.
Underwood has now subpoenaed the dioceses for church documents that record abuse allegations, payments to victims or findings from internal church investigations, AP reports.
It was access to these types of church documents that helped Pennsylvania's grand jury understand the scope of the crisis in that state. Jurors published an 884-page report that identified over 300 "predator priests" and over 1,000 victims in cases that stretched back 70 years. The inquiry was the largest, most comprehensive investigation into the scandal by a U.S. state.
The report included hundreds of pages of documents from the dioceses' secret archives that jurors claim suggest senior church leaders actively worked to cover up abuse and shield predator priests. 
Michael Polenberg, vice president of government affairs for Safe Horizons, a victims' advocacy organization in New York, said that obtaining these documents from the New York dioceses could help unearth decades of abuse and cover-up. Polenberg said his organization deeply appreciated Underwood's announcement Thursday.
"What the attorney general is doing is really laudable," Polenberg told HuffPost. "It's shining a light on the darkest secrets and giving all New Yorkers the opportunity to know what's happening in these dioceses."
Joseph Zwilling, communications director for the Archdiocese of New York, told HuffPost that his archdiocese received the subpoena on Thursday and is eager to work with the attorney general. He said the suspects the other seven dioceses will react in the same way.
"Since 2002, the archdiocese has shared with its 10 District Attorneys all information they have sought concerning allegations of sexual abuse of minors, and has established excellent working relationships with each of them," Zwilling said in an email. "Not only do we provide any information they seek, they also notify us as well when they learn of an allegation of abuse, so that, even if they cannot bring criminal charges, we might investigate and remove from ministry any cleric who has a credible and substantiated allegation of abuse."
George Richer, communications director for the Diocese of Buffalo, told HuffPost, "Our diocese will cooperate with any investigation initiated by the New York State Attorney General or District Attorney." The New Jersey Catholic Conference told the AP that the state's bishops will "cooperate fully" with an investigation. 
Along with launching an investigation into Catholic clerical abuse, Underwood is also urging New York's legislature to pass the Child Victims Act, which would extend the amount of time that victims have to file civil and criminal suits. One version of the act would also open a temporary window for victims to revive old cases that fall outside the existing statute of limitations. 
This last provision has been vehemently opposed by the Catholic church, which claims it would open up dioceses to financially crippling lawsuits. 
Frank McKenna is a 60-year-old SNAP member and Queens resident who says he was abused as a child by a priest in the Diocese of Brooklyn. After hearing about the New York attorney general's moves on Thursday, he told HuffPost that he feels "encouraged" ― but that this is only the first step.  
"What they really need to do is come clean, surrender their books, be accountable, clean house, if they want to survive," McKenna said of the Catholic church.
He added that he's hoping the investigations will push New York's legislature to finally pass a Child Victims Act.
"If this doesn't do it, I don't know what will." 
This article has been updated with New Jersey announcing its special investigation. Also added are comments from victims and victim rights groups, and the Pennsylvania attorney general.
REAL LIFE. REAL NEWS. REAL VOICES.
Help us tell more of the stories that matter from voices that too often remain unheard.
BEFORE YOU GO
PHOTO GALLERY
Pope Francis' Best Quotes