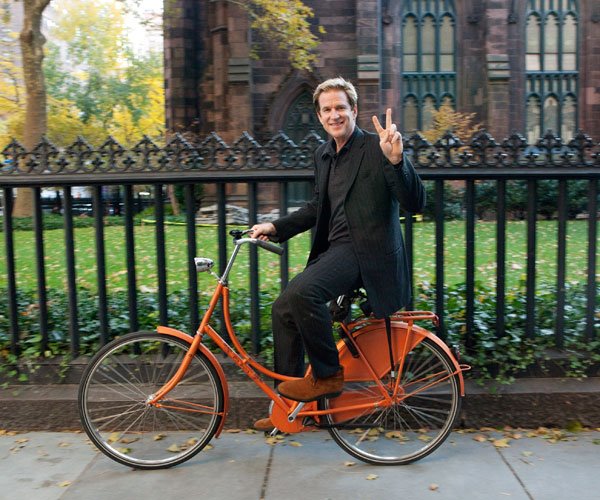 With the unveiling of the Citi Bike program this summer, all New Yorkers will have the opportunity to experience cycling in the city, and know the ease and joys of getting around town without needing to rely on the MTA or a car. In a two-wheeled state of mind, oM asked nine notable New Yorkers to share their favorite bike rides, and how they think the new bike share will change the city.
Actor and activist Matthew Modine likes to pedal up to Yankee Stadium, New York Cycle Club's Ellen Jaffe reveals her favorite long, leisure ride throughout NYC, and Velojoy's Susi Wunsch is partial to a breezy spin around Shelter Island.
Michael Musto, The Daily Musto Columnist at The Village Voice
Favorite Bike Rides: "My favorite ride is anywhere in Central Park, which is a green wonderland. When that gets too hilly for me, I enjoy the Hudson River Greenway, from way downtown all the way up. The river views are stunning, it's breezy and refreshing, and I've even seen geese on the road.
Bike Share Buzz: "Biking makes everything accessible -- I'm never late to appointments because everything seems 15 minutes away. Also, it's great exercise, it's invigorating, it's fun, it's cheap, and it's a way to view changes in the city up close and also to run into old friends and maybe some new ones. Bike Share is a great system. It's very nice when I'm out of town. But in NYC, I find it simpler and more effective to simply own my own bike or two."
Ellen Jaffe, President of the New York Cycle Club
Favorite Bike Rides: "I like to go for a leisurely ride across the Brooklyn Bridge, through Prospect Park, Ditmas Park, Sheepshead Bay, over the Maritime Bridge and onto NYC's own summer playground, the Rockaways. It's Rockaway Beach Club for lunch, sun, sea, and surfers. Then a reluctant return over the Cross Bay Bridge through the heart of Queens, till finally, the 59th Street Bridge! All will delight in the variety of streetscape, parkscape, and waterscape within 42 miles of NYC!"
Bike Share Buzz: "10,000 easily accessible bikes, conveniently located, will dramatically alter the behavior of New Yorkers, and I don't think it will take that long. The program is simply that attractive. With Citi Bike and broader bike usage, we see a coming acceptance of cycling as serious, viable transportation across the general population. This will inevitably make New York City a much more bike friendly town."
Matthew Modine, Actor and Director, Founder of Bicycle for a Day
Favorite Bike Rides: "I love riding everywhere in NYC. I don't have an automobile so my bike is my major mode of transportation. My favorite ride is from home in the Village to Yankee Stadium. So much nicer than the subway! You earn your beer!"
Helen Ho, Co-founder of POW! People On Wheels, Development Director of Recycle-a-Bicycle
Favorite Bike Rides: "My favorite bike ride is from where I live in Astoria, Queens to work in DUMBO, Brooklyn. I'm lucky to live by a bike path and I get to ride on beautiful bike paths along the waterfront the entire way to work everyday. It's a great way to start the day smiling.
Bike Share Buzz: I am extremely excited to see the bike share arrive in NYC. I look forward to welcoming new cyclists to city streets and I believe that it will be a great asset for creating safer streets and jobs for New York City. Huzzah!"
Paul Steely White, Executive Director of Transportation Alternatives
Favorite Bike Rides: "I have two favorite rides right now. Prospect Park to Brooklyn Bridge via Red Hook, and NYC to Rockland Lake roundtrip."
Susi Wunsch, Founder of Velojoy
Favorite Bike Rides: "One of my favorite summer rides is Shelter Island. The roads are quiet and shady, and there's a quaint feel to the place. Lunch at Sunset Beach on a weekday is like a mini-vacation to Europe. The $6 round-trip fare on the [bike-friendly] ferry between North Haven and Shelter Island is a pretty great deal, too."
Bike Share Buzz: "The bike share will have a profound effect by raising awareness of cycling among New Yorkers. For many people, those short rides will be the 'gateway drug' to buying their own bikes and experiencing all the fun and personal benefits of traveling on two wheels. Above all, I love the freedom that cycling affords. In the city, I never have to worry about waiting or delays. I just get on my bike and go."
Ken Podziba, President/CEO of Bike New York
Favorite Bike Rides: "I love cycling down the Hudson River Greenway and navigating my way up the East Side back to the George Washington Bridge. Pedaling past the Intrepid, gliding beneath the East River Bridges or maneuvering through midtown, nothing can match the incredible energy and dynamism of riding all the way around Manhattan. I enjoy riding through New York City without a map or plan, getting lost and exploring the amazing energy and unique personalities of these culturally diverse neighborhoods as one can only do on a bike."
Bike Share Buzz: "Citi Bike will dramatically improve the quality of life for New Yorkers. It will have a major impact on alleviating traffic congestion and making New Yorkers fitter and healthier, and allow for a new and wonderful sense of freedom. It will be an enjoyable and affordable way for New Yorkers to branch out beyond their own neighborhoods without having to wait for public transportation or spending a lot on taxis. I can't wait!"
Doug Gordon, Editor of Brooklyn Spoke
Favorite Bike Rides: "My favorite bike ride takes me from Park Slope to Williamsburg via the protected bike lanes on Flushing Street and Kent Avenue. I ride by the Brooklyn Navy Yard's restored and active buildings and very cool, creepy ruins that are overgrown with trees and weeds. Riding along Kent Avenue takes you under the Williamsburg Bridge and along the waterfront with its mix of old industrial buildings and shiny new condos, and you see where Brooklyn has been and where it is going. On weekends, I like to visit the Brooklyn Flea and Smorgasburg, and since I ride there I usually have an appetite for all of the delicious foods."
Bike Share Buzz: "Citi Bike will change the image of who cyclists are and what bicycles are for. You don't need special clothes or gear to ride, and cycling is usually the fastest way to get around in this busy town. It allows the freedom to go anywhere and, more importantly, stop anywhere. I've discovered more of New York on a bike than I ever would have had I stuck to the subways. I'm excited for more people to have the same experience."
Nona Varnado, cycling-oriented fashion designer of Nona Varnado
Favorite Bike Rides: "We're blessed to have tremendous variety, from the classic road ride 9W/Nyack to the fast and scenic Montauk and Hudson River Valley routes. Mostly I'm in love with my daily rides over the East River from Brooklyn into Manhattan. I love seeing the trees, side streets, people, cafes and parties that I would have missed any other way. It keeps me healthy, happy and I don't need a gym membership."
Bike Share Buzz: "The Bike Share has the potential to remove all hurdles required for riding a bike in the city, from the initial cost of buying a bike, to feeling safe and confident. I think most non-bikers will first notice people who don't look like 'bike types' riding around in all kinds of clothes, and the incredible diversity of the people of this city. The current cycling community is trying hard to create awareness with drivers and make bicycling a personal joy as well as a force for social good in health, energy efficiency, and urban planning. And since we're NYC, we'll also have a powerful impact on other cities around the world."
Calling all HuffPost superfans!
Sign up for membership to become a founding member and help shape HuffPost's next chapter