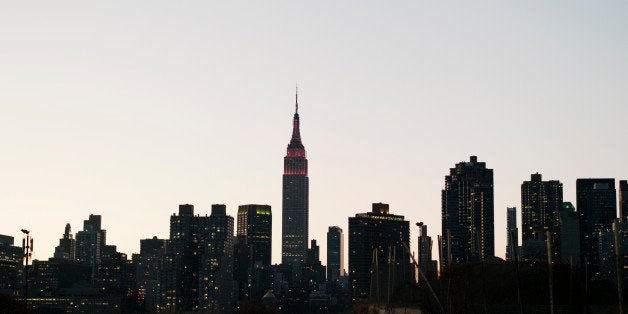 Joan Didion and, more recently, Ann Friedman, wrote about the complexity of the emotions they experienced when deciding to move away from New York City. Friedman wrote in an essay for New York Magazine, "New York is the prom king. He knows he's great, and he's gonna make it really, really hard on you if you decide you want to love him."
Although not always agreed-upon as an ideal place to live, New York City is home to writers such as Jonathan Franzen, Thomas Pynchon, Zadie Smith, and many, many more. Which is why, even if you're no native, you should pick up one of these quintessential books about New York City:

"Gotham: A History of New York City to 1898" by Edwin G. Burrows
New York City wasn't always a simultaneously dingy and glittering representation of The American Dream. Before Fifth Ave, there was Boss Tweed, and before that, there were seven years of British Occupation. If you're looking to read up on the history of the place you reside, or simply a place you find interesting, this book is the best way to do so.

"The Power Broker: Robert Moses and the Fall of New York" by Robert A. Caro
This biography reveals the great influence of a single man on the way New York City is run, and also offers insight into power structures, particularly regarding city politics.

"New York: The Novel" by Edward Rutherford
If you'd prefer your history lesson with fictional accouterments rather than straight-up, Rutherford's chronicling of New York since the 1600s is a fascinating read.

"Low Life: Lures and Snares of Old New York" by Luc Sante
Call in the people's history of New York. Sante spares you the details of glitz and glam in Old New York, and focuses more on the city's cramped living quarters and fast-paced entertainment scene, each lending to high crime rates.

"Here is New York" by E.B. White
White's love letter to the city begins with the paradox of its nosiness and the loneliness that often comes along with living there. John Updike called the essay "fresh," and complemented its "lightness and momentum."

"The Catcher in the Rye" by J.D. Salinger
Holden's romp around the metropolis may not say anything thematically revealing about New York, but it's fun to chronicle the monuments he visits while contemplating the phoniness of his fellow humans.

"Breakfast at Tiffany's" by Truman Capote
Speaking of phonies -- Miss Holly Golightly offers a glimpse at café society life in the city, and the perils of New York socialites (or those attempting to become socialites, anyway). Of course, Capote's classic is a moving character study that has a lot to offer, no matter where you live.

"The Great Gatsby" by F. Scott Fitzgerald
We don't need to sell you on this one; If you haven't read it, do. Fitzgerald makes literal the rift between the classes, makes palpable the summer heat, and makes sympathetic the characters who will do just about anything to achieve their dreams.

"The Age of Innocence" by Edith Wharton
A much more apologetic vision of New York's Upper East Side in the 19th century, Wharton's book lightly limns the dissonance between society people's manners and morals.

"The Bell Jar" by Sylvia Plath
Unlike other young women of her era, Esther Greenwood (a.k.a. Sylvia Plath, more or less) was not so enchanted with the city's fast-paced culture. Her observations about depression (likening the condition to the bell jar of the novel's title), and the restrictions placed upon women, are moving.

"Bright Lights, Big City" by Jay McInerney
McInerney's hyped-up, hazy party scenes evoke New York's yuppie scene in the 80s, but also are a keen insight into the materialistic nature of America at that time.

"American Psycho" by Bret Easton Ellis
A slightly less literal take on narcissism and materialism in New York than McInerney's book, but entertaining nevertheless. Even if you've seen the wonderful film adaptation, we suggest picking up the book to read about Patrick Bateman's exploits.

"Invisible Man" by Ralph Ellison
Ellison's book won the National Book Award for Fiction, and we can see why -- he discusses the issue of race in America, and in New York City in particular, in an inventive way inspired by Dostoyevsky's "Notes from Underground."
As ambitious as its title, Amis's story of a commercial director's downfall is yet another warning about the potential consequences of a materialistic lifestyle.

"Autobiography of Malcolm X," as told to Alex Haley
Malcolm X recounts his days living in New York, including his involvement in organized crime, his arrest, and his prison sentence, before his conversion to Islam.

"The New York Trilogy" by Paul Auster
If you must read only one mystery author hailing from New York, we suggest Auster, whose trio of novellas are more so metaphysical commentaries on obsession than they are your everyday whodunit tales.

"The Fountainhead" by Ayn Rand
Regardless of what you think of Rand (we'll venture a guess that you love her or, more probably, can't stand her), this novel, which is set in New York, is at least a remarkably interesting viewpoint on extreme individualism.

"The New York Stories of Henry James" by Henry James
Colm Tóibín edited this collection of James's stories set in New York, which, in spite of the author's far and frequent travels, would forever be considered his home.

"Motherless Brooklyn" by Jonathan Lethem
Lethem is a native Brooklynite, and tends to use the borough as a backdrop for his novels. "Motherless Brooklyn" is a genre-bender to be sure, and canters along at a page-turning pace, more so than his most recent release, "Dissident Gardens."

"A Visit from the Goon Squad" by Jennifer Egan
Jennifer Egan eloquently toys with themes of music and memory in her series of connected stories and characters, all somehow linked to the New York record biz in the latter half of the 20th century.