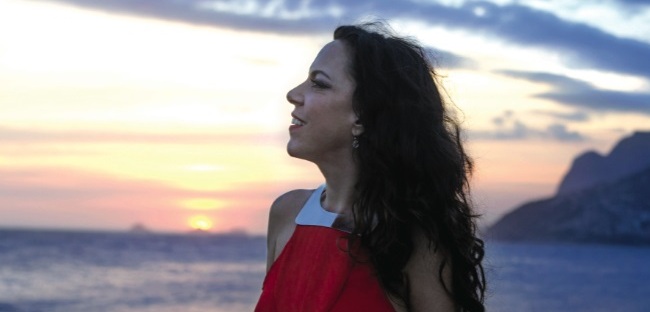 The World Cup is over but Brazilian music has an extra period for fans in New York.
For the multi-venue Brasil Summerfest, one of the headliners is Bebel Gilberto, who plays Celebrate Brooklyn at the Prospect Park Bandshell on July 18th with the singer-guitarist Vinicius Cantuaria. Gilberto, somewhat of a de facto New Yorker, is about to release her first studio album in five years, Tudo, a dreamy mix of bossa nova, light electronic sounds and soft ballads that will most likely satisfy her international fan base.
Though she is uncomfortable with the label, she is, for many folks, bossa nova royalty: Her father, Joao Gilberto is arguably the founder of the quiet sophisticated distillation of samba, and her mother is the singer Miucha, and her stepmother is Astrud Gilberto, the voice of "The Girl from Ipanema."
Though she said she was never received formal musical training, she had an apprenticeship that many would die for: She grew up improvising melodies over her father's guitar chord changes and hanging around with the superstars of Brazilian music such as her uncle Chico Buarque, as well as Caetano Veloso and Gilberto Gil. Though she had sang professionally from a young age, appearing on an album with her mother at seven and at Carnegie Hall with Stan Getz when she was nine, she recalled being nervous singing a few songs with her father at his return to Carnegie Hall in 1994.

A few years later, all would change for her with the release of the enormously popular Tanto Tempo, which made her the leading figure of what you could call Bossa 2.0, a chilled out electronic version of bossa nova. She said living in New York and London led her to re-imagine the music she grew up with. "I needed to drink the water from other kinds of music," she said.
She described the making of her new album as an "intense" experience in that it was recorded in a relatively short spurt of activity in Los Angeles, New York and Rio. She said that during the five-year absence, she recorded a DVD on the beach in Rio, and was busy with other parts of her life, which included a divorce from the producer of her last, Grammy-nominated album.
As she turned her attention to the new album, she wanted to capture all the emotions of her life, so the album was called Tudo, or everything. "I'm finally getting older," she said with a laugh. "I'm finally feeling the 40s on my shoulders as I'm approaching 50. When I recall my 20s, I was so much more anxious and nervous. Now I'm just relaxed... and could make this beautiful album."
Lincoln Center Outdoors kicks off a series of events based on the new Brazilian dance, passinho or "little step," that has risen, in part through social media, from the favela shantytowns of Rio. On July 22nd, Lincoln Center has a dance party at the David Rubenstein Atrium and airs a documentary on the passinho, which grew out of the sometimes-violent baile funk movement. The hyperkinetic dance is the focus of 45-second dance competitions that fuse break-dancing, samba, funk and other styles. On July 24th at the Damrosch Bandshell, there will be a staged passinho "battle" and on the 26th a family day in the plaza where kids can learn some of the steps from some of the top passinho dancers from Rio.
Other highlights of the festival are a night of acoustic samba from Casuarina at Joe's Pub on July 23rd. The group, not well known in the States, has been among the leaders of a resurgence in down-home samba in Brazil -- the intimate samba heard in a bar, though in this case, done impeccably. The group made its first US appearance at Midsummer Night's Swing recently and filled the outdoor dance floor with sweet harmonies floating along on the soft chatter of samba's irresistible swing.
The rising star Roge is appearing at the City Winery on July 22nd and at Meridien 23 on July 24th with a silky mix of pop and samba from his recently released U.S. debut album Brenguele. With several albums released in Brazil, the ruggedly handsome Roge was selected to host 10 mini-documentaries about Brazilian life for ESPN to use during World Cup coverage.
Appearing at Le Poisson Rouge on July 22nd is Arto Lindsay who was raised in Brazil by his American missionary parents and who became a somewhat unlikely musical link between the alternative New York "no wave" scene of the 1980s and the gentle swing of Brazil. On several of his albums and in guest appearances, Lindsay has paired his spikey "skronk" guitar playing and quirky English lyrics with whispery soft bossa rhythms.
New Yorkers, deal with the tropical weather the way Brazilians do and listen to some easygoing music.
Bebel Gilberto performing the title track of her new album
An older video of Gilberto that includes some home movies of her musical parents
Clips from the documentary "A Batalha do Passinho"
The Brazilian singer Roge
The sambistas of Casuarina
REAL LIFE. REAL NEWS. REAL VOICES.
Help us tell more of the stories that matter from voices that too often remain unheard.