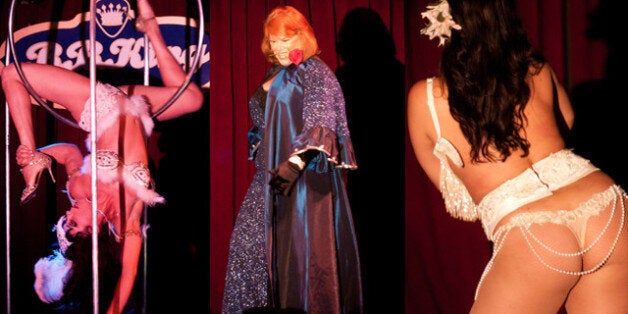 Oozing with sex appeal and dripping with rhinestones, Tiffany Carter was back in Gotham City Saturday, seducing a house of lip-biting onlookers at the 11th annual New York Burlesque Festival.
Carter isn't saying how old she is, but she first hit Times Square back in the shagadellic '60s -- and the last time she danced here, she was better known as Miss Nude Universe 1975.
But like Carter herself, the under-appreciated art of burlesque is making a comeback. More than 100 performers from around the world gathered to ruffle some feathers and tease some nip in celebration of the art of undressing.
Audience at the four-day event were treated to a birdcage-inspired aerial performance, and an ice cream sundae striptease, complete with a cherry on top of an NYU grad student's penis. But it was Carter who showed the new kids how the masters did it more than half a century ago.
"That's when a Trojan was a horse," joked comedian Murray Hill, host of the Saturday Spectacular at B.B King's Blues Club, as he introduced Carter.
Slowly unveiling her lush curves to the tune of Billy Paul's "Me and Mrs. Jones," the sultry veteran transported the crowd back to 1960s New York -- an era riddled with grit, erotica and seduction.
WATCH: BURLESQUE FEST HIGHLIGHTS (Story Continues Below)
Carter, a Burlesque Hall of Famer, is a legend in the industry.
Her career began at the infamous Pink Pussycat in Hollywood and as a go-go dancer in New York in the 1960s. Her fledgling career led to a global tour as one of the most sought after lusty performers. Later, Carter became a fixture in Las Vegas' showbiz scene.
"Tiffany Carter's a great integration of old school and new school. God, she was great," Hill told Huffington Post. "Back 15 years ago, people were asking, 'Is burlesque here to stay?' It's definitely here to stay, you can see it's its own division of nightlife now."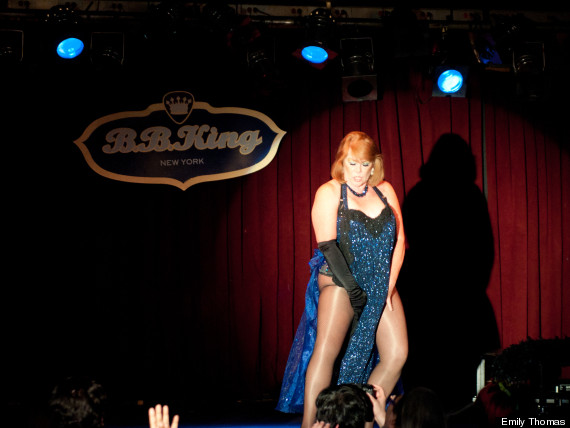 Unlike the performers' ease in disrobing and despite Hill's confidence in the industry, the history of burlesque is steeped in struggle.
Burlesque's origins date back to the 19th century, when dancers and comedians satirized the stage in variety show style. As it reached its heyday during the Great Depression between 1929-1939, naysayers began cracking down on what they considered pure vice.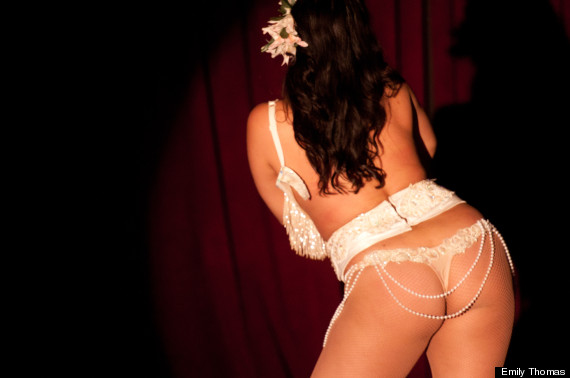 Coco Lectric, from Texas, stunned the crowd with a classic all-white ensemble.
"Most men were showing up to watch it mainly because this was their big chance to see a naked woman," Michael Musto, a Village Voice writer, told NPR.
In the 1940s, New York Mayor Fiorello LaGuardia essentially rid the city of the theatrics, putting an end to Times Square's gritty vaudeville houses, with burlesque narrowly surviving.
In the 1990s, nostalgia for the classic theatrics and glitzy costumes gave rise to a new cluster of performers, but with a modern twist -- this time with both men and women, gay and straight.
Today's acts are updated versions of the classic vaudeville act with modern dance techniques and mash-ups of salsa dancing, cabaret, striptease and comedy.
While burlesque is often compared to the kind of stripping seen at adult clubs, it's never been about sexual gratification, sleaze or the male gaze.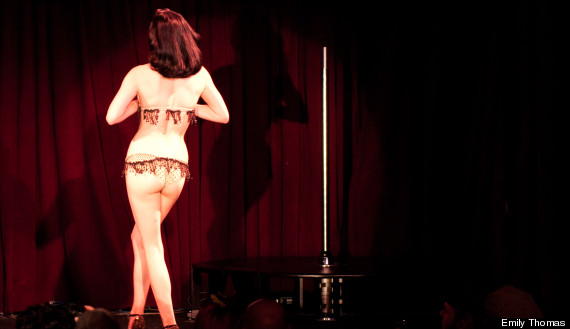 All we can say is Kitty Kitty Bang Bang made the crowd go meow.
"There's many types of women, shapes, sizes and everything performing. They're using burlesque to understand their sexuality and their bodies -- being confident in them -- and performing, not necessarily for guys, but for couples and for themselves."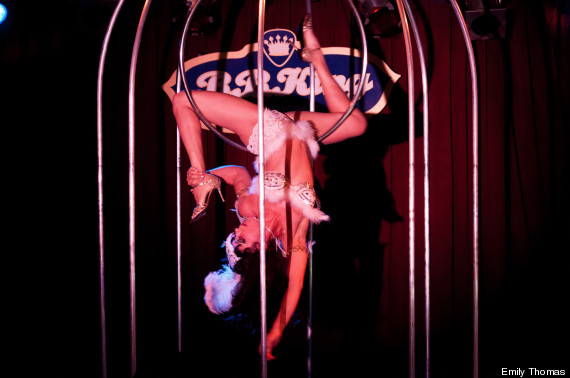 Aerialist Harvest Moon performing her birdcage-inspired act.
Support HuffPost
The Stakes Have Never Been Higher
Related
Popular in the Community