"You'll be there before you make it to the front of this line," he casually observes as I stand at the end of a 30-person lineup for cabs outside Penn Station. It's Friday afternoon, it's 86 degrees and I'm already melting, having just come in from Newark on the train.
It's my first time back in 20 years to the city I lived in when I was young and naive. I stand a bit stunned in the bright sun, my little rolly bag at my side.
I try to make him work for it, challenging the $5 a minute pricetag.
"It all depends on what you want kind of experience you want," he says, shrugging. "First you have to get to the front of the line, and then the cabs will be moving like this." He points to the street, where traffic is crawling forward only by inches at a time.
"Okay, how long will it take?" I ask. He asks for my destination, does a quick mental calculation and says, "16-17 minutes."
I'm too tired to even do the math, and it suddenly occurs to me that I have a perfect opportunity to ask and receive (my big thing these days). I've been a natural interviewer my whole life. People's stories fascinate me, and here's a chance to hear one more. No matter what the story is, it'll be the first time I ever got one while zipping through New York's canyons of steel.
"Okay!" I suddenly decide. "Let's do this thing." Me and my rolly bag center ourselves in the rickshaw-like cab attached to a bicycle, and off we go.
As we whip in between cars and trucks, swerve sideways and sometime double back, we discuss everything from NY transportation politics to the benefits of Turkish baths to...film. Because (of course) Jason is an actor.
He's originally from New York, and now splits his year between NYC and Los Angeles, where he acts and makes films. And his newest film debuts on Amazon Prime this Friday, June 17. Called Preying for Mercy, it stars Jason as a cop and Emmy-Award winning actress Martha Byrne, among others.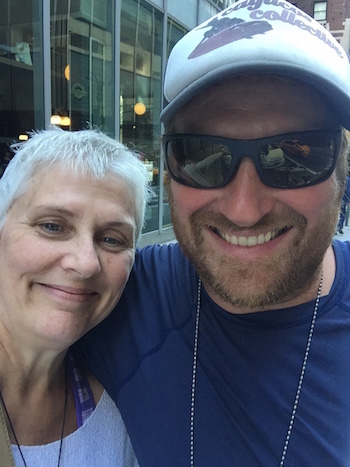 The glorious escapade is a fantastic re-entry into a world I'd almost, but not quite, forgotten.
The magic pulse of New York beating through the streets, bouncing off the skyscrapers, eventually seeping into you, merging with your own heartbeat.
Click here to see the whole crazy interview...
Calling all HuffPost superfans!
Sign up for membership to become a founding member and help shape HuffPost's next chapter