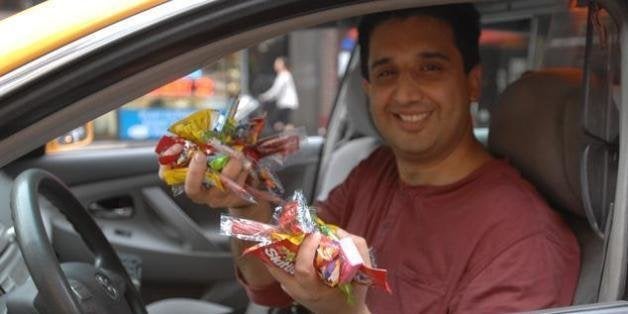 Mansoor Khalid has dedicated his life to making the mean streets of New York feel a bit nicer. Now it's time we return the favor.
The New York City cab driver decided to give his yellow taxi a makeover after his 2-year-old son died from heart disease in April 2012. As he began recovering from his tragic loss, he wanted to inspire a similar optimism in the minds of his passengers. For the past two and a half years, Khalid has shuttled countless residents and tourists throughout the city with a ride that promised sweet surprises from the candy itself to impromptu karaoke sessions beneath neon lights.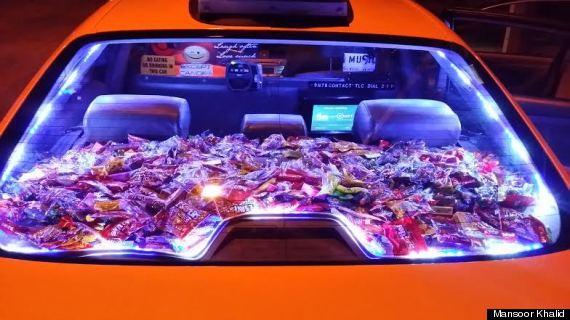 Khalid's old cab, decked out with neon lights, a karaoke machine, a sound system and plenty of candy for everyone

However, the fun came to a halt last week when Khalid's Toyota Camry broke down, according to TODAY.com. The car had carried him, his source of happiness and his means of employment for more than 215,000 miles, and Khalid is now searching for a way to hit the road again as soon as possible.
He decided to start by reaching out to the fans that have kept his CandyCab going since day one. On September 5, Khalid created a GoFundMe account to raise money for a new car that he can covert into his next joyful ride, reported the Daily News. He hopes to raise $50,000 with his campaign and has managed to surpass $3,000 in a less than a week.
"I'm just missing my CandyCab," Khalid told The Huffington Post in an email. "I love making people smile, laugh and scream... It makes me feel so great. And I feel like I can't live without it. Something big is missing close to my heart."
Khalid has also taken to social media since launching CandyCab, using Facebook, Twitter and Instagram to share the fun he and his customers have with the rest of the world.
Since the announcement of his suspended service last week, several fans have reached out expressing their gratitude for Khalid's service as well as hopes for his quick return.
Khalid even upped the stakes with his GoFundMe page, offering a free ride around town to anyone who donates $100 or more to his new CandyCab campaign.
Popular in the Community