NYC, May 2011. Aside from trying to pack ten days worth of clothes and shoes into a suitcase that seems to get smaller and smaller every time I use it, normally I'd think this would be an easy trip -- I'm a former NYC resident, with dozens of visits since under my belt. Dirty subway rides, rude cabbies -- I've done it all. I'm a veteran. But this time is going to be a bit different. Maybe because it's been a while since my last trip. Or maybe because I just had my second child about a month prior. Either way, it's bound to be interesting.
The first challenge -- taking a newborn and a toddler on a cross-country flight. I've mentally prepared myself for the death stares from other passengers as my newborn screams through the entire trip. Driving in LA, I'm no stranger to an angry glare or two. I can handle it. But to my surprise, there's nothing to handle. When it's 3 a.m. and all I want to do is sleep, the baby screams like it's her job. But when we're on a transcontinental flight, not a peep! And I swear Steve Jobs created the iPad for mothers with two-and-a-half year olds, because it manages to entertain mine for the entire five-hour flight. Not an easy feat.
We touch down in NYC and go straight to the Greenwich Hotel. I never thought I'd stay in a hotel owned by Robert de Niro -- the Raging Bull doesn't exactly inspire images of hospitality. But let me tell you, Bobby got it right. There's a relaxing pool and a gorgeous courtyard for sipping drinks with friends, and the decor is an interior designer's dream. Every room is different, packed with the most luxurious pieces -- Tibetan silk rugs, Moroccan tile work, buttery leather settees, and my favorite, marble bathrooms! It's perfect for anyone with an eclectic sense of style (me). Or someone looking for a cozy, peaceful place that feels worlds away from the busy city (me again).
But now for the most important part about the hotel -- the food! Locanda Verde is a great little Italian restaurant, and it's attached to the hotel, so I never have to go very far for my fettucini fix. Again, the decor is spot on -- casual and comfortable, but with an old-world elegance. Wooden tables, metal chairs, and a view of the wood-burning oven where they bake their amazing pizza. Shelves of classic books line the walls, but the shelves of wine are more my style, and they have plenty of those as well.
A fabulous pool. Luxurious rooms. Gourmet Italian whipped up for me at any time. The Greenwich Hotel is my dream house, but better -- it comes with room service. I could spend my entire trip lounging in the hotel. But I have to venture out at some point. So I strap heels on my feet, throw the kids in the stroller and prepare to get out and explore the city!
We only make it five blocks before I find Max. I peek inside at the dim-lit, romantic little restaurant, and decide to pop in -- just for a minute. After all, my Manolo-clad feet could use the rest. And this little gem does not disappoint -- amazing decor, even better food. With the best spaghetti bolognese, AND to-die-for lasagna, we have to go back three more times during our ten-day trip because I can't get enough!
Once I finally put my fork down at Max, we continue on our Tribeca travels, where we discover Tiny's & the Bar Upstairs just two blocks over. American food with "Italian undertones," the menu reads. Well, it says Italian, so I'm obviously in. But with "the Bar Upstairs," the kids are not. So I make a mental note to revisit with a different kind of kid in tow -- my younger husband. And we do, several times. With exposed brick, the original tin ceilings and a seemingly random assortment of furniture, it's a perfect hole-in-the-wall -- scratch that, the perfect hole-in-the-wall -- that makes us want to revisit over and over. Vintage, well-loved, antique -- whatever you call it, it feels completely different than all of the overly-manicured bars and lounges that litter the city.
On my vacation checklist I can now definitely tick the boxes for amazing restaurants and great bars. But all of these places were just pit stops on the journey to the mecca of Italian eating, Mario Battali's Eataly -- aptly named, since it makes me want to eat everything in sight. 50,000 square feet of restaurants and a gourmet supermarket? I might as well be in Italy, since the only thing this place is missing is the cast of the Jersey Shore. I restaurant hop through the entire thing-- a glass of rosé here, a cheese plate there, and finally -- what else? -- lasagna! But wait, there's more! My gluttonous journey isn't over without a shot of Nutella straight from the Nutella fountain. Yes, you read that right. There is a Nutella fountain!
Post lasagna binge, I wake from my food-induced coma and decide that I should overdose on something other than Italian food for a change. It's that time that comes during all New York visits -- time for Broadway! Like any good addicts, we embark on a true Broadway bender -- three plays in three days. First up, Book of Mormon.
The entertainment world is pretty cookie-cutter these days. Leading lady has a cute run-in with leading man, they date, there's some kind of misunderstanding, but in the end leading lady and leading man end up together -- sound familiar? The Book of Mormon is the cure to that disease, the Madonna to boring, early 80s pop music -- shockingly entertaining, politically incorrect, and completely unapologetic for it. The religious satire is dead on, and I literally laugh the entire time.
The Mother F**ker With The Hat is the complete opposite. If Book of Mormon is Madonna, then The Mother F**ker With The Hat is Metallica, because it completely stresses me out. The plot: the leading man sees his girlfriend with TMFWTH (the mother f**ker with the hat) who turns out to be his best friend, and they all spend the entire time screaming at each other. I can see his veins popping out of his neck and spit is flying everywhere -- it is so emotional I feel like I'm in the middle of their break-up. Like a train wreck, I can't keep my eyes away. Also like a train wreck, I'm glad it's not me.
Then comes the last leg of our Broadway journey, Sleep No More. This one isn't satirical or stressful, it's just plain crazy. It's an interactive play that takes place throughout a six-story building; we all have to wear masks, and we're not allowed to talk. It's like that Tom Cruise movie, Eyes Wide Shut, where everyone wears a mask. Only Tom Cruise could be here and I would have no idea because, well, everyone is wearing a mask. There are literally hundreds of rooms, the set designs are insane -- in one I feel like I'm in an actual forest -- and the actors are acting out the X-rated version of Macbeth. The trick is that you have to find them. I'm in a tiny corridor when all of a sudden it's flooded with people following one of the actors from room to room. Once I get over my claustrophobia attack, I follow them into the next room and I walk in on the craziest scene I've ever witnessed -- three people are dancing and two women are making out, one topless, as a bloody, dead baby hangs in the air and a strobe light flashes. This is all a bit too much for me, so I stay for about 45 minutes before grabbing two friends from our group and getting the hell out of there. Not an experience I would choose to have on a regular basis, but an experience nonetheless.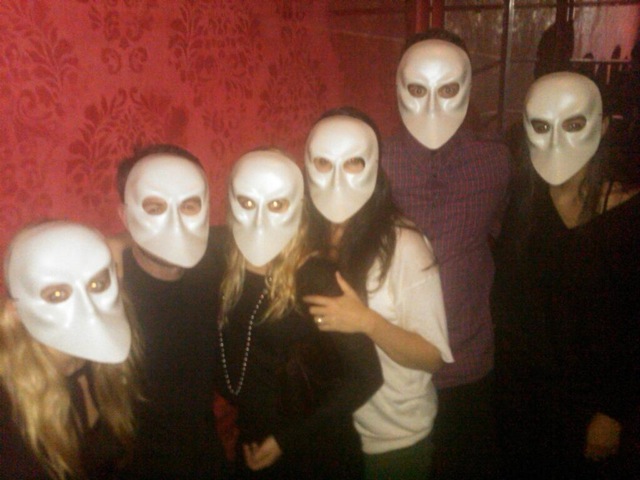 The next day, I nurse my New York hangover and take my family to Battery Park. My son runs through the fountains, weaving through the metal rhinos and elephants shooting water from their trunks. This gorgeous green patch sticks out in a sea of grey buildings, a few acres of nature in the middle of a bustling city -- yet another reason why I love New York, as if I need any more. The perfect end to our trip.
Every vacation boils down to two things -- food, and entertainment. And if you happen to be vacationing in New York City? Italian, and theater. To some, this might be considered a boring routine. But the best part about New York is that even if you only eat Italian and go to the theater, there's always a new restaurant to go to and a new play to check out. My family is from New York and I've come to visit my whole life -- hell, I've even lived here. But I'm 41 years old and this is the first time I really took advantage of what the Big Apple has to offer. Only I didn't eat any apples. Just lots and lots of lasagna.
Related