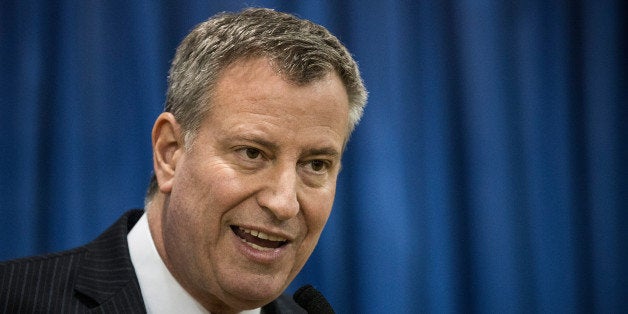 Last month, New York City mayor Bill de Blasio and Gladys Carríon, commissioner of the New York City Administration for Children's Services (A.C.S.), ended their partnership with two of the major adoption agencies of New York City. These organizations, Council on Adoptable Children (C.O.A.C) & You Gotta Believe, specializes in finding homes to foster kids that are endangered of ageing out of the foster care system. Back in March, when de Blasio & Carríon decided to cut the funding to these organizations, C.O.A.C. & You Gotta Believe had to stop their efforts in finding potential parents to the over 1,300 foster kids in the city.
Broadway actor and Sirius XM radio host Seth Rudetsky and his husband, playwright James Wesley, were among the last parents getting trained by C.O.A.C. when they found out the city had cut $1.2 million for adoption agencies. They immediately called the A.C.S. and started asking questions. Each foster care agency they were referred to by the A.C.S. informed them they were in business of fostering and not adoption.
During the March 17th committee hearing at the New York City Council, the A.C.S. commissioner, Gladys Carríon, was asked about her decision to terminate the city's partnerships to adopt older foster kids. She defended her decision by stating: "In my estimation, it wasn't a great loss [and it is] not a wise stewardship of the city's money." REALLY commissioner?! You don't think the city's investment in getting over 1,300 foster kids adopted isn't "a wise stewardship of the city's money"?!
That's when Mr. Rudetsky & Mr. Wesley decided to fight back against de Blasio and Carríon. With their petition on Change.org/FosterCareNYC, Rudetsky & Wesley are using their celebrity voices to get as many people to spread the word about Carríon's irrational decision. Wesley explains his decision to fight back,
"We were in a unique position to perhaps enlist our well-known friends to help spread the word about the need for these kids to be helped. And once we learned that these two agencies were the only ones in the entire city dedicated to finding permanent homes for the hardest to adopt kids in the city, well, it wasn't hard to convince friends to support us in our efforts to get the funds restored".
To date, the petition has reached over 5,500 signatures and counting. Among those signatures, some of the most influential celebrities have joined in the conversation. Some celebrities who have voiced their support include Rosie O'Donnell, Sarah Silverman, Rachel Dratch, Patricia Heaton, Sean Hayes, Idina Menzel, Perez Hilton, Kristin Chenoweth, Judy Gold, Rosie Perez, Debra Messing, Judd Apatow, and recently named one of TIME Magazine's Most Influential People in The World in 2014, six-time Tony Award winner Audra McDonald.
With no plans on giving up, James Wesley states "The people who really fight back are the kids who live within the confines of the foster care system day in and day out, and that goes for those really caring foster parents and case workers out there who do their best to protect these kids". He also points out "one-third of the older kids who are in the foster care system are LGBTQ. There is a huge need for foster and adoptive parents who will take these kids into their homes." Now with their lack of funding, these two adoption agencies will have a harder time getting these kids into permanent homes.
Join Seth Rudetsky & James Wesley in their efforts to restore funding to New York City's adoption agencies by signing the petition and sharing it on social media. On his radio show, Seth Speak on Sirius XM, Seth Rudetsky shares the alarming story of Brezan and her remarkable experience with the adoption agency You Gotta Believe.
Celebrity tweets for petition support:
Calling all HuffPost superfans!
Sign up for membership to become a founding member and help shape HuffPost's next chapter