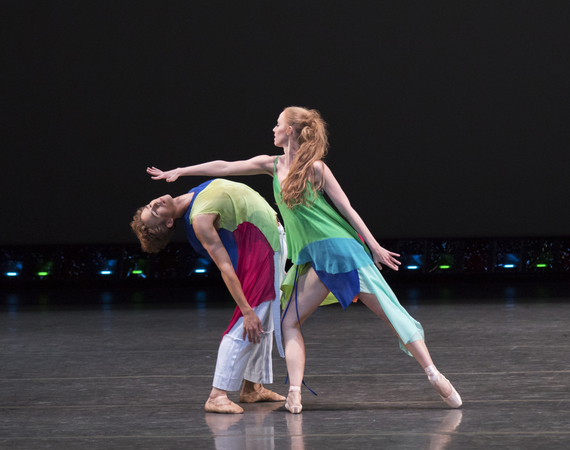 Teresa Reichlen and Joseph Gordon in Troy Schumacher's Common Ground with costumes by Marta Marques and Paolo Almeida. Photo credit: Paul Kolnik.
"Why are you stingy with yourselves? Why are you holding back? What are you saving for -- for another time? There are no other times. There is only now. Right now." -- George Balanchine
Balanchine lived in the 20th century -- every second filled with innovation and immediacy. When he walked into a room, he mandated intense focus, eyes sharp on the project at hand. His genius inspired other choreographers like Jerome Robbins to toy with the new movement dialect of his American ballet technique, which led to the creation of some of the most iconic repertoire of the time. Balanchine also brought out the muse-like qualities of his ballerinas, including Suzanne Farrell, Allegra Kent, and Gelsey Kirkland. In short, his life served as a catalyst for dance, ushering it into the present.
I remember the first time I saw the New York City Ballet, his legacy company. The plunging disappointment of it. This could not be Balanchine's troupe, his dancers who conquered the moment with energy and attack. They were... boring. Sloth. A sloppy Stars and Stripes closed the program -- one of the leotard ballets opened, and I cannot recall what lay in the middle, but I do know that for an 11-year-old, it dragged onward and onward. Since then, I have felt a certain level of betrayal from the New York City Ballet, as my memory never quite overcame the dismay of that night watching a program that was archaically lodged in the previous millennium.
Until this Wednesday's gala, which altered my outlook. The New York City Ballet has returned with all its relevance, strong and modern. The dancers are not "stingy." They are not "holding back." They exist in the "now," "right now." Balanchine would be proud.
The fall gala is in its fourth year, hosted by Sarah Jessica Parker and Adrienne Arsht. Up-and-coming choreographers pair with fashion designers to create interdisciplinary artwork, where the culminating vision is a mix of glamour from both the runway and proscenium stage. This season, four world premieres comprised the bill's beginning.
Polaris came first, San Francisco Ballet corps member Myles Thatcher's collaboration with Lebanese designer Zuhair Murad. Tiler Peck meandered into the light, her bejeweled grey dress radiating prisms into the audience. Seven others joined her in popping aqua, and the scene seemed a contemporary allusion to Balanchine's Diamonds. While the parallel cannot stretch much farther -- Thatcher is an original -- the choreography was intently articulate in its simplicity, much like Balanchine's. The ensemble stood in a row, canonically changing positions until one broke the chain, trailing off into a développé effacé, her leg soaring above. Peck pushed on Craig Hall's spine, rolling onto her pointe before turning her body corner-wise in fourth, her resistance and control smoothing every indication. At other times, Peck showed her verve and vivacity -- when her leg darted behind her in a devil-may-care arabesque, her body arching in an adamant "V." Indeed, she made the piece: Peck has come into her own. Last year, thousands of spectators (including myself) mourned the retirement of Wendy Whelan; in our opinion, no one could fill her shoes. While Peck's staccato temperament counters Whelan's andante, the former holds some of the latter's magic. She incites fascination with a captivating charisma that places her on an echelon above her peers. When, at the end of Polaris, her partner grabbed her by the waist and she disappeared into the wings, some of us didn't want her to go quite yet.
Next was Robert Binet's ballet, with costumes by Hanako Maeda. Both are young, eager talents, and they threw their heart and soul into The Blue of Distance. Set to a dreamy, swirling score by Maurice Ravel, the first image found a dancer in a press lift. She hung above six others, the breadth between them acutely visible. This warned of what was to come: a study of distance's dissonance. Binet has an extraordinary mind for setting movement in space. Almost always, there were three coexisting stories on display, and yet the aesthetic was not distracting or chaotic. Instead, Binet found a way for his dancers to relate, often without physically interacting. Couples made intimate tableaus while Harrison Ball leapt and spun on his own half of the floor, his open, expansive body language like poetry. Combined with Maeda's navy and white short tutus, the ambiance felt like a velvety night, where romance settles among the stars.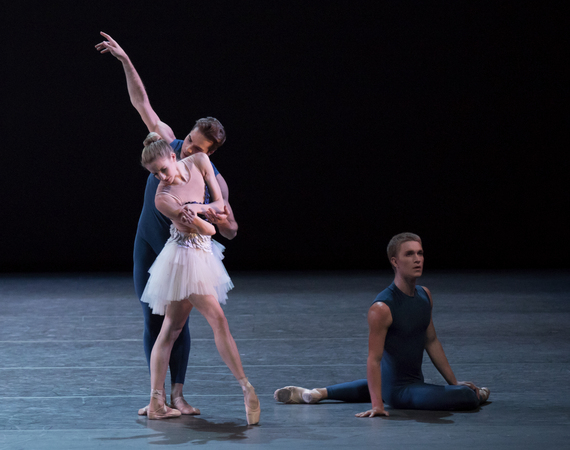 Sterling Hyltin, Gonzalo Garcia, and Harrison Ball in Robert Binet's The Blue of Distance. Photo credit: Paul Kolnik.

If the first two pieces were contemplative and Apollonian, the second half proved charged and electrified. Corps member Troy Schumacher's Common Ground was, by far, the best, most revolutionary work of the evening. With music by Ellis Ludwig-Leone and a wardrobe by Marta Marques and Paulo Almeida, everything was new, and looked and sounded new, not like a replica of something already conceived. In fact, Schumacher made his peers at the New York City Ballet seem fresh and young; they even smiled, like they might be having fun. Schumacher's Clearing Dawn at last year's gala was a cute and admirable first commission for the company. But Common Ground defied cuteness. It was alive and breathing, fueled by the enthusiasm of Ashley Laracey and Amar Ramasar, who in a duet, embodied the kind of nervous tension that we all feel when we accidentally catch eyes with a crush. Alexa Maxwell also stood out, and when Teresa Reichlen spiraled across the marley in a series of chaînés, her rainbow tunic threw flashes of color into the ether, like a green, blue, and hot pink fire circling its prey. The mood was naïve and wild as cascading strings on the costumes recklessly bounced in the air while dancers ran and jeté-d. Viewers could almost taste a sweet, Skittle flavor on their tongues: synesthesia from visceral overload.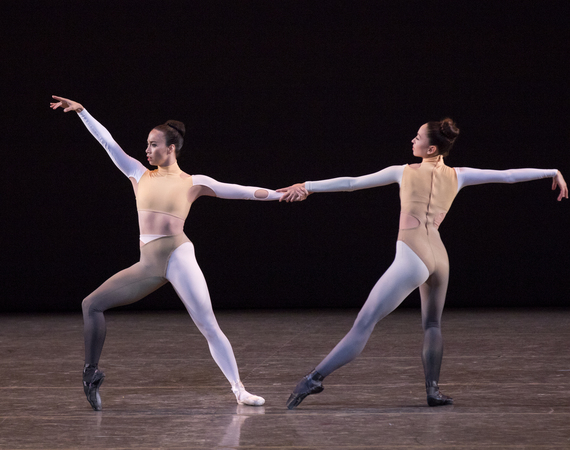 Georgina Pazcoguin and Meagan Mann in Justin Peck's New Blood. Photo credit: Paul Kolnik.
Resident Choreographer Justin Peck's debut, New Blood, came last. After Common Ground, it felt one-dimensional, but on its own, it definitely held merit. Peck, whom I have criticized for over-quoting Balanchine and Robbins in the past, has discovered a voice. New Blood had a postmodern thrust; dancers in full-body suits by Humberto Leon resuscitated one another, symbolizing the bodily systems that maneuver our flesh and blood. A man stood above a woman, her corpse motionless. With a pulsating gesture upon her chest, she revived, and so the action went. The piece felt like the rush from a Monster when the drink first hits you.
After intermission, Artistic Director Peter Martins' Thou Swell finished off the program. The work was first performed in 2003 and has a 1920s flare. It entertained for a while. The set by Robin Wagner, with its dominating mirror that reflected the dance from behind, was to die for. Costumes by Peter Copping exuded all the glitz associated with Oscar de la Renta. However, at most, the piece was honeyed. Its novelty proved a moot subject, for it had none. Still, it was a pleasure to see Robert Fairchild at the David H. Koch Theater again. After seeing him in An American in Paris, I'm convinced that he's the new Baryshnikov, and I would watch him do pliés for an hour without qualms. Paired with Sterling Hyltin, he had even more panache. They benefitted from the type of chemistry that '80s "it" partners Martins and Farrell are rumored to have shared.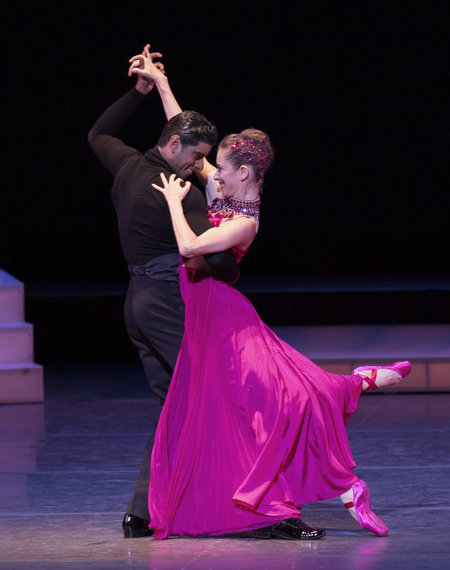 Rebecca Krohn and Amar Ramasar in Peter Martins' Thou Swell with costumes by Peter Copping of Oscar de la Renta. Photo credit: Paul Kolnik.
I was not sorry when Thou Swell concluded, but for a change, I was glad to have seen it. And with the premieres... well frankly, I was blown away. The New York City Ballet has new stars, new ideas, new vigor. Justin Peck said it best: New Blood.
Calling all HuffPost superfans!
Sign up for membership to become a founding member and help shape HuffPost's next chapter