Everything's coming up coronavirus, and it's leaving the Broadway community both unsure of what's to come but happy to know someone's watching out for their health.
New York Gov. Andrew Cuomo (D) announced on Thursday that there would be a one-month ban on gatherings of 500 people or more in New York City in an effort to help prevent the spread of coronavirus. The ban, in turn, shut the lights on Broadway for an unprecedented stretch of time, and performances are not slated to start back up until April 13.
While such a long intermission means potential protection from the virus, it also translates to unemployment for the many actors, musicians, ushers and crew members who keep the show going on.
"This was my only source of income right now because it's so time-consuming," said Annelise Baker in an interview with HuffPost, an ensemble member in the Alanis Morissette musical, "Jagged Little Pill."
"We're doing eight shows a week, and then on top of being in the show, I'm also understudying, so I'm doing extra work."
Baker, 27, says that prior to "Jagged Little Pill," she freelanced so she "could always go and get my fitness job back, but I also don't know what's happening in that realm either."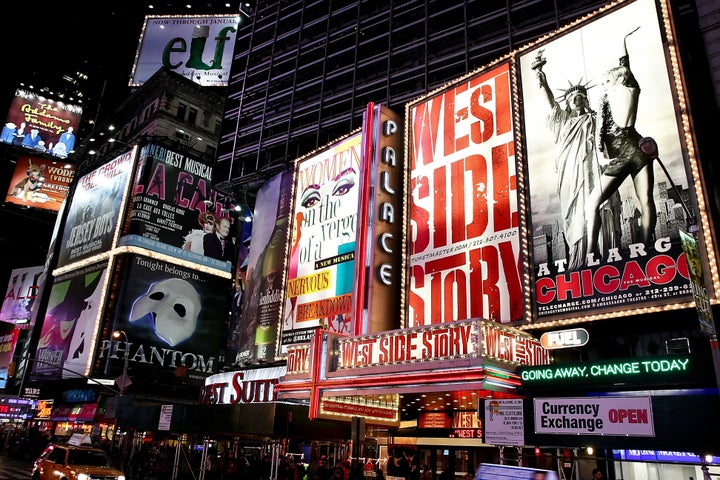 She said the whole ban feels "kind of crazy."
"I'm like, 'Whoa, I have a month off. What does that mean financially?' We're still figuring out through our union if we're going to get paid, what we're going to get paid. It's rather up in the air."
Baker's union is the Actors' Equity Association, the national labor union representing professional actors and stage managers in live theater. Its executive director, Mary McColl, addressed the concerns of the members in a statement released after Cuomo's announcement.
"Today's decision means tremendous uncertainty for thousands who work in the arts, including the prospect of lost income, health insurance and retirement savings," it reads.
"Equity will use all of our options to advocate for all our members and is engaged at all levels to ensure members are protected and paid. Now is the time for Congress and local governments to put workers first to ensure that everyone who works in the arts and entertainment sector has access to paid leave, health care and unemployment benefits."
The statement also implored the government to "act, and quickly" to protect both public health and "arts funding at all levels that ensures local arts employers have the resources they need to quickly recover and reopen." As of Thursday evening, it was still unclear as to what sort of payment and benefits those in the union would be eligible for.
In addition to Baker, other actors in the community shared their unsettled feelings on the ban on social media. Former "Hamilton" star Javier Muñoz posted a melancholy video on Twitter, indicating he'd be tightening his belt "extra tight" in the coming weeks.
Actor and singer Anthony Rapp also acknowledged the financial strain that coronavirus ban will cause, tweeting in response to the news of the ban: "The economic fallout on crew members, ushers, house managers, box office staffers — as well as, of course, actors, stage managers, and musicians — will be massive."
Former star of "The Cher Show" Stephanie J. Block said that, though her "finances may be emptied," her "heart, body and soul KNOWS this is the right thing to do for ALL."
Other actors on the big stage had more upbeat thoughts about the month off. "Hadestown" star Anaïs Mitchell sent "love to everyone — casts, bands, crews, ushers, fans, artists, producers, hell even critics" on Twitter before adding that she knows how "heartbreaking and hard this will be for so many... but I'm relieved to see some leadership that puts people before profits."
Kerry Butler of "Mean Girls" tweeted that she thinks the ban "is the right move to keep everyone safe," while music director Benjamin Rauhala quipped about the "ferocious vocal rest" everyone is about to get.
HuffPost spoke to usher Arthur La Motta, who has worked on shows like "Moulin Rouge," "Frozen" and "The Phantom of the Opera," about the ban, and he had plans to help others in light of it.
La Motta called it a "shame" that the suspension would be "quite suddenly depriving industry workers of stability for the next month," but he, luckily, has another source of income during the day. The account manager for a digital marketing agency noted that, though he's "saddened" by the ban, he knows others have it worse than he does.
"There are those who are not as fortunate to have a day job and must scramble for work or use savings accounts in order to make ends meet," he said. "I will spend my time taking care of my health and offering help to others who are in need."
As of this week, COVID-19, the disease caused by the novel coronavirus, has been declared a pandemic. It has killed more than 4,000 people worldwide. Spreading rapidly, it's unclear what state the city will be in when Broadway's lights go back up next month, but for now, "Hamilton" creator and star Lin-Manuel Miranda perhaps said it best.
In a statement to HuffPost in response to Broadway's shuttering, Miranda said: "Everyone's health and well-being are paramount. Sending patience and strength, wherever you are. We look forward to performing again as soon as it is safe to do so."
Popular in the Community