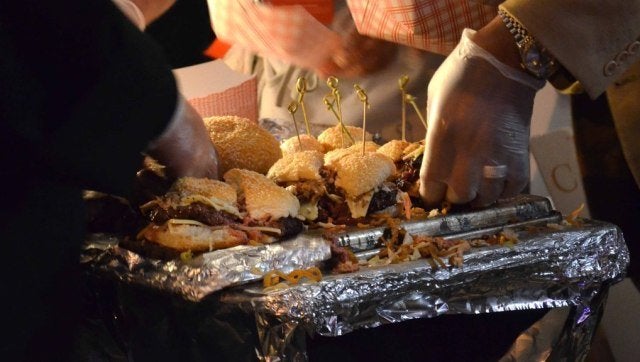 At last night's New York City Wine and Food Festival Burger Bash, hosted by Rachael Ray, 28 chefs grilled their burger creations for a ravenous crowd. The coveted People's Choice Award unsurprisingly went to Josh Capon (his third Burger Bash win!) for his Bash Burger (caramelized onion, bacon jam, pickles, secret sauce and American cheese) from Burger & Barrel. The Judges' Award went to Michael White from Ai Fiori for his White Label Burger -- the one we dubbed the most food-pornographic -- a juicy patty with bacon, American cheese, pickles and mustard strung with pommes dauphine on a skewer.
Though we liked the winners in both categories, we had five favorites that we happily would have eaten all night if we had had the room. Shake Shack's burger was an unexpected surprise -- a juicy patty with a bit of heat from chopped cherry peppers. Artisanal's burger, with a cheese "fondue" patty croquette, was a nice play in textures. The Capital Grille's wagyu burger with quail egg and crisp onions was a superb example of less is more when you use high-quality, flavorful ingredients. Good Stuff Eatery's Brit Burger was well-balanced with sharp cheddar and horseradish mayo. And, in a sea of mostly all beef burgers (there were veal burgers from La Promenade des Anglais and buffalo burgers from 21 Club), the Greek-style lamb burger from Molyvos was a revelation.
See all the burgers in the slideshow below!