It's easy to get overwhelmed by the challenges facing the environment. However, it's crucial to remember that we can all have an impact as individuals when our actions become collective.
Even in a town as hectic as New York City, I have come in contact with businesses that are making a commitment to ensure that personal responsibility is an integral part of their practices.
In the East Fifties, I happened upon a restaurant called Pizza by Certé. Despite a wide array of offerings from sandwiches and salads to soups and handmade pasta, I went for a basic Margherita slice. It wasn't until I sat down and looked around that I saw a mission statement on the wall. It emphasized a "dedication to consciousness," and stated, "If you are a pizza lover you can now enjoy a slice made with the environment at heart."
I had to learn more, so I connected with P.J. Jordan, Certé's Director of Client Relations, who walked me through the restaurant on behalf of owner Chef Edward Sylvia. Jordan told me that Sylvia came to the issue of "eco-friendly" food preparation because of his children. He was concerned about the future livability of the planet, as well as how processed foods were affecting young kids. Children pay the price for eating fast-food as they are linked to asthma and allergies. Sylvia spent twenty-four months working on his conception, with a year devoted to developing his pizza dough recipe. His goal was to promote awareness and preference for the "slow-food" viewpoint that he supported.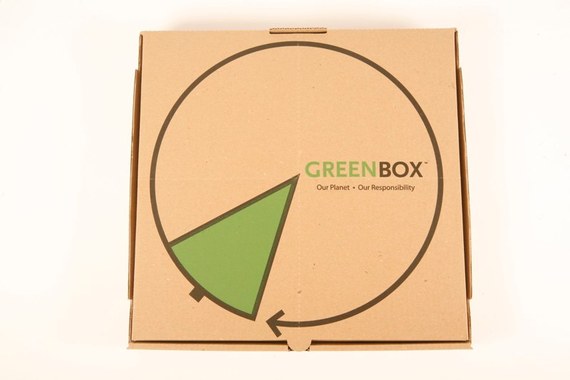 Certé's sustainable practices had me hoping that their vendors could be the wave of the future. They have "Eco-Pizza" packaging from Greenbox. The utensils and paper goods are biodegradable, and made from recyclable materials. Plates are reusable bamboo; drinking cups and containers are made from plant derivatives. Certé uses rainwater for "non-consumption" purposes, and all their deliveries reach their destinations by foot or hybrid truck. They have a "green wall" where fresh basil is grown. The cooking equipment has top Energy Star ratings. Jordan told me that Certé had received a "3 Star Certification" from the Green Restaurant Association. The restaurant composts each week in Brooklyn, where they maintain their own bin. Working to achieve a minimal carbon footprint. Jordan said, "It's all about doing the right thing."
This makes a difference because according to the U.S. Environmental Protection Agency, industrial and commercial energy use (from such sources as electricity use, product transportation, industrial processes, burning fossil fuels to power boilers and produce steam, and using gasoline to power vehicles) accounts for nearly 30 percent of total U.S. greenhouse gas emissions.
A questionnaire ascertained that 50 percent of customers responded positively to Certé's green values. Beyond their efforts, the food speaks for itself. The flour is unbleached and unbromated (an additive that is not permitted in the United Kingdom). Only fresh tomatoes and cheese are used. In the spring and summer, local produce is purchased. Ciagels, which are bagels made out of pizza dough, are top sellers. They are served with scallion ricotta or "housemade" strawberry preserves.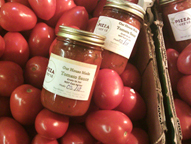 It's a definite jump from food to dogs, but pets are a major industry locally and nationally. Serving Manhattan and lower Westchester, Happy Panters bills itself as an "eco-friendly" pet service with a
philosophy of respecting nature. Run by Christine Brooks and Latoya Stephenson, they strive to balance the needs of humans and animals in sharing a common urban space. Brooks said, "We have only a few parks here that many people and pets share. It is our goal to preserve this concrete jungle the best we can." When it comes to "Poop" bags, Brooks uses a company that makes both recycled plastic and biodegradable products.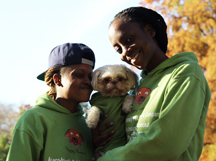 Earth Rated is a Canadian-based enterprise with an hilarious website and the tagline, "Just Pennies Per Poop." I buy their bags at my local pet shop. They too build directly on a green identity, looking at pet waste disposal as an issue to be seriously addressed. I reached Tara Garland, the company's Project Manager, who explained the Earth Rated products to me. She wrote via e-mail, "Earth Rated offers two types of bags. Our green bags are made from high and low density polymers and contain an EPI additive that helps them break down in approximately 24 months--unlike traditional bags. Our white compostable bags are made from corn, with no enhancements added to speed up the degradation process. These white bags do best in municipal compost facilities, where they are tested to degrade in as little as 45 days."
Their packaging and the cores of their rolls, are made from recycled material, which in turn can be recycled. Garland stressed, "One of our goals is to create the least amount of waste as possible." Bags with minor defects, but totally usable, are offered as a donation to shelters are rescue operations.
The principled attitudes of these businesses keep me hopeful. Consumers need to speak with their pocketbooks to support those who are making sustainability a building block of reshaping attitudes and business practices.
Calling all HuffPost superfans!
Sign up for membership to become a founding member and help shape HuffPost's next chapter