All right. All right. I heart New York. Yes, more than I ever thought I would.
Unlike so many, the big city known as the Big Apple was never a place I longed to go. Maybe that's why it took me until now to make my first trip there as an adult. It was our teenage daughter's idea, actually. A theater buff and a soon-to-be college student, she was dying to see Broadway and to check out some east coast campuses.
Me? I grew up near Chicago, the second city, and now live in the San Francisco Bay Area, arguably one of the most desirable places to live in the country. Sure, I'd heard the wild praise for New York that most everybody who lives there seems to offer. In fact, it seemed that New Yorkers never shut up about their city's superiority.
Sure, I was biased. Chicago was my kind of town. And I was pretty sure all the New York City bluster about how there is no other place like it; about how it's the city that never sleeps; the crossroads of the world etc. etc. was all bull. To get ready for our trip, I borrowed from the library The Out of Towners, the 1970 Jack Lemmon/Sandy Dennis classic about a couple's trip to New York, in which everything goes wrong.
So, I set off with my wife Alice, and daughter Riley ready to be bullied and ripped off, maybe robbed and certainly stressed out. Instead, I was delighted and enlightened. I was exhilarated and inspired.
It turns out there is no other place like New York. It is a throbbing mass of humanity, streaming through the streets like a rushing river, changing course to maneuver around buildings, bags of garbage, knots of tourists, yellow cabs, street construction, bicycle messengers and pizza delivery folks. And those are just the pedestrians, who are crazy, rushing across the street with or without the light as speeding cars blast their horns and swerve madly to preserve life. New York is an expensive noisy, chaotic place with a panoply of odors, some pleasant, some decidedly not, that assault the senses.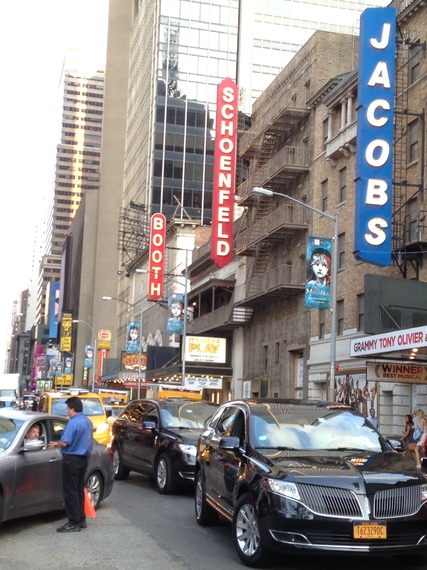 And it turns out I was so wrong about so much about New York. I was certain that New Yorkers were rude, selfish, cut-throat and uncaring. Tell that to the gate agent at the Port Authority Bus Terminal, who calmly and kindly told me that we were nowhere near the bus to Hoboken, not even on the right floor. Rather than expose me in front of my family for the dufus I was, he gently and non-judgmentally took my ticket from me and inserted it into a reader that told us exactly where we needed to go to get the right bus.
Or tell it to the guy with the sandwich board advertising a strip club who was standing on Chambers Street. He first apologized for the flesh he was peddling ("I'm just doing a job.") when I asked him for directions to the World Trade Center. He then kindly pointed out that One World Trade Center -- the country's tallest building -- was towering over us and providing a powerful hint as to which way to head. Happens all the time, he said, as we shared a laugh.
Strangers on the street, who inevitably collided with us or cut us off as we walked through the mad house of Times Square, actually said "excuse me" or "sorry." Not all of them, but I was much more prepared for a quick cuss than a sincere apology.
I assumed Broadway musicals were overpriced spectacles that amounted to a regular play interrupted by singing, the way a ballgame on TV is interrupted by commercials. Wrong. We took in two shows -- Violet and Pippin -- packed with hard-working professionals who moved me to soaring places and at times skillfully placed a lump in my throat. Yes, a lump in my throat, as in when the night's stars emerged from the theaters' stage doors after the show and took the time to stop and talk to fan after fan, including my daughter.
I underestimated the power of standing at the base of the Empire State Building, of seeing name after name of victims etched into bronze around the vast pools at the place where the Twin Towers stood until Sept. 11, 2001. I underestimated the power of sailing past the Statue of Liberty on the Staten Island Ferry and of explaining the significance of Ellis Island to a couple visiting from Ecuador.
I was completely oblivious to the theater that plays out on nearly every street every day: office workers rushing for the subway; modern push cart sellers pushing sausages, fresh fruit and doughnuts and coffee; streetwise entrepreneurs rising to the occasion, like breaking out umbrellas for sale as soon as the rain starts to fall.
The Chelsea Savoy Hotel, where we stayed, had a beautiful room in which the hotel offered coffee, tea and bagels in the morning. The dark woodwork was offset by bright stained glass dividing the space from the lobby. In front was a large window out onto to 23d Street. I'd sit in front of it with my enormous bagel and watch commuters rushing for the subway, couples bickering about who knows what, bikes dodging cabs and other traffic as their riders pedaled all out.
You just never know what you're going to see where. We spent one Sunday morning in Central Park, watching joggers, horse-drawn carriages and pedicabs that will take you anywhere you want to go for $3.25, a minute, per person.
As we strolled through the park, we faintly and then more clearly heard beautiful violin music. It was classical music, a piece I would have recognized if I were more cultured, perhaps more New York. But it was soothing and lovely and we started to move toward it. And then, there she was; through the bushes, a tall slender woman in white slacks, standing ramrod straight and playing intently.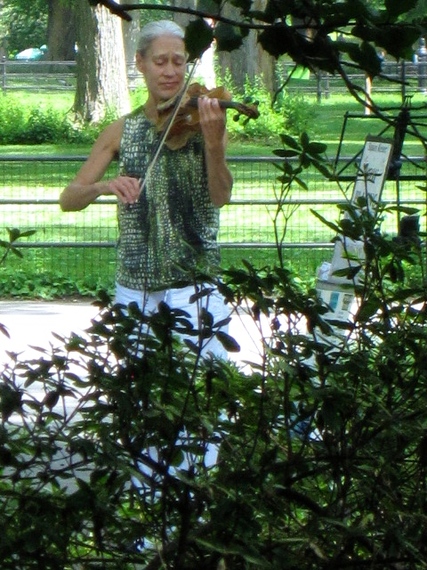 The bustle and bluster, the hurly-burly and chaos all faded as the notes floated up and out. There is no telling how much sanity this violin-playing woman has saved in a city that can be crazy -- crazy like no other.
Mike Cassidy is BloomReach's storyteller. Reach him at mike.cassidy@bloomreach.com