There is absolutely nothing quite like Erika Klash. While her eye popping and outrageously creative looks were a given, her overt wisdom and whip smart observations on everything from "Drag Race" to her inspiration for her drag style. Her foresight to see what could potentially be ahead was refreshing; and the ability to merge styles like "Gaymer Makeup" and "Kawaii Desu" are what could potentially take this artist to the next level. We sat down for a chat on her style influences, her thoughts on "Drag Race: and what gives Ms. Klash her pride.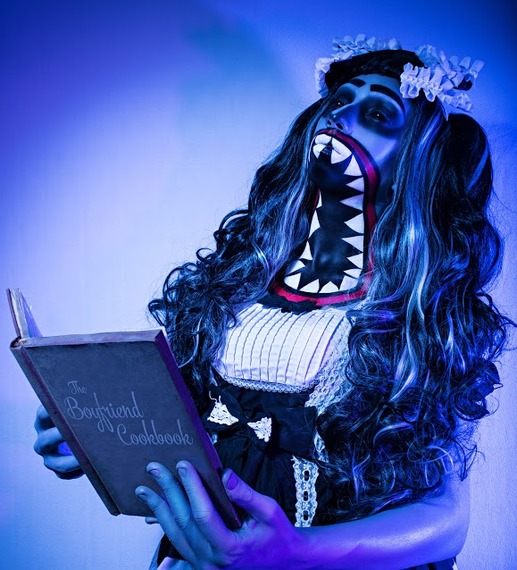 For those that have never seen Erika Klash on stage, how would you describe your performance style and "drag" as a whole?
Erika Klash is New York City's video game, anime, and harajuku drag queen. I'm a living cartoon character, both in terms of my looks and how I perform. My looks are colorful, vibrant, and kooky. My numbers are over the top, ridiculous, and animated. Comedy is at the core of what I do on stage, and I have a deep love for the "more is more" perspective on drag.

You are known to perform some of the most creative and interesting tunes. How do you choose your material? Any favorites that really stand out?
If I am performing to a song, I try to pick songs that either have lots of room for innuendo or fun lip sync potential. More often than not though, I am performing to mixes, which are a mixture of spoken word clips and music. I have a background as a playwright, so when I develop mixes I look at it as a four minute, three-act piece of theater, and structure each track accordingly.

You have some of the most eye popping and creative looks arguably, in the national drag scene today. How do you come up with some of your most stunning looks? What are some of your personal favorites that you have gotten to showcase?
I try to have a clear definition of my aesthetic, but also a broad set of skills that I can use to pull a variety of looks together. I have standard drag cosplay looks. I also do "Gaymer Makeup" looks, which are makeup-centric character illusions. What has really taken off recently is my "Kawaii Desu" series of looks, which mashes up Japanese street fashion with drag aesthetics and traditions. I like to impose drag standards and practices onto a lot of wacky ideas!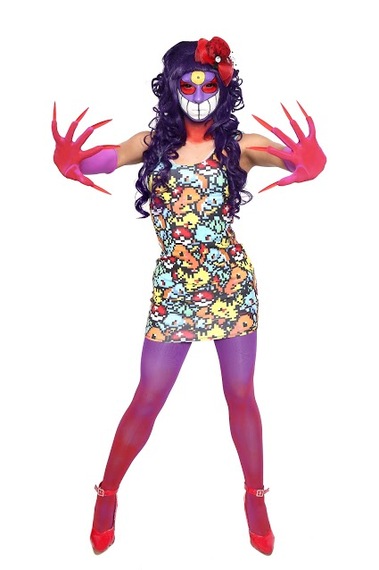 How did Erika Klash get her start in the extremely competitive New York City drag scene?
I just decided to give it a shot! I was 21 and new to nightlife when I started doing drag, so I connected to queens on social media and started competing in amateur competitions. You get signs along the way that your impulses, though not perfectly channeled yet, have potential, and little by little you start to gain traction, provided you work hard to push yourself and hone your artistry. Give it time and energy: eventually the gigs and supporters will start to find you rather than you finding them.

It's so hard to stand out in New York City and in drag; how have you carved out your own niche?
Performing in New York City is very tough. The crowds here have seen it all (so they think, anyway) and there are so many different things competing for their attention on any given day, so you've really got to snatch their attention. My personal solution has been to provide something unique while also imposing industry standards on what I do. If you're an unconventional or alternative queen, that doesn't necessarily mean you are above wearing hip pads or being glamorous. Know what makes you special, but also build your adaptability so that you can slay any crowd you might come across.
What are some of your career highlights so far?
I have been truly blessed and fortunate to have had the career I have had in only two and a half years. Very early into my drag journey, I was chosen to perform at the 1st annual Austin International Drag Festival. The following year, I was brought on as an Ambassador of Goodwill for that festival. I have had a lip stain named after me, I was crowned Miss Nerd NY 2016 back in June, I have performed all over the country and in Europe as well. I have launched a website and merchandise line; don't forget to buy my merchandise at www.erikaklash.com/shop/(wink). On Halloween, I will be making my Los Angeles debut and working with World of Wonder while I am there, which are both huge opportunities.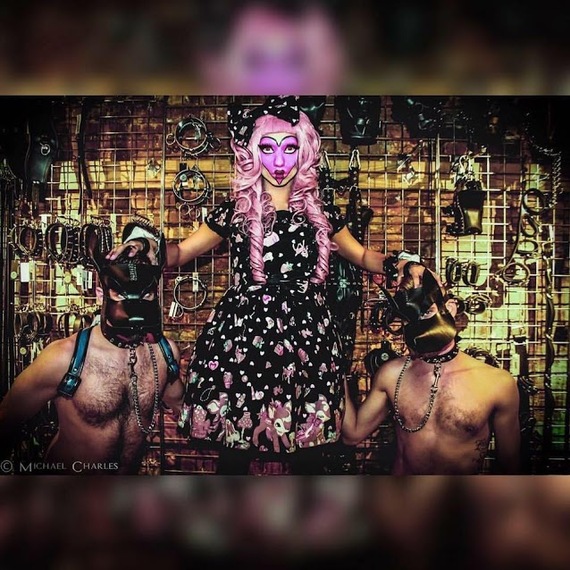 What is left that you want to achieve as Erika Klash? Any aspirations to be on "RuPaul's Drag Race" perhaps?
"RuPaul's Drag Race" is on a lot of queen's minds, mine included. I can understand why; It's very much a golden ticket! Perhaps someday but the timing needs to be right and I will need to feel ready. In the meantime, there are lots of other things to aim for! Modeling work is on my mind. I want to model for Rockstar Wigs so I am putting that out into the universe. Also: doing runway work, performing full time, becoming more of a costumer, releasing an album of Chiptune music. Those are all goals of mine that I can aim for with or without "Drag Race".

Speaking of "Drag Race"several in NYC girls have won. How do you think the show as a whole has been for the drag community?
"RuPaul's Drag Race" has really put drag on the map, and it helps local queens as much as it does the queens who have been on the show! I do think that the drag world should be careful not to lose some of it's more underground qualities; if it did, we'd all be missing the whole point of drag as a subversive art form. It has been decidedly arcane for years before "Drag Race". So while "Drag Race" can be the introduction to drag for the uninitiated, it should really only be the start of a longer conversation about what drag is and what it can do for society.
What does your male alter ego do when Erika is not on stage?
When I'm not doing drag I work full-time at the Public Theater, the downtown non-profit theater company that's behind Shakespeare in the Park and the smash hit musical "Hamilton". I work specifically for the Artistic Director, Oskar Eustis, and the Executive Director, Patrick Willingham.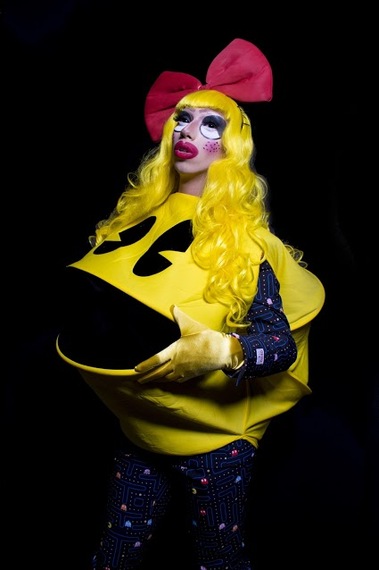 The gay community has had a very trying summer. What do you think are the biggest issues facing our community and what do you see as your part in helping to address them?
Of course I think about Pulse (in Orlando) a lot, and how we as a country need to be safer. I think about how we in the gay community are also often working against each other. Too often, I see members of the queer community looking to self-stratify, to put others down or to exclude their peers. I've even seen the occasional example of this in the drag community, sometimes with drag kings or female drag queens. Certain parts of New York City are known to be very superficial, and white/masculine dominated. For a feminine drag queen of color that can be a bit disheartening! Drag is so important to me because it exposes and celebrates the common ground and propensity for love and acceptance that we all have, regardless of how much some of us might buy into our internalized oppression.

What does "pride" mean to you?
To me, pride means having a zeal for life, laughter, and kindness. To have pride is to be who you are and to make no apologies for it. To have pride is to educate others when they are ignorant, rather than dismissing them. To have pride is to have love for your community (all of it). These are all values I strive to pass on as a drag queen.

Most importantly-where can people see you perform?!
Not sure when this story is running, but I will be hosting Had It! Happy Hour at Pieces on Saturday October 15, and a Stonewall Invasion on Sunday October 26. You can catch my weekly drag show, Joystick Mondays, at Rockbar every Monday night. And for all the readers in LA, you can catch me performing with the Boulet Brothers at Queen Kong on Friday October 28, among some other LA gigs that I will be announcing shortly!
Picture 1-David Ayllon
Picture 2-Jeff Eason
Picture 3-Michael Charles
Picture 4-David Laffe
REAL LIFE. REAL NEWS. REAL VOICES.
Help us tell more of the stories that matter from voices that too often remain unheard.