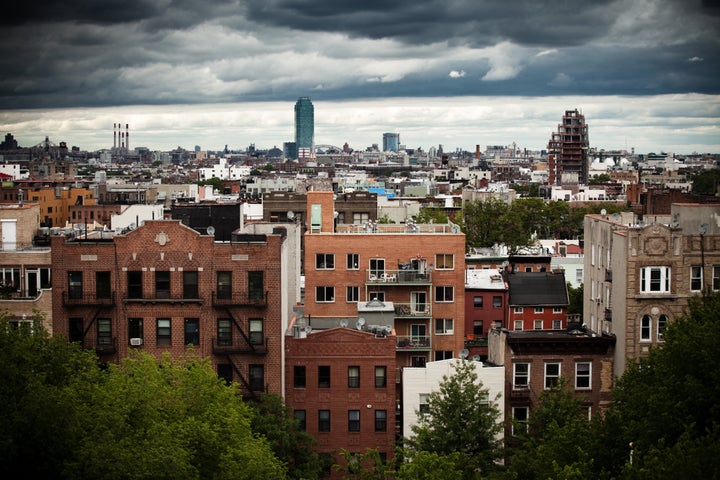 Gentrification has swept through two-thirds of New York City's formerly low-income neighborhoods in the last decade and a half, according to a report released Monday. That's the good news and the bad news.
New York City has seen alarming increases in rent, stagnating incomes, a rise in the number of people paying more for housing than they can afford and other significant demographic shifts in the 21st century. These changes "are magnified in the city's gentrifying neighborhoods," the report states.
The annual publication from New York University's Furman Center uses data from the U.S. Census Bureau and other sources.
Here are the biggest takeaways from that report.
Not all neighborhoods in New York City are gentrifying.
The report looks at the city's 55 "sub-borough areas," which are divisions identified by the Census Bureau. In 1990, 22 of these neighborhoods were low-income. Since then, 15 of the 22 have experienced rent growth above the neighborhood median -- these are the ones classified as gentrifying by the report.
That leaves seven low-income neighborhoods that haven't gentrified and 33 neighborhoods where rents and incomes were already high.
Most of the gentrifying neighborhoods are in Manhattan and Brooklyn, and the few in Queens and the Bronx are close to Manhattan. None are located in Staten Island.
Williamsburg and Greenpoint (big shock) saw the largest rent hikes.
Rents have risen nearly 79 percent since 2000 in the Brooklyn neighborhoods of Williamsburg and Greenpoint, which the report classifies together as one sub-borough area.
No surprise there: Williamsburg and Greenpoint are historically working-class neighborhoods that have become much-hyped examples of gentrification. Williamsburg in particular turned into a destination for artists and then a popular entertainment district, filled with bars, restaurants and hip retail shops. The area has seen a boom in construction of luxury apartment buildings, bringing wealthy new residents and criticism about radical change.
The median asking rent in Williamsburg/Greenpoint was $3,055 a month in 2014, the seventh-highest of any neighborhood in the city.
Here are New York's 15 gentrifying neighborhoods, ranked by rent growth:
Rents went up the most in gentrifying neighborhoods.
Rents increased less than 2 percent citywide between 1990 and 2000. Although they have since risen rapidly in all parts of the city, the percentage change has been most significant in gentrifying neighborhoods.
Rents are rising despite new housing and lagging population.
Between 1970 and 1980, over 650,000 people left the neighborhoods that would later gentrify, accounting for nearly 80 percent of the city's total population loss. While the rest of the city has regained the residents lost in the '70s, gentrifying areas have not.
Still, after losing tens of thousands of housing units in the '70s and '80s, gentrifying neighborhoods have recently had the largest growth in new housing units.
Instead, rising rents may be linked to new residents' higher incomes and education levels.
Since 1990, average household income (adjusted for inflation) has dropped in both higher-income and non-gentrifying low-income neighborhoods, but it has increased in gentrifying ones. Incomes grew over 30 percent in Central Harlem and Williamsburg/Greenpoint.
The only gentrifying neighborhoods that haven't see income growth since 2000 were the two in the Bronx: Morrisania/Belmont and Mott Haven/Hunts Point. They saw income levels decline -- though the rents still went up.
Gentrifying neighborhoods also had the biggest increase in share of residents over the age of 24 with college degrees. The report notes that change is driven by educated people moving in, rather than by existing residents becoming more educated.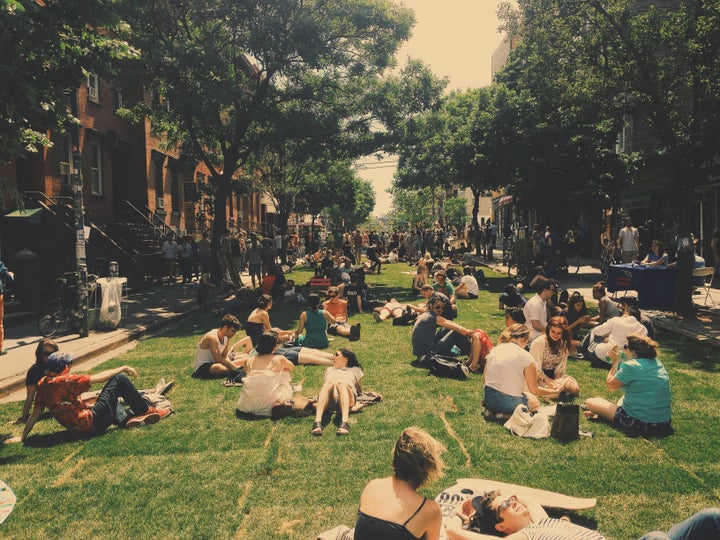 The changes are, in part, driven by millennials.
From 2010 through 2014, over 60 percent of those moving into gentrifying neighborhoods were between the ages of 20 and 34. This millennial group has grown in gentrifying neighborhoods since 1990, but shrunk in the rest of the city.
Gentrifying neighborhoods have also had the greatest percentage growth in "non-family" households, such as those where a single person shares an apartment with unrelated roommates.
It's not clear whether low-income residents are being displaced.
Gentrifying neighborhoods still have large numbers of poor residents, but those numbers are shrinking.
Also shrinking: the number of apartments affordable to low-income families. While higher-income neighborhoods have the smallest portion of units affordable to low-income families, the percentage of affordable units declined most in gentrifying neighborhoods. The most drastic change was for households at the upper end of the low-income bracket. In 2000, more than three-quarters of newly available rental units in gentrifying neighborhoods were priced for those households. Ten years later, less than half of recently available units were affordable to that group.
While critics of the city's gentrification often cite a decrease in low-income families and lack of housing they can afford as indicators that the poor are being driven out of a neighborhood, the authors of the new report note that poverty is also rising in higher-income neighborhoods and argue that the correlation is not that simple:
We cannot directly observe if low-income residents are moving out of increasingly high-cost neighborhoods. The net loss in the number of persons living below the poverty line between 2000 and 2010-2014 may suggest that low-income residents have become less able to move into or remain in gentrifying neighborhoods, or it could be that poor residents are more able to lift themselves out of poverty in gentrifying neighborhoods (or a combination of both).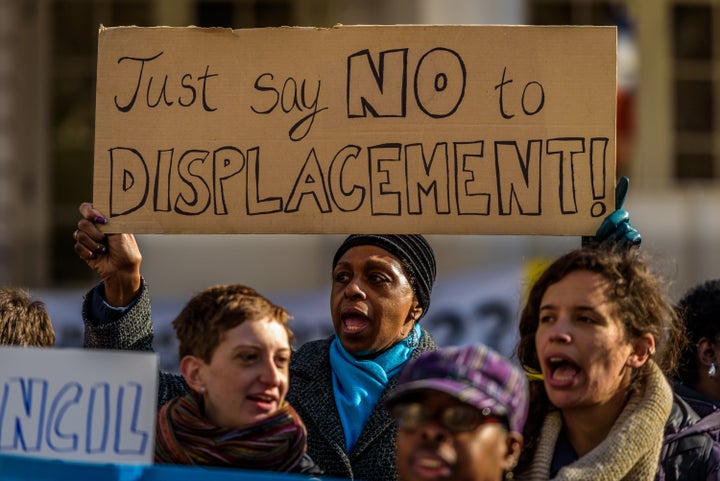 Gentrifying neighborhoods are losing black residents and gaining white ones.
The percentage of black residents dropped citywide between 1990 and 2010, but it fell even more in gentrifying neighborhoods. While the city's white population also decreased in that period, gentrifying neighborhoods ended up with a higher percentage of white residents. The Hispanic population in those neighborhoods is higher than in 1990, but has decreased since 2000.
In the Williamsburg/Greenpoint neighborhood, the Hispanic population declined from 34 percent in 2000 to 22 percent in 2014. In nearby Bedford-Stuyvesant, another gentrifying area, the black population dropped from 75 percent to 53 percent during the same period.
Bottom line: Gentrification is a pressing issue in New York City.
Most residents of New York rent their homes, and the city has an affordable housing crisis. So Mayor Bill de Blasio has made increasing affordable housing a key goal of his administration. And the New York City Council in March passed sweeping zoning changes designed to allow more construction while requiring developers to rent a portion of units at prices affordable to low- and moderate-income households.
However, critics argue that the council's efforts might actually increase displacement of poor residents from lower-income neighborhoods on the cusp of gentrification. Activists worry that the new development will draw higher-income people into these neighborhoods, spurring gentrification. Some argue that not enough units are set aside for low-income families and the ones that are may not truly be affordable to many poor people.
At an event Monday to mark the new Furman Center report, some speakers praised the changes that come with gentrification: more economic and racial diversity, less crime and greater access to services.
But Colvin Grannum, president and chief executive officer of the Bedford Stuyvesant Restoration Corporation, said longtime residents of his neighborhood are conflicted.
"There is an excitement, I think, about the overall improvement ... but there's also a great deal of fear and vulnerability," he said. "It feels like an upheaval."
"They've been waiting for the day where they could [have] some of the amenities that we have now," he said. "But at the same time, they don't really see themselves in the future of the neighborhood."
Related
Before You Go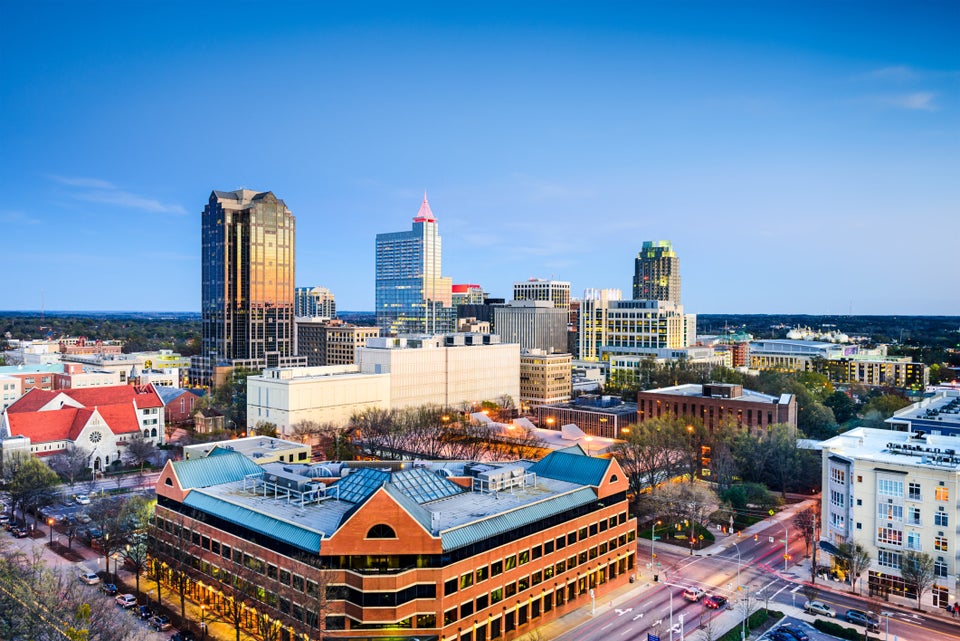 10 Big Cities With Cheap Rent
Popular in the Community