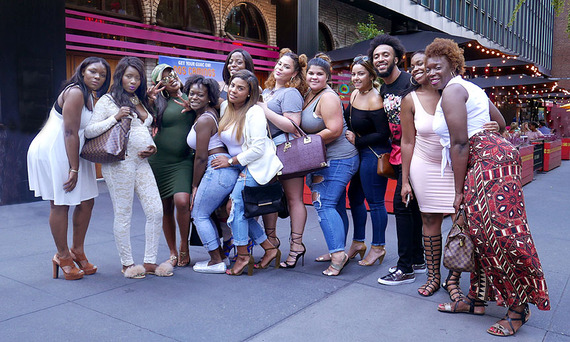 I'm rolling up to my dinner meeting and see (and hear) this group of friends joyfully making pictures of each other. I can't resist - I roll up to the end of the group being photographed and announce "Photo Bomb!", which immediately sets off a round of exuberant approval. The photo is made, with me in it, then everyone continues the moment, talking, hugging, making selfies, sharing friendship and spirit. I then tell any who listen who I am and ask if I can make a group photo which I'll send to them. They fall into formation like total pros and we make this picture. One young lady makes a picture of our picture right off my camera screen. Many ask for, and I give, my business card. I encourage them to email me so I can get them the picture. They begin leaving down the street, but one young lady lingers, asking me about what I'm doing now and I tell her about my work in education, empowerment and world betterment. She shares that she is a teacher's aide in New York. I tell her that I see teaching as the higher calling, that children are our future and that empowering young people is both an opportunity and an obligation. She agrees with all I say, especially about teaching being the higher calling. We shake hands with eye contact and she heads off. As I wait on the now quiet corner in the dusky light on this fifteenth anniversary of 9/11, I am filled with hope and with certainty of goodness and the indomitable power of human spirit.
www.robertzuckerman.com
robert@robertzuckerman.com
REAL LIFE. REAL NEWS. REAL VOICES.
Help us tell more of the stories that matter from voices that too often remain unheard.