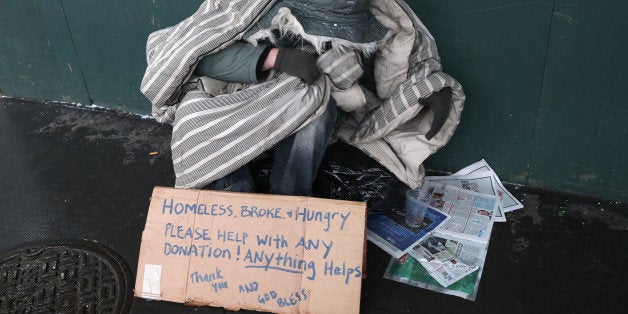 By Ellen Wulfhorst and Sebastien Malo
NEW YORK, Jan 8 (Reuters) - With temperatures in New York expected to plummet again on Thursday night, the city is putting into effect its "Code Blue" emergency measures for the third night in a row to get thousands of homeless people off the streets and into warm shelters.
An estimated 3,300 people live on the streets of the nation's largest city, according to the official tally, but advocates for the homeless say the actual number is likely much higher, given the difficulties of counting a shifting population.
Under Code Blue, which takes effect on nights when the temperature dips below freezing, the city doubles the number of outreach workers in the streets to 28, said Christopher Miller, a spokesman for the Department of Homeless Services. That's twice the number on most nights.
Organized into 14 teams, the pairs fan out in areas homeless people are known to frequent, mostly in midtown Manhattan, and try to coax them into more than two dozen drop-in centers and shelters around New York.
"We're obviously really concerned when temperatures fall that low. It can be a matter of life and death on the streets," said Patrick Markee, deputy executive director for advocacy at the Coalition for the Homeless.
Many of the city's street homeless frequent the bustling Port Authority Bus Terminal, finding warmth in its labyrinth of passageways and tunnels.
Greg Washington, a 40-year-old homeless man, leaned against the wall of the bus station lobby on Thursday evening and rebuffed efforts at conversation by two young people in bright orange jackets emblazoned with the word "Outreach."
"I refuse their services," he said, looking around the bus terminal. "This is a shelter."
The mercury dipped as low as 8 degrees F in New York this week, with wind chills making the air feel like a biting minus 9 degrees F. The temperature was predicted to sink to 16 degrees F overnight on Thursday.
Advocates say most of the street homeless are men, and statistics show many are mentally ill or have troubled pasts.
Oswald Jones, 55, said he was struggling through his first winter on the street, unable to land a job because of a criminal record and a bout of drug use.
"I come from a family with a home. I'm not used to this," he said, sitting in a quiet corridor of the bus terminal and sipping from a beer in a brown paper bag as he told his story.
"I'm tired. I can't sleep. I don't have nowhere to stay," he said. "I have people giving me stupid looks."
To survive, he said he usually sleeps in the bus terminal's basement until police force him to leave. Then he seeks the warmth of a subway train and rides all night.
When the cold blast hit New York on Tuesday and Wednesday, the beefed-up outreach teams persuaded 44 homeless people to go into shelters, Miller said.
On a typical night, roughly 8,000 single men sleep in a city shelter, the DHS said. On frigid nights like those this week, that number rises by about 200 people.
The DHS conducts an annual survey of street homeless, and the next count is scheduled for later this month. The January 2014 tally was an estimated 3,357 people.
While that figure was 6 percent higher than the year before, there has been a 24 percent drop since 2005, when the first survey was conducted, the DHS said.
While the number of street homeless has declined over the past decade, the overall number of homeless people living regularly at city shelters is at an all-time high of about 60,000, officials said. (Editing by Frank McGurty and Eric Walsh)

Popular in the Community