NEW YORK -- Peter Carling stood outside a Lower East Side chapel Monday morning, smoking a cigarette and watching the first snow of a massive winter storm begin to fall. The 45-year-old said he expects to sleep tonight in the chapel, as a blizzard sweeping across the northeastern United States is expected to dump several feet of snow on the city and points north.
From November to January, as temperatures dip to dangerous lows, the Bowery Mission opens its doors to homeless men, offering up a sleeping mat, a warm place among the pews to lay their heads, a shower and some food.
"The Bowery don't go hungry," Carling said.
He expects the winter storm -- which Mayor Bill de Blasio said has the potential to be the worst in the city's history -- to drive droves of men inside the emergency shelter, filling the Mission to its capacity of 150 temporary residents.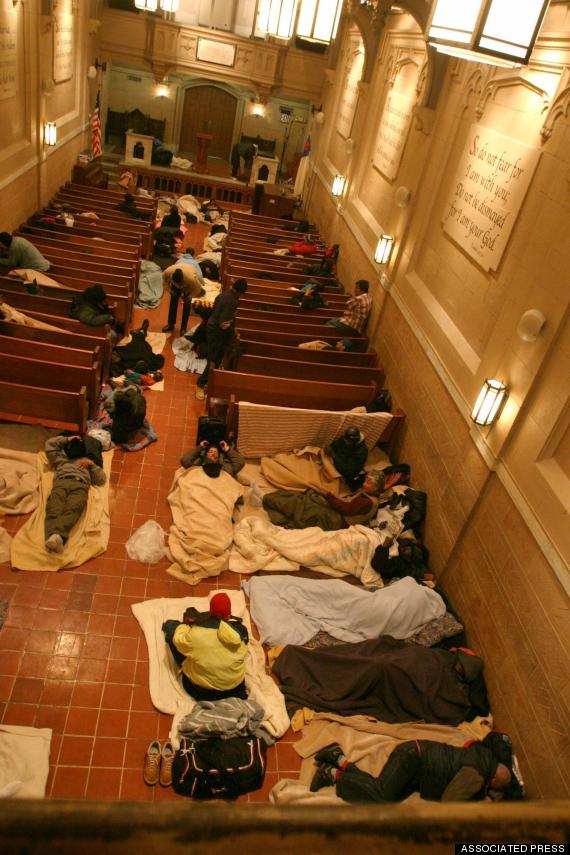 Men sleep inside the Bowery Mission in January 2004. (AP Photo/Tina Fineberg)
Gerald Hudson, a 59-year-old Vietnam veteran who sleeps at the Mission, said that some of the residents "try to be loud and make trouble," and that there are "bullies going around trying to hurt people."
He says he'll do his best tonight to keep the peace at the crowded shelter, as well as bring in people off the streets and keep them inside.
The Bowery Mission, Hudson added, is "saving lives" on a night like tonight. Most churches, he said, don't open up their doors like this anymore. The accommodations may not be the best, but if it weren't for the shelter provided by the Mission, Hudson said he'd probably spend his night on the A train or, worse, outside.
On Monday, the New York City Dept. of Homeless Services took Code Blue emergency measures, sending 15 outreach teams to comb the five boroughs in an effort to bring those 3,300 people inside and out of the elements.
"Our outreach efforts are in full force," DHS Commissioner Gilbert Taylor said at a press conference Monday. "We have doubled efforts to bring people into shelter."
With the nor'easter bearing down on the city with brutal winds, bitter cold and heavy snow, Taylor said it's imperative to get people inside one of the city's drop-in centers or emergency shelters.
Taylor implored residents to call 311 if they see someone in need of shelter.
About 10 blocks north of the Bowery Mission -- on the corner of Avenue B and East 9th Street in Alphabet City -- Giselle Vela stood patiently in the cold waiting for the Trinity Lutheran Church food pantry to open. Vela said she's a resident at the homeless women's residence around the corner, the Sarah Powell Huntingdon Houses, and had come to the panty to stock up on food to feed herself and her two children during the storm.
She is one of nearly 60,000 New Yorkers -- a record high -- who stay regularly in the city's homeless residences. Many of those depend on soup kitchens and food pantries for regular meals.
Alex Lawrence, director of Trinity Church's Services and Food for the Homeless, said that the church has "a stock of food here to keep us going for a few weeks at a time, should anything happen."
"A big lesson was Hurricane Sandy, and having enough food to last us a few weeks and give out to people in both our soup kitchen and food pantry," he said.
Lawrence added that he expects the soup kitchen and pantry to stay open during the storm. "Right now we're keeping business as usual," he said. "Staying open is what we need to do."
As Vela was shuffled inside the food pantry, she said that she planned to keep her 5-year-old and 11-year-old inside the residence during the storm on Tuesday, since school has already been canceled.
There, she said, they'd simply "wait for the worst to go by."
Before You Go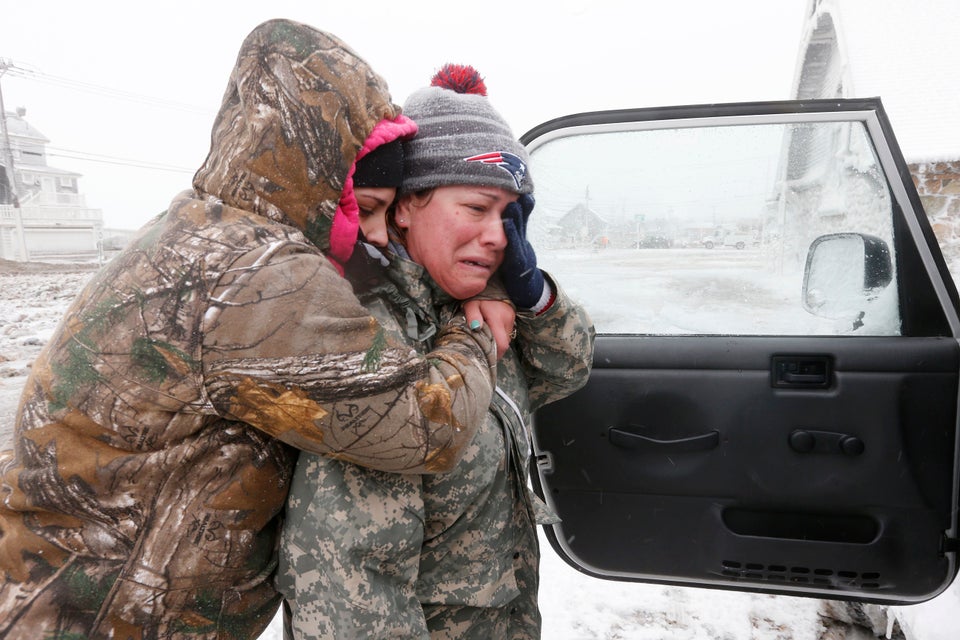 January 2015 East Coast Snow
Popular in the Community