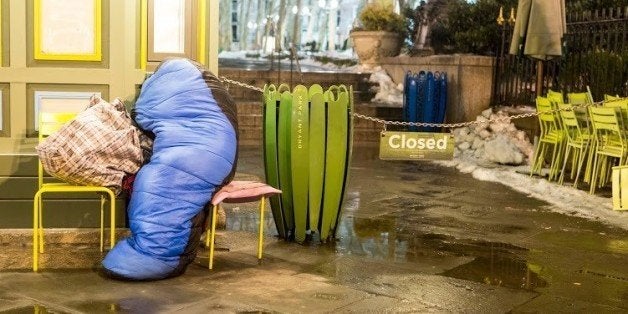 NEW YORK -- Drew Cochran, 18, grew up in the "middle of nowhere" Idaho, where he said he rarely -- if ever -- saw a homeless person on the street.
So it was an eye-opening experience to walk beneath the skyscrapers of midtown Manhattan just after midnight on Tuesday, he said, and see the city's indigent wrapped up in sleeping bags as temperatures dipped below freezing.
Cochran was one of 3,500 volunteers who combed the streets of all five boroughs from midnight to 4 a.m. Tuesday as part of the city's Homeless Outreach Population Estimate, an annual effort to count the thousands of New Yorkers who spend their nights without shelter, sleeping on the streets or in the subways.
Cochran was also one of 30 West Point cadets who took a van into the city to participate in the count.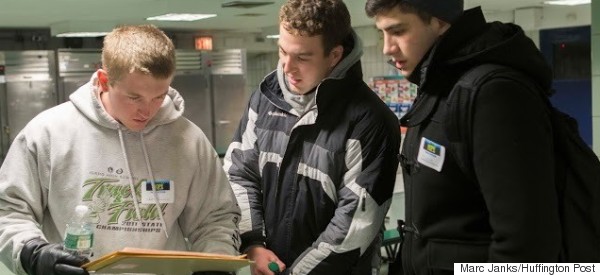 Cochran looks over a map with fellow West Point cadets Kevin Colton and Dominic Savoldelli. (Photo: Marc Janks)
"As a cadet, I haven't served my country yet," he said, so participating in something like the HOPE count was important to him.
In a way, it was fitting to have the cadets pounding the pavement in New York Tuesday morning. Their older fellow servicemen, after all, are at a greater risk of ending up in those sleeping bags on the sidewalks or panhandling in the subways.
"Tonight goes a long way in showing us where we are, and how far we have to go," Loree Sutton, a retired brigadier general and the mayor's commissioner of veteran affairs, told reporters before the count started Tuesday.
The tally, said Department of Homeless Services Commissioner Gilbert Taylor, is used to find out where "resources need to be allocated, and what exactly do we need to do in order to bring [the homeless] into shelter and then get them permanently housed." It's also required to determine how much federal funding the city receives in the fight against homelessness.
Last year, the city counted 3,357 homeless people during the HOPE event, a 24 percent drop from a decade earlier. While some homeless advocates have argued that the annual survey drastically undercounts the city's street homeless, Taylor said the city has greatly improved the count's methodology over the years.
But most importantly, Taylor said, the HOPE count also "saves lives."
Cochran was part of five-person team Tuesday instructed to count the city's homeless in two 4-square-block areas, the first near Rockefeller Center and the second below Bryant Park. They were instructed to approach anyone they suspected of being homeless, and ask them simply if they had a place to stay. If the person answered no, the volunteers could offer them a place at one of the city's drop-in centers or emergency shelters.
It was Kenya Bryan's third year participating in the HOPE count. "I'm a community work kind of person," she said.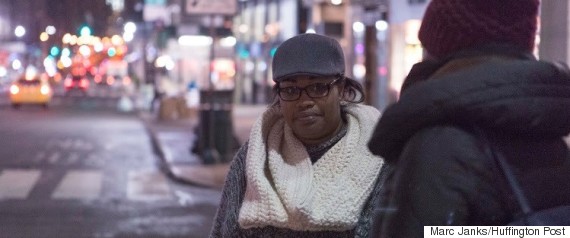 Bryan during Tuesday's count in Manhattan. (Photo: Marc Janks)
During last year's count, she said her team talked to only one homeless person all night. It was snowing, and he was sitting outside a Queens McDonald's wearing shoes without laces, Bryan said. But when she offered him shelter, he ultimately turned it down.
It wasn't an unusual scenario. For various reasons, including mental illness, many of the homeless encountered by volunteers during the count every year say they don't want to stay in the city's shelters -- where an all-time high of nearly 60,000 homeless New Yorkers currently reside.
When Bryan, Cochran and the rest of their team approached a middle-aged man sleeping on the sidewalk Tuesday morning, he uttered a racist remark to Bryan, who is black, before declining shelter.
"You can't make people want help," Bryan remarked afterwards.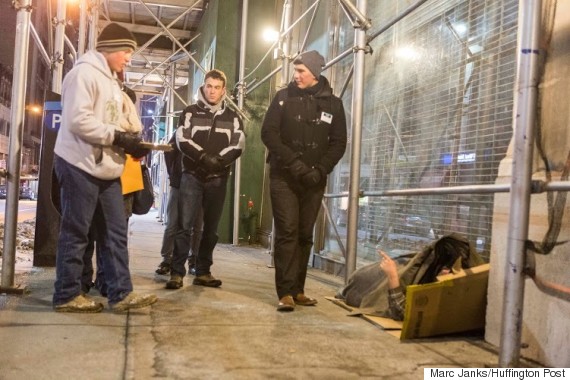 The group talking to the homeless man. (Photo: Marc Janks)
The man would be the only one the group would end up interviewing. Two other people were spotted sleeping on the street, but they were outside the group's two 4-square-block areas. They would be counted by another team.
This too, wasn't unusual. Many groups in Manhattan Tuesday only interviewed one or two people, while other groups -- especially the groups working transportation hubs like Penn Station and Grand Central -- talked to upwards of 25.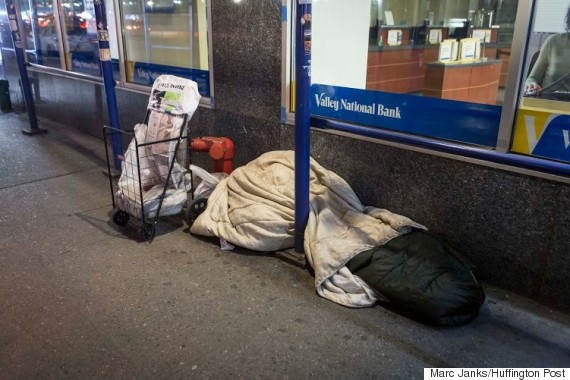 Teams were instructed to simply walk up to people and ask if they had a place to stay. (Photo: Marc Janks)
West Point cadet Kevin Colton, 20, was a member of Cochran's and Bryan's team. When asked if he was disappointed that his group didn't talk to more people, he responded that it would be "weird to say I wish there'd be more homeless people."
Also, he noted, "It's not about us."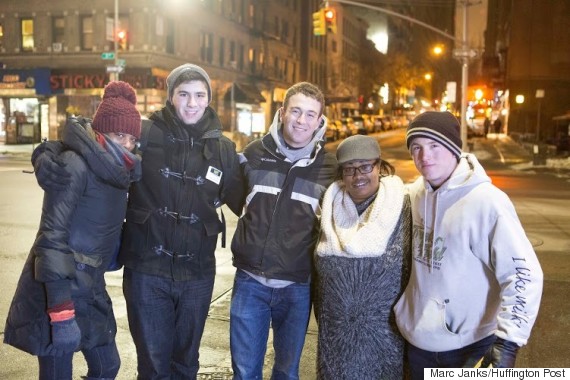 The team after returning from the count. From left to right, Tina Mckenzie, Dominic Savoldelli, Kevin Colton, Kenya Bryan, and Drew Cochran. (Photo: Marc Janks)
Calling all HuffPost superfans!
Sign up for membership to become a founding member and help shape HuffPost's next chapter