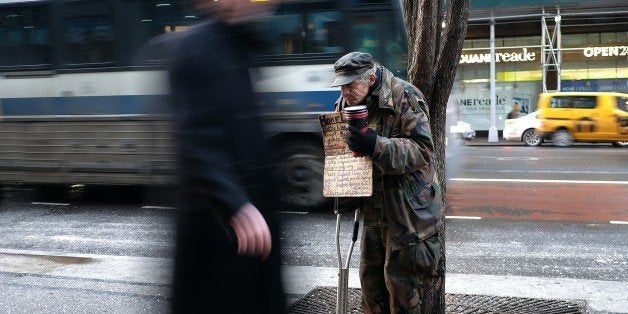 The number of unsheltered New Yorkers fell by 5 percent during Mayor Bill de Blasio's first year in office, the city's Department of Homeless Services announced Thursday.
There were 3,182 people sleeping on the city's streets, in the subway or in other public areas this February during the annual Homeless Outreach Population Estimate -- or HOPE count -- representing a 5 percent drop from the over 3,350 people counted in January of 2014.
The most significant drops occurred in the outer boroughs, a DHS spokeswoman told The Huffington Post. Only 20 homeless individuals were counted in Queens, a 92 percent drop from the 253 counted last year. The number in the Bronx dropped 64 percent, from 193 homeless individuals to 69, and in Staten Island the number fell by 31 percent, to 46 homeless individuals from the 67 counted last year.

"The HOPE Count provides valuable information in regards to the resources necessary to successfully combat street homelessness in New York City, and while we still have a long road ahead, I am heartened to see an overall reduction in our unsheltered populations over the past year," DHS Commissioner Gilbert Taylor said in a statement. "We will continue to work across the city to assist individuals living on our streets, and utilize what we learned from this year's count to allocate resources and target services in areas in which we saw increases."
Despite the seemingly positive news, city records showed in December that there were a record-high 59,000 people sleeping in the city's shelters each night, the highest level since the Great Depression. DHS told HuffPost Thursday that that number was now down to about 56,700.
Related
Popular in the Community