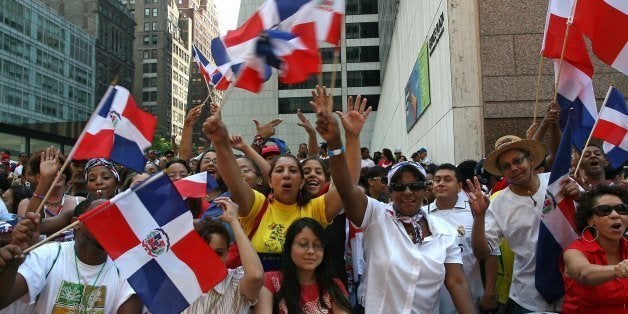 Over 37 percent of New York City residents were born in another country, according to a new report, the highest percentage in over 100 years. A record high 3.07 million foreign-born immigrants live in New York City, more than any other city in the world.
And unlike at the beginning of the twentieth century, when New York City's immigrant population was primarily European, the city's foreign-born are now from all over the world.
"In just 30 years, what was a city with a population of primarily European origins has now become a place with no dominant race/ethnic or nationality group," reads the Department of City Planning report, "The Newest New Yorkers," which uses data from an American Community Survey conducted between 2007 and 2011. "Indeed, New York's unmatched diversity epitomizes the world city."
The city's largest foreign-born group hails from the Dominican Republic, but maybe not for long. The foreign-born Chinese population in New York City has grown 34 percent in the last 11 years. The Chinese population in New York City is the largest outside of China itself, according to WNYC.
Here are the other major countries of origin: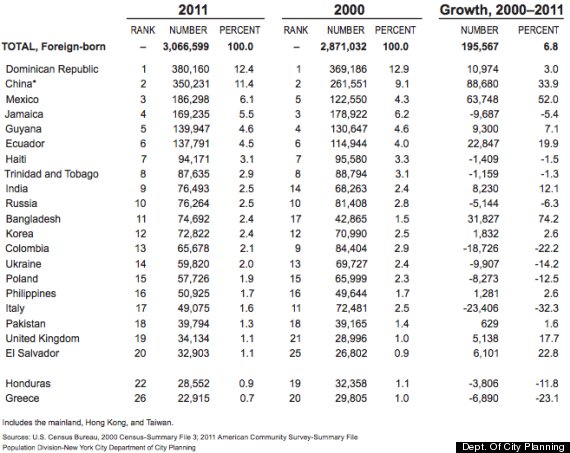 Some other interesting highlights:
Washington Heights is home to 80,200 immigrants, more than any other neighborhood in the city. Rounding off the top 10 neighborhoods for immigrant communities are: Bensonhurst, Elmhurst, Corona, Jackson Heights, Sunset Park, Flushing, Flatbush, Crown Heights, and Bushwick.
Over 40 percent of the United States' Bengali population lives in New York City.
71 percent of people in Elmhurst were born outside the United States.
Staten Island saw the biggest boom in its foreign-born population, with a 36 percent jump. The Bronx saw its foreign-born population rise 22 percent.
Related
Popular in the Community