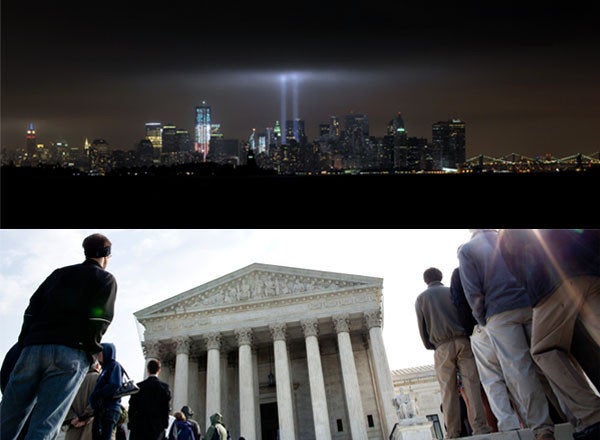 WASHINGTON -- A New York City landlord has taken his fight against the city's rent control laws up to the Supreme Court, where at least one justice appears to have taken notice.
James Harmon, 68, lives on Manhattan's Upper West Side in a five-story brownstone that has been in his family since his grandfather bought it in 1949. In 1969, the building became subject to New York City's Rent Stabilization Law, which caps the percentage that a landlord may raise rents each year.
By the time Harmon and his wife, Jeanne, took full ownership of the brownstone in 2005, three of the six units were renting at rates that were 59 percent below-market to tenants that Harmon claims did not need the discount -- proof enough for him to sue city and state housing officials in federal courts for administering what he contends is an unconstitutional system "based on luck, not financial need."
The district and appeals courts, however, ruled against Harmon's efforts to exempt his property from the law. The U.S. Court of Appeals for the 2nd Circuit noted that "the Supreme Court has held that governmental regulation of the rental relationship does not constitute a physical taking" in violation of the Fifth Amendment -- even if the regulation creates tenancies of "indefinite duration." This ruling did not surprise the libertarian law professor and Harmon supporter Richard Epstein, who wrote in March that the appeals court's decision against Harmon was "undeniably correct as a matter of current constitutional law." That may explain why the city and state waived their right to submit briefs in opposition to Harmon's petition to the Supreme Court.
Harmon understands that any publicity surrounding his case could cast him as an archetypical villainous landlord. "I really wanted to keep a low profile on this case because I don't want the people with the pots and pans and the whistles showing up in front of our home," he said to HuffPost. But Harmon also argues that such protests would be misdirected.
"Nobody thinks about the half of the tenant population" in New York who are not lucky enough to land rent-regulated apartments, Harmon said. "They're paying about 15 percent more than what they should be," he continued, "because the law creates two markets," thereby distorting the demand for the city's very limited housing supply.
The limiting housing supply has caused the "serious public emergency" that the city has cited to justify the Rent Stabilization Law since 1974. "This can't be an emergency that's lasted 40 years," said Harmon. Calling the city's 2009 decision to renew the RSL "corrupt," Harmon contended that "they knew the law didn't work, and they went ahead and passed it anyway." Jonathan Kimmel, the chair of the New York City Rent Guidelines Board, did not immediately respond for comment.
In May, New York Governor Andrew Cuomo urged the state legislature to "extend and strengthen" the state's rent laws, calling affordable housing "the building block of strong communities and a strong economy." The legislature renewed the laws, which affect New York City's rental market, in June.
Harmon's petition provides examples of why he believes the law is so arbitrary and unmoored from any legitimate governmental interest as to be unconstitutional. "The former Governor [David Paterson] maintained a rent stabilized apartment while residing in the Governor's mansion in Albany," wrote Harmon. Rep. Charles Rangel "has four rent stabilized apartments" and the "Speaker of the City Council has a one bedroom rent stabilized apartment," the petition added.
Harmon argues that these "systemic inequalities" extend to Harmon's building. "Since 1991," he wrote, he and his wife "effectively have been financing the approximately $1500 monthly mortgage payments on the Long Island home of one of their rent stabilized tenants who pays $951.22 monthly rent." According to his petition, Harmon has spent two years and more than $30,000 in legal fees trying to recover possession of one rent-stabilized apartment for one of his grandchildren.
"The ransom they want us to pay to get our own property back is $100,000," Harmon told HuffPost. "This is typical of how the leverage of this law is used to shake down a small property owner."
The Court, per its custom, did not disclose which justice or justices requested the opposition brief from the city and state. R.S. Radford of the Pacific Legal Foundation, a libertarian organization that submitted a brief in support of Harmon's petition, identified Justices Clarence Thomas and Antonin Scalia as members of the Court most likely to see the RSL "as an outrageous limitation of property owners under the Constitution."
Leonard Koerner, chief of the New York City Law Department's Appeals Division, said in a statement that "we are confident that once the United States Supreme Court receives our brief, the lower courts' decision will stand."
Four justices -- the same number it takes to grant a case -- hail from New York, including Justice Elena Kagan, whose father was an Upper West Side tenants' lawyer. While their hometown affinities may not be dispositive of whether these justices will vote to take the case, it may inspire some investigations into their financial stakes or biases toward the Rent Stabilization Law should the Court grant Harmon's petition, given the ideologically charged nature of the Court's past property rights cases.
The opposition brief is due on Jan. 4, and the Court will determine whether to take the case, Harmon v. Kimmel, at a private conference before the end of June.
Harmon has appeared before the Court once before when, 20 years ago, he won a high-profile case on behalf of Yonkers city officials accused of perpetuating residential racial segregation. And now Harmon is ready to argue this case for himself should the Court agree to take it. "This is my home, this is my family," he said.
"We're not asking for money out of this case -- we're asking to be free," said Harmon. "Since 1969, my family has lost a lot of money because of rent stabilization. That's our contribution, but we're saying enough is enough."
Calling all HuffPost superfans!
Sign up for membership to become a founding member and help shape HuffPost's next chapter