Politicians from hard-hit areas, including state Sen. Liz Krueger and city council members David Greenfield and James Oddo, all called for the race's postponement or cancellation, arguing the city's resources shouldn't be diverted from hurricane relief.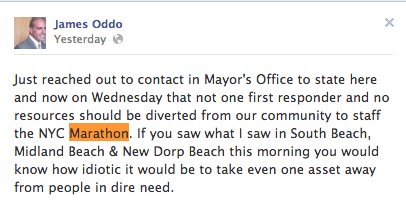 Sen. Krueger -- whose district on the eastern side of Manhattan suffered severe flooding and power outages that forced the evacuation of three hospitals -- described a nightmare situation to The Huffington Post Thursday.
People are trapped on roofs, she said. Disabled people can't get help. ConEd workers can't get through traffic to power lines in need of fixing, and they're running out of gas for their trucks.
"And yet we have a marathon going on sunday," she said, "which in theory will require an enormous amount of police and ambulances."
She suggested that the 8,000 volunteers who signed up to help with the marathon should instead help with hurricane relief. And as for the runners, Krueger sees them as a valuable resource. "We can use them running up 80 flights of buildings," she said, "saving elderly people."
Anna Holmes -- the founder of Jezebel who on Thursday went on a Twitter rant against holding the marathon -- is concerned that city officials will divert resources to cleaning up Central Park, part of the race's route.
Clearing up branches and making sure trees are safe, she said, shouldn't be a priority right now. "The reopening of Central Park is not important when there's so much suffering," she told HuffPost.
"It's an understatement," she added, "to say I'm 'disappointed' that the city is holding the marathon."
Even some runners have called for canceling the event.
"I'm a big fan of the marathon, but this is the most hair-brained, self-serving act of idiocy I've even seen," Gene Ratcliff wrote on the New York Road Runners Facebook page, according to the New York Daily News. "Cancel the race, give the entrants auto-entry for next year, and let law enforcement, EMS, and all the other agencies take care of getting the city up and running."
Mayor Bloomberg -- who earlier this week argued the race provides valuable economic stimulus -- dismissed criticisms at a press conference Thursday, saying the marathon will not place too heavy a burden the city's police department.
"The city is a city where we have to go on," he said, according to The New York Times.
And Mary Wittenburg, chief executive of the New York Road Runners, which organizes the marathon, said, "This isn't about running. This is about helping the city. We're dedicating this race to the lives that were lost and helping the city recover. We want to raise money and awareness."
Related
Popular in the Community