These days, most of my races take place on mountains, along rivers or through forests. In the ultramarathon world, runners can spend most of the race on their own, or with just a few other runners. Forest land permits or simple logistics of single track trail usually limit events to several hundred people, and many ultras attract far fewer.
The ING New York City Marathon is the exact opposite -- 47,000 runners traveling through dense city neighborhoods lined with screaming people. Solitude? Nature? Not so much. Music, noise, energy, excitement? You bet.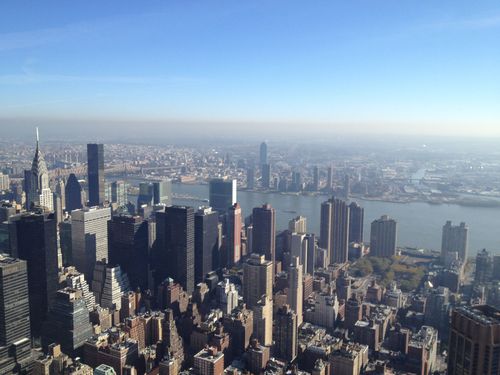 I signed up for New York earlier this year when I realized my 3:14 time in last November's Seattle marathon automatically got me into the race. Since I haven't made road marathons an athletic focus as of late, I'm not sure if I'll ever run one that fast again. I figured I might as well nab my guaranteed New York spot while I could.
I paid my $200 entry fee (ouch!) and my boyfriend put his name and $50 into the lottery. Alas, he wasn't among those chosen, but being the good guy he is, he immediately said he'd come along as support crew.
We quickly saw that traveling across the country for a big city marathon requires a good deal more planning and money than signing up for a local ultra. There's the hefty initial race fee, of course. The cross-country flight. And a handful of days sight-seeing, eating, drinking, catching cabs and subways, and otherwise spending money as tourists in New York.
And then there's the lodging. Given that Marathon Weekend is one of the biggest for visitors in New York over the entire year, hotels jack up rates. I received several recommendations from friends for places that typically cost under $200 a night. Marathon weekend? Try $400. With five nights planned in the city, we desperately wanted something more affordable.
Upon a friend's recommendation, we ended up renting someone's apartment through the website HomeAway. We found a studio in midtown Manhattan for $170 a night just 10 blocks from Central Park. Perfect, we decided, for when the race finished and I wanted to hobble home to a shower.
I felt a little bit nervous, though, on the logistics of showing up at an apartment rather than the lobby of a hotel. The owner emailed me to tell me to put down $300 on PayPal as a deposit and bring the rest in cash when we showed up at the door that night. I kept my fingers crossed that he'd indeed be there to greet us at 11 p.m. on a Thursday. Thankfully, he was.
The apartment arrangement turned out just fine for marathon weekend. Though the location was noisy and hectic, we were smack in the middle of everything, and very close to Central Park. Ear plugs came in handy every night, especially because our neighbors seemed to be fond of blaring techno music at 1 a.m. By the last night, we were both dreaming of our quiet house in Seattle.
Aside from travel planning, big city marathons require a lot of "day of" logistics. That's especially true in a point-to-point course like New York. Runners start at Staten Island and run through all five boroughs of New York, finishing in Manhattan. Organizers have developed an intricate system of schlepping all the athletes to the start line in the wee hours of the morning, and then staggering the starts. With 47,000 participants, this is an absolute must.
My transportation assignment meant that I needed to catch a 5:45 a.m. ferry to Staten Island at the south tip of Manhattan. That required figuring out the early morning subway schedule to get down there.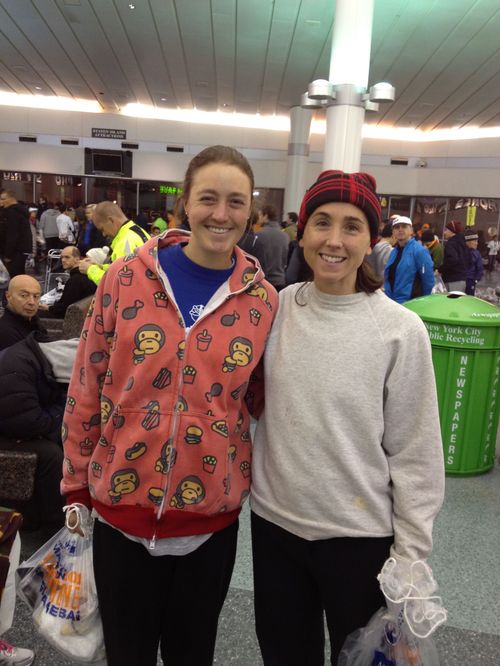 After the ferry arrived in Staten Island, we climbed aboard buses to take us to the start line camp. Everything moved along promptly, meaning that even though I was in Wave One (a 9:40 start time), I'd still have hours to kill before the gun went off.
Thanks to advice from friends, I wore raggedy sweats over my running clothes for the wait on Staten Island. Many runners do the same, tossing the clothes at the last minute. Local charities then collect all of the discarded goods. My outfit and the slowly-rising sun kept me warm as a friend from Colorado and I sat on a street curb, catching up on life to kill time. Not exactly a comfortable chair, but it worked.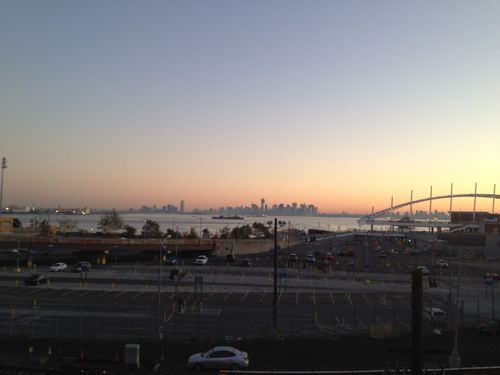 An hour before the race, we needed to move into our individual corral assignments. From then on, we were standing amidst other runners, unable to grab any last bites to eat from the free giveaways or use the bathroom one last time. I felt extremely jealous of the men, as many simply used the side of the corral as their personal urination station. Not so easy for the girls! I figured I'd forget about having to pee as soon as the race started, and indeed, I was right.
The long morning could have meant complete exhaustion before the race even began, but thankfully, the excitement level among runners kept everyone awake. I chatted with a number of friendly people from all over the globe as I waited, and thought how everyone seemed so much more friendly and talkative than at the Boston Marathon start. (This may have something to do with the glorious sunshine and mild temperatures we experienced in New York. I ran the 111th Boston, when a Nor'easter pounded the city with rain and wind. Runners huddled in shelters in a muddy field in Hopkinton. Not exactly cheery conditions.)
Just before the race began, a singer performed the National Anthem, and then New York Mayor Bloomberg spoke to us. He told us that today's race included the biggest number of runners yet, and that we'd lucked out with the best weather as well. Then we were treated to a recording of Frank Sinatra singing "New York, New York," and it was impossible not to grin at the song's final "New York...!"
The next 26.2 miles proved a blur of bodies and noises. Unlike other road marathons I'd done in Washington state, the crowds of runners at the New York City Marathon never thinned out much. I only felt my pace slowed by the masses during the first half mile, but for every mile after that, I felt I needed to constantly be aware of people slowing down, grabbing water, or darting in front of me. Running in a crowd of people isn't easy.
But on the flip side, the runners around me also kept me entertained. I saw shirts representing hundreds of charities and foreign countries. The most exuberant runners gave high fives to members of the crowd.
While the scenery of the race wasn't particularly interesting (one city street after another), the crowds made for constant visual stimulation. Someone held a sign reading "Runners are the 99 percent!" A gospel choir belted out tunes in front of a Brooklyn church. A woman in a glittery spandex costume sang into a mike while dancing by the runners. Though I hadn't written my name on my shirt, many other runners had, and I heard their names constantly by the crowds. "You got this, David!" "This is where you dig deep, Lauren!"
As for my own running? The last five miles felt very long and painful indeed, reminding me that I haven't completed a road marathon for an entire year. Though I'd managed even splits during my PR in Seattle last year, this time around I slowed significantly in the latter part of the race, and every hill felt much longer and steeper than they should have. I crossed the finish line in Central Park in 3:26, just behind Olympic speed skater Apolo Anton Ohno. Not a record for me, but a respectable time indeed.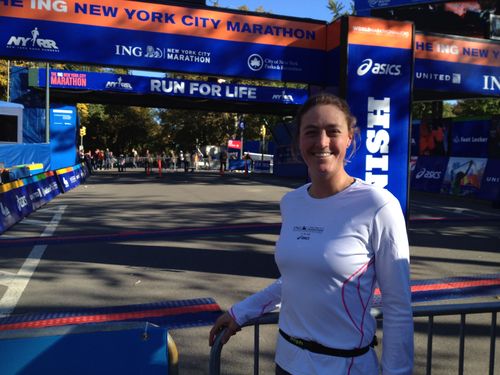 I don't anticipate running the New York Marathon on a regular basis. Like Boston, it requires major time and money in order to journey to all the way from Seattle. I also wouldn't mind a break from the marathon distance for a while. I ran my first back in 2003, and I've done at least one a year ever since. Tackling some half marathons or 10Ks sounds like an appealing change of pace to me.
But am I glad I ran New York? Heck yeah. From the lingering chords of the starting line's "New York..." to the crowds lining every street, there's really nothing quite like the New York City Marathon.