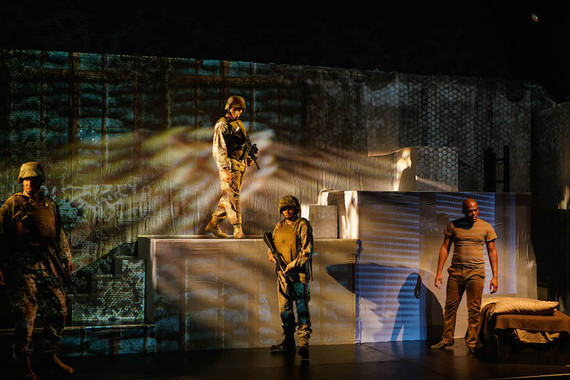 Mark McLaren, ZEALnyc Editor in Chief, January 3, 2017
This week, New York City Opera continues its season with a Hal Prince mounting of Candide. From 1943 to 2013, NYCO had sat beside the Met as New York's other full-time repertory opera company. This production is the third in the first post-bankruptcy season, a season designed by General Director Michael Capasso on a production strategy meant to bring the company back to relevancy. ZEALnyc discusses with Mr. Capasso this production, his vision for a sustainable NYCO, and his strategies for success.
MM: Let's start with 'Candide.' Hal Prince is back for this production. What will we see that is original?
MC: This production is very much inspired by the previous productions that Hal Prince has done over the years including the environmental Brooklyn version that transferred to Broadway and the 1982 opera house version for City Opera. I think this is going to be another look at the piece for him, inspired by the original opera house version. It includes most of the music and lyrics, though we've made some changes.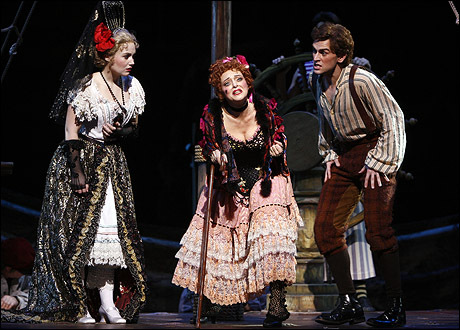 Lauren Worsham, Judith Blazer and Daniel Reichard in New York City Opera's 2008 production of 'Candide' directed by Hal Prince; photo: New York City Opera.
It's going to be comfortable in that it's familiar enough, but if it's also different enough not to be same old same old.
The scenery is actually slightly different - a little darker. We have built it to the standards of 2016 versus 1982. We've added some things and we've taken away some things. It's going to be refreshed with choreography by Pat Birch and Hal has very specific ideas about how he wants to mix things up a bit.
MC: Well yeah. I mean the production of Florencia en el Amazonas last spring was entirely video driven - just platforms and amazing video.
We used video for a backdrop in Aleko / Pagliacci this fall. But Candide is all painted scenery, no video elements.
Video is very in right now for opera productions, particularly because it can be a cost savings. But that isn't always the case. The equipment can be very expensive and the designers still get paid the same amount whether they're designing a set or video.
So it's interesting. Video has to be done for a reason, it's got to match the piece. It worked with Florencia where there is a boat going down the Amazon. But a piece like Candide is not video driven in my opinion.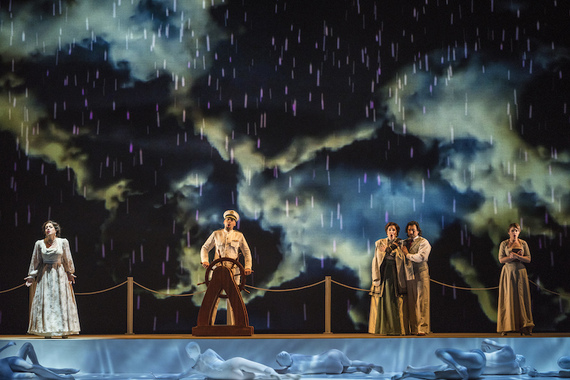 New York City Opera's production of 'Florencia en el Amazonas;'
photo: Sarah Shatz/New York City Opera.
MM: New York City Opera has a rich history and you're a component of that history right now. Talk to me about where you see New York City Opera sitting in the New York scene and how that has influenced your programming.
MC: City Opera is the 'people's opera.' By comparison, the Met I think of as the United Nations, it belongs to the world but it just happens to be in New York. The Met is a large, international, fantastic opera company. But it's not uniquely a New York institution, it's a world institution.
When I look at programming for City Opera, I think of our success in the past and in particular the way that Maestro Rudel would program. He would sell out performances of Carmen and Bohème on the weekends and put obscure repertoire like The Boy Who Grew Too Fast or Street Scene mid-week. He used warhorses to pay for his obscure opera habit.
So our City Opera can be much more of a New York institution and our programming, in keeping with the City Opera tradition, will be some standard repertoire and more contemporary and American opera.
In my opinion, City Opera is never going to be what it was, in that it's 120 performances in multiple productions in rep in that large theater. The world has changed.
So I think we're going to grow. But I think it's definitely a stagione system, it's not rep. I think the Rose Theater is an ideal size for opera. We'll program warhorses, if you will, but in interesting pairings like Pagliacci and Rachmaninoff's Aleko, which have never been paired before and did well at the box office.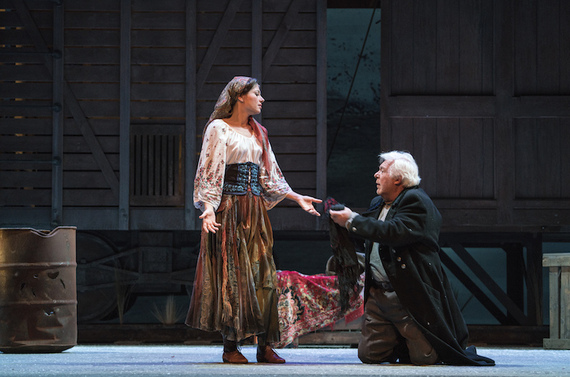 Inna Dukach and Stefan Szkafarowsky in 'Aleko' at New York City Opera;
photo: Sarah Shatz/New York City Opera.
We program Candide which has a great track record for the company and we follow it with a Respighi opera that hasn't been performed in New York in eighty years. A very City Opera type piece of programming.
Angels in America comes in June and it's no mistake that we're doing it during Pride Month, a commitment to doing a gay themed opera in Pride Month going forward.
Now when City Opera left Lincoln Center, they were nomadic. They would do two productions in rapid succession. And months would go by before they did anything again. If you were busy you could have missed half the season just by having a vacation schedule at the wrong time.
So we have the chamber works at alternate facilities, and which are designed to keep us in the public eye. Every six weeks or so City Opera has some activity. So far that model has worked and has been successful.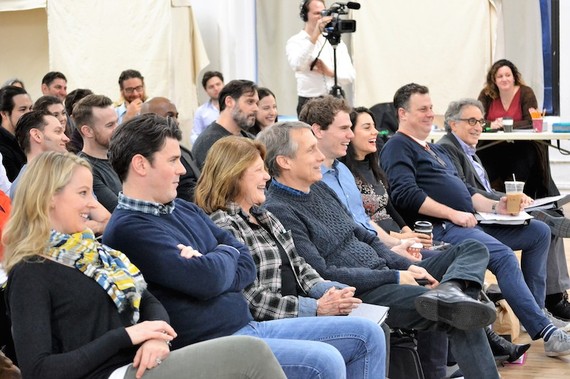 The cast at the first rehearsal of New York City Opera's new production of 'Candide;' photo: Leslie Granger/New York City Opera.
MM: Do you consider the Rose Theater your permanent home?
MC: Yes definitely. I think it's very clear that the Rose Theater is where we're going to remain. It's 1,100 seats and has a large orchestra pit in a gracious acoustic. It's ideal for us, perfectly suited for what it is we do.
It's also the only opera house that I've been to that's in the middle everything. One can see opera, have dinner, after dinner drinks. All of these things are available and we can create a different opera going-experience which I believe will help us bring in a newer, perhaps younger audience.
MM: Is that something that City Opera is capitalizing on?
MC: Yes. We're about to announce a collaboration with the fine dining restaurants for a concert we're going to do on Valentine's Day and we're looking toward pre-theater and post-theater dinners.
We currently offer packages to our donors for a pre-theater experience with me or a member of the staff and then an after-performance cocktail with a cast member. We give them an unusual experience without ever having to leave the building.
I think if we do that we'll create an impression on a newer opera goer that will engage them and likely compel them to come back.
MM: Something like the direction that museums have adopted to drive attendance.
MC: Yes. Sunday matinees for instance are our most successful selling performance. I wish every performance was on Sunday at four o'clock! People can have brunch, go to the opera and go home. Or they can go to the opera and still have time for dinner. It really lands in the sweet spot of what people are doing on a day off. And our location makes this simple.
A meaningful artist experience is also important. People meet one of our singers and the next time they go to the opera they say, "I can't believe I got to be that close to that person." And this will help City Opera go back to our star building system. City Opera was always known for discovering and nurturing new talent and bringing them up.
Remarkably in the past few years, the performers were never announced in any of the publicity for City Opera and we've changed that. We're celebrating our performers and see to it that people recognize them. Because when they come back the next year, as some people will, I want people to be able to remember them. Or when they go to the Met, which other people have and will, they can say "ah, I remember when I saw them at City Opera."
Candide runs at New York City Opera from January 6 - 15. Click here for more information.
Click here for information on New York City Opera's season.
Cover Photo: New York City Opera's production of 'Fallujah'; photo: Sarah Shatz/New York City Opera
___________________________
Mark McLaren, ZEALnyc's Editor in Chief, writes frequently on classical music and theater.
For all the news on New York City art and culture, visit ZEALnyc's Front Page.
Calling all HuffPost superfans!
Sign up for membership to become a founding member and help shape HuffPost's next chapter