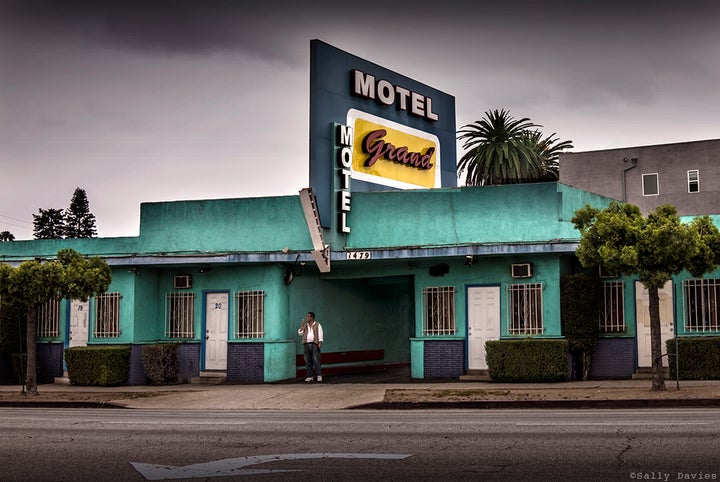 I've long admired Sally Davies - both for her art and her personality. As a result we've become friends. This past year, when she told me she'd be heading out to LA to "experiment" with her photography, I was intrigued. I've always been intrigued by how a place influences an artist and their work. So, this seemed like a great opportunity to explore the idea further. LA is certainly not New York City, so how would Sally Davies make her iconic and instantly recognizable photographs in this new and largely unfamiliar (for her) part of the country? That brings us here, to this interview, which debuts some of Sally's photography from her stay in LA, as well as delves into her mind to better understand the influence of place upon both photography and photographers. What you will find is that place does, indeed, change an artist's work, but not in a way that necessarily causes it to lose its defining signature. These photos are Sally Davies, to be sure, but they are also fresh and new and informed by a new and different place also.
Michael Ernest Sweet: Does place play a defining role in your work? In other words, do you make a "Sally Davies" photo wherever you are, or do you make work that is informed by the physical place to the extent that the aesthetic changes?
Sally Davies: The question implies that a "Sally Davies" photo is something fixed, something that is not informed by the physical place, and that would not be true. Although, I am myself no matter where I am shooting, and my life's experiences do remain the foundation for my visual choices; the image must change as the subject changes. That does not necessarily mean that my aesthetic changes.
Michael: How did you end up in LA?
Sally: Two years ago my dog Charlie died. A year and a half ago my good friend committed suicide, and in April my dog Suki died. Losing so much of what I loved in such a short time left me feeling very disenfranchised from my life and work here in NYC. I had a best friend in LA who loved me, and an open invitation to visit, so I took it. It was time to go somewhere, to wander strange streets at night, to get lost and not know how to get home…to see who I was somewhere else.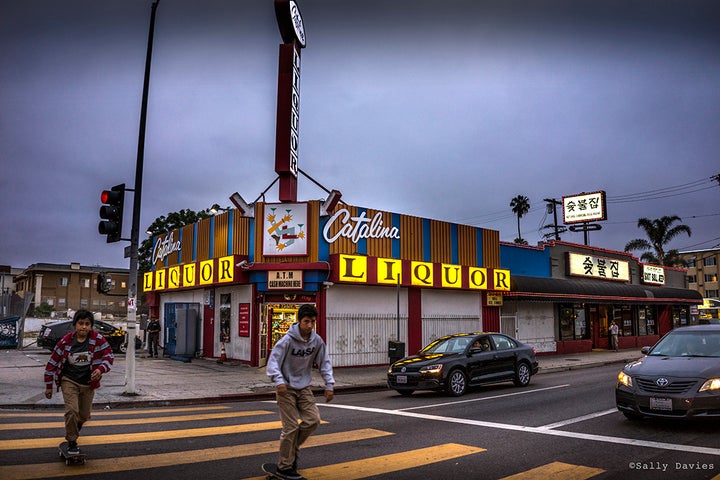 Michael: Was it easy to change your physical location as a photographer? Did you have to "find yourself" again in the new place, or did it just fit together organically?
Sally: I was there for four months. The first two months were really hard in many ways, not just artistically. Getting lost was tiring. Wandering strange streets at night left me rattled. Not knowing many people there was problematic also. So, although leaving my home was exactly what I intended it to be, it wasn't easy. Like NYC, LA has been over photographed. Everywhere I looked I saw clichés. I didn't know what I was trying to say. I didn't know what was important anymore. Then something shifted. I got an amazing house sitting gig in an area that I knew nothing about. I was taking care of their dog too, so I started to walk the hood 3-4 times a day. Nothing compares to investigating a neighborhood on foot at all times of the day and night to really discover the life there.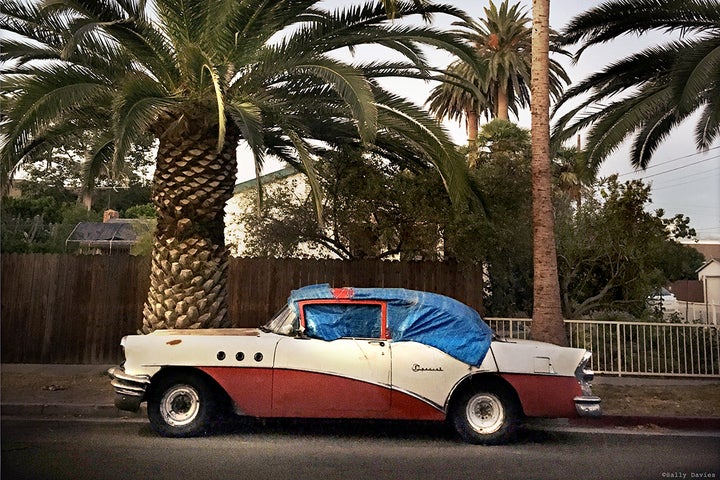 Michael: Why so many cars in the new work? Is this just another element of place (i.e. there were a lot of cars in LA) or is some new aspect of your way of seeing emerging in this work?
Sally: For the record, I did a lot of work that was not cars. The car photos were all pretty much taken in the neighborhood I mentioned. No plan on my part, just a conscious decision to not impose my will. I wanted to photograph that neighborhood and my experience there as it presented itself to me. As fate would have it, there were very few people around ever, and those cars were everywhere. I think those photographs are true to that place and how I felt there.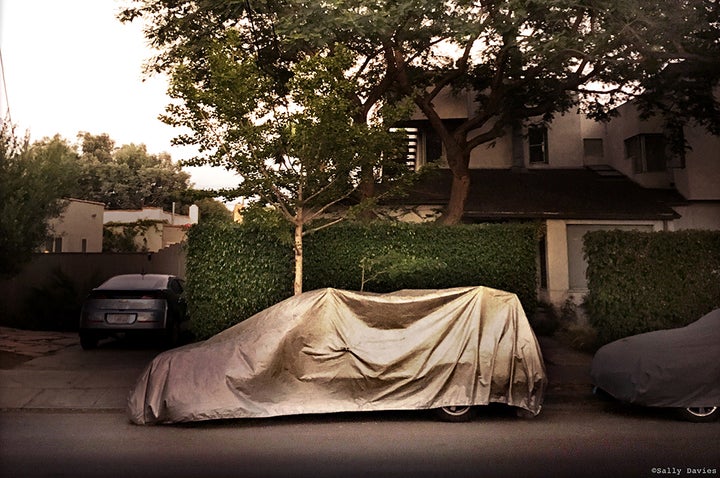 Michael: One constant has remained the same – color. Why do you resist monochrome so ardently?
Sally: I'm laughing at your question. I do love black and white images, and I struggle with color vs. monochrome daily. I will process an image in both and almost every single time the image is more successful in color. Somehow color is part of my story.
Michael: Aside from color, what are some of the constants that remain in your work regardless of place?
Sally: People who follow my work will say it's my composition and my relationship with light. They love anything by me that feels like Hopper, or that feels voyeuristic. For me, it's the implication of a story…a narrative, and often something unspeakably lonely.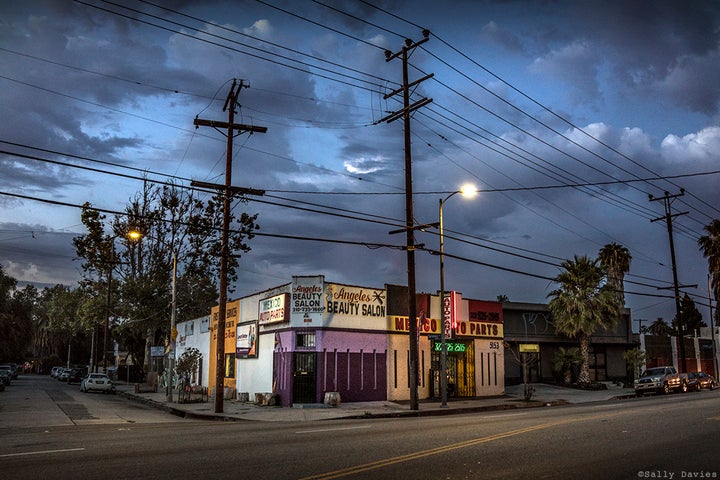 Michael: Has this experience of working in a new place affected how you view other people's photography? I'm thinking of more established photographers, does it alter your appreciation of their work in any way?
Sally: No, it doesn't alter my appreciation but it does confirm that we take our aesthetics and ourselves with us when we go somewhere. Is a photograph really about the subject? I think not. A new location is just another chance to explain ourselves.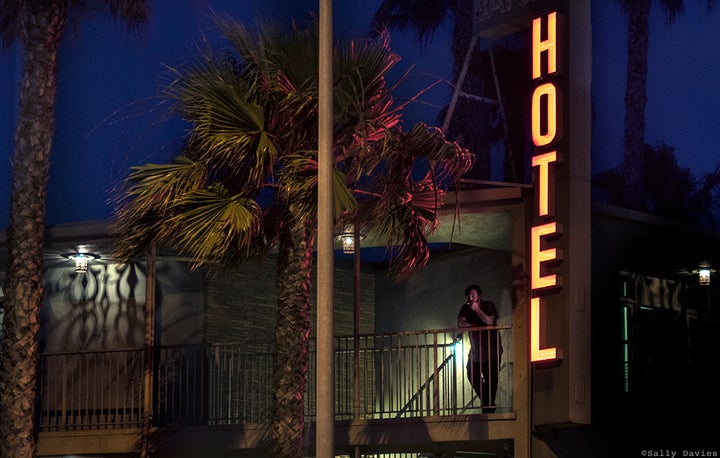 Michael: You seem to be attracted to the night, regardless of where you are, why?
Sally: People are different at night - they're out and that changes everything. Buildings look different at night. You can't see the grime of daytime. The lights go on and everything kind of twinkles in the dark. There is a boozy quality to night images and the story is different. There is a feeling that anything can happen at night.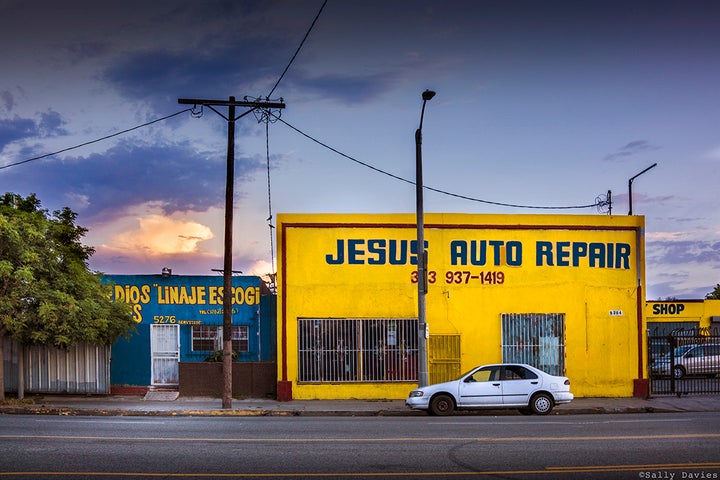 Michael Ernest Sweet is a Canadian writer and photographer. He is the author of two full-length photography monographs, The Human Fragment and Michael Sweet's Coney Island, both published by Brooklyn Arts Press. Michael lives in New York City. Visit his website for more info.
Sally Davies is a Canadian expat living in New York City. Her photography has been widely exhibited and published around the world. Her art has been featured on HBO's "Sex and the City", Ted Demme's film "200 Cigarettes", and her Lucky Chairs have been featured on the Oprah Winfrey Show and "Sex and the City." Her paintings are in the collections of Harvard Business School, Sara Jessica Parker, Debra Winger, Jane Holzer and others. Her photographs can be viewed at the Bernarducci Meisel Gallery NYC. Sally Davies has been photographing New York City since 1983. Visit her website for more info.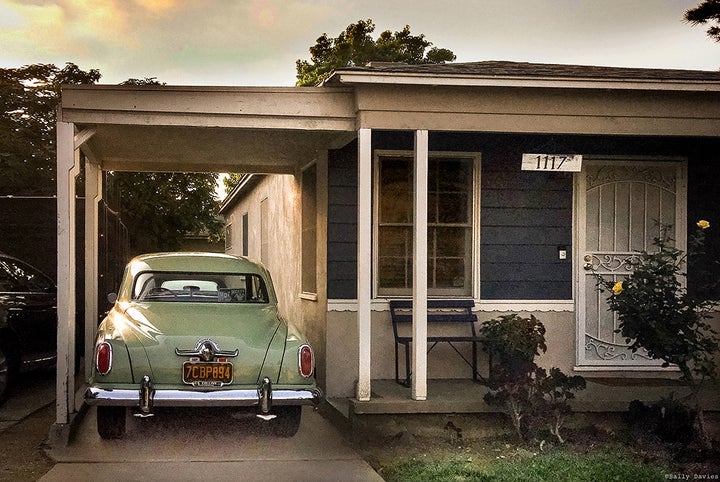 Related
Popular in the Community