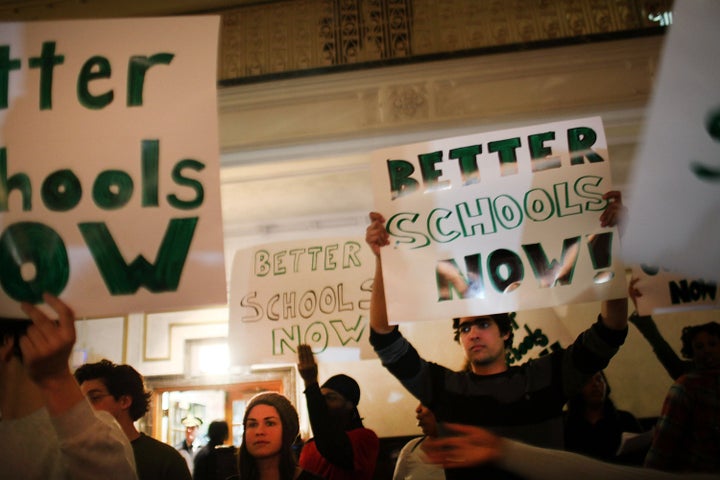 New York City suffered yet another round of defeat Tuesday in an effort to shutter 24 city schools, fire much of their teachers and administrative staff and reopen under new names.
The ruling by Judge Joan Lobis comes after the city appealed an arbitrator's June decision that the city does not have the authority to remove thousands of teachers, administrators and staff from schools. Mayor Michael Bloomberg first announced the school closings in his January State of the City speech as part of a broader education reform plan that would have granted the city $58 million in federal funds.
Last month, 3,600 educators were given notices to re-apply for their positions or be fired. Only about half would be able to earn their jobs back, while the others would be placed into a rotation of substitute positions. Seniority would not be a consideration in rehiring decisions.
But Lobis' Tuesday decision rules that the city doesn't have the authority to remove those members of the school system, as the renamed high schools were not "new schools," thus violating the city's contracts with the unions, according to the Queens Chronicle.
The 3,600 educators have been notified of their reinstatements for the coming school year, according to The Wall Street Journal. Still, the city plans to appeal again.
"The mayor and chancellor will not allow failing schools to deprive our students of the high-quality education they deserve," city attorney Michael Cardozo said in a statement, according to the Journal. "Although we will of course comply with the judge's ruling, we strongly disagree with it -- and we will be appealing."
The Bloomberg administration has been faced with a handful of setbacks in school reform efforts in recent years. The city could miss out on $60 million in federal grants because the New York City Department of Education and the unions have failed to agree on a new evaluation system for teachers and principals. Bloomberg and the unions have also been embroiled in a heated debate over disclosure of teacher performance data.
School officials say their hands are tied. Under New York law, tenured teachers have the right to a hearing with an arbitrator before they can be fired, and can appeal an arbitrator's ruling in civil court. While the Department of Education can also appeal an arbitrator's decision to state courts, legal standards for overturning those rulings are very difficult to meet.
"There is simply no reason that teachers accused of sexual misconduct should have greater job security than other city employees," the mayor said at the time. "The fact that they currently do is wrong; it is dangerous; it is indefensible."
Still, the Bloomberg administration's practice of shuttering and replacing failing schools has not improved the academic standing of city students, according to a New York Daily News analysis this week. Of 154 public elementary and middle schools opened under Bloomberg, almost 60 percent were found to have lower passing rates than the average school of similar socioeconomic demographic. While 47 percent of all city students passed reading exams, just 38 percent of students at new schools passed.
While the new schools were supposed to yield improvements in test scores and educator quality, 15 percent of new schools graded last year earned Ds and Fs -- exceeding the city average of 10 percent.
In a Sunday op-ed for the Daily News, American Federation of Teachers President Randi Weingarten and United Federation of Teachers President Michael Mulgrew offered alternatives for improving schools that preclude closures. The key, they write, starts with a new approach of negotiations and collaboration between the city and teachers.
And for now, Mulgrew is asking that city officials focus less on appealing Judge Lobis' decision and more on the coming school year.
"We appreciate the judge's decision to uphold the arbitrator's ruling," Mulgrew said in a statement. "It is now time to prepare the teachers, principals and school communities for the opening of school and we hope that the Mayor will spend as much effort on helping struggling schools succeed as he does on his own political needs."

Calling all HuffPost superfans!
Sign up for membership to become a founding member and help shape HuffPost's next chapter
BEFORE YOU GO