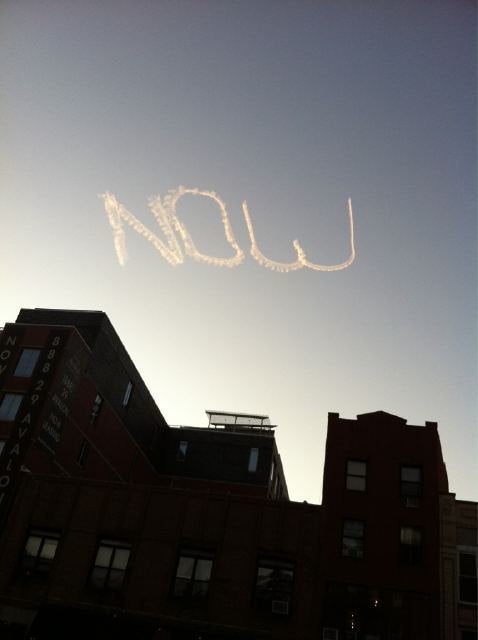 NEW YORK -- On an unseasonably warm Sunday afternoon on Pier 6 in Brooklyn, hundreds of people craned their necks and looked up toward the sky at a cryptic message being written above.
Skywriting is often associated with advertisements, ambitious marriage proposals or Wicked Witches of the West, but on Sunday, nobody was quite sure what to think.
The plane began by slowly puffing out the word "LOST," and then what looked to be the word "OUR," though one young boy on the pier was convinced that the "O" was a "D" and asked his mom if there were any words that began with "Dur." "No, sweetie, I don't think so," she responded. Finally, the plane finished up.
After taking the subway into Manhattan, I emerged above ground to find that our skywriter wasn't quite finished. "LAST CHANCE" was now emblazoned over the financial district.
"Now this is getting freaky," muttered a girl with a nose ring and a bag of groceries.
As sunset approached, the plane spelled out "NOW OPEN," which seemed to contradict the previous messages.
"So it was just an advertisement," a friend concluded. "Well, that's boring."
The New York Times' City Room blog spoke with Kim Beck, a Carnegie Mellon professor and the artist behind the project, who said that the phrases she chose were meant as a comment on the current economic climate.
"They're advertising messages that are no longer advertising anything specific," Ms. Beck told City Room. "'Lost Our Lease' can speak to the feeling of being exhausted, and 'Last Chance' is everything coming to an end. 'Now Open' means something else as well."
According to the New York Daily News, quite a few New Yorkers were concerned that the project was part of a terrorist plot, and many said that after seeing "Last Chance" emblazoned across the sky, they considered leaving town immediately.
The NYPD wouldn't comment on how many complaint calls they received about the incident, but in 2010, another art project sparked a similar frenzy.
Is there a lesson to be learned here? Perhaps the next time something weird and immediately unexplainable occurs in our city, we should first assume it's a mysterious art project.
And after that, maybe we can panic.
Related
Popular in the Community