A hint to all the pervs aboard the New York City subway: people will take your picture. Here are three examples from just this past week.
The NYPD is searching for two creeps involved in separate acts of public lewdness on April 18th while on trains passing through Union Square. (Union Square, it seems, is a perv hotspot.)
In the first incident at 4:10 PM, a man--described, according to Gothamist, as a "Hispanic male, about 30-40 years old, around 5'5" and 150 pounds with brown eyes, short black hair and a mustach"--took upskirt photos of a 24-year-old woman on a southbound 4 train approaching Union Square. The victim snapped a photo of the suspect and handed it over to police: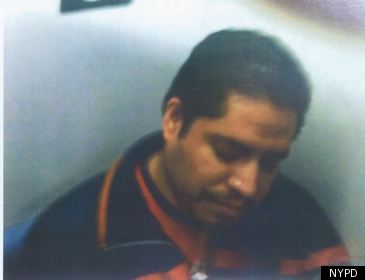 Just 20 minutes later, aboard a Manhattan-bound L train near Union Square, a 34-year-old woman caught a man--described, according to CBS as "in his early to mid 20s, approximately 6-feet and 175 pounds" and "last seen wearing a gray hooded sweatshirt with navy blue jogging pants and a black baseball cap"--staring at her while masturbating. Again, the victim was able to photograph the alleged perv, and handed the pic over to cops: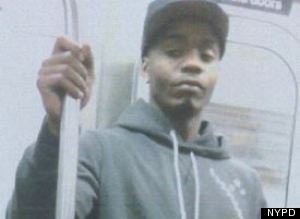 Which brings us to number three. A video! (Which you can watch over at Gawker.)
On Friday April 20th a Gawker reader called Monique had a lewd encounter with a man "dressed in a rumpled, cheap looking suit, and carry[ing] a Jet magazine" on a Queens-bound F train:
I must have dozed off, because when I woke up, I was a couple stops away from home, and he was sitting across from me, wanking away. I was like....is this man for real? Instead of getting crazy on him (which a lot of these perverts WANT, they're all attention-seekers) I whipped out my cell phone. This way, when I got off the train to alert the conductor or any other train person, I would have enough proof to get this ass off the train. When we got to 179th, I ran to find he (or she), and ran into who I guess was the conductor/announcer. I showed them the video and EXACTLY where the man was on the train. THE MAN WAS STILL ON THE TRAIN. And you know what I got? A blank stare.
If anyone out there has information regarding these incidents, call Crime Stoppers at 1-800-577-TIPS (8477), submit a tip at CRIMESTOPPERS.com, or text 274637 (CRIMES) then enter TIP577. All calls are confidential.
REAL LIFE. REAL NEWS. REAL VOICES.
Help us tell more of the stories that matter from voices that too often remain unheard.