 The suicide rate in New York City is almost half the national average, a new Health Department report reveals. There are now six suicides per 100,000 New Yorkers, compared to national rate of 11 per 100,000.
The number of suicides by firearms also continued to decline. In 2010, 12 percent of the city's 509 suicides involved the use of a gun, compared to a national average of 52 percent. In 1991, 19 percent of those who took their own lives in New York City used guns.
Health Commissioner Dr. Thomas Farley applauded the city's strict gun laws for contributing to the low suicide rates. "People who have ready access to guns are more likely to kill themselves with guns than people who do not," he said in a statement.
Hanging is the preferred New York method for suicide at 28%, according to the numbers. The city with the Manhattan skyline had far more people jump to their deaths from tall buildings (18%) than nationally (2%).

Another 7% choose the city subway system for their ride into the afterlife, the statistics indicated.
About three quarters of the city's suicides were among men in 2010.
And in 2007-2008 one-third of those who had committed suicide had been drinking alcohol, according to the Health Department.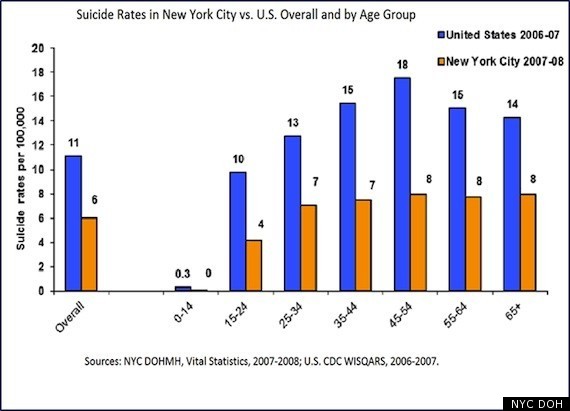 Popular in the Community