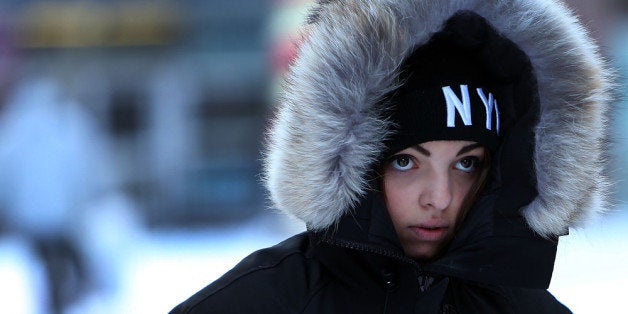 NEW YORK CITY — New Yorkers were urged to stay indoors and bundle up as arctic air froze the city, sending temperatures to near record lows Tuesday morning.
City agencies were coordinating cold weather efforts including putting emergency staff on standby, advising citizens on how to handle the cold and suspending alternate side parking, officials said.
The mercury had reached only 4 degrees by the morning commute - beating the coldest Jan 7 on record which was in 1896, according to a National Weater Service spokesman. The temperature that day was 6 degrees.
"With a dangerous cold snap and deadly wind chills predicted to blanket New York City this evening and tomorrow, I urge all New Yorkers to find a warm place to stay to avoid hypothermia, frost bite and other life-threatening health conditions," Mayor Bill de Blasio said in a statement late Monday.
"We had a cold front that moved through yesterday. Behind it we had arctic high pressure come through. The Polar Vortex is more or less always present, but we had a piece of it come down," Poolina said.
Temperatures were expected to rise to 24 degrees Wednesday and continue rising through the tail end of the week, according to Poolina.
In the meantime, here's how cold is affecting the city:
Cold can create mechanical problems or delays for buses, the DOE warned, so parents should wait with their kids at the bus stop or give them a clear plan if the bus doesn't come.
Subways were running with scattered delays on the A, C, 2, 3, and 7 lines due to signal problems, according to the MTA's website.
Alternate side parking was suspended for Tuesday, according to the Office of Emergency Managment.
The MTA advised drivers on the Throgs Neck, Marine Parkway and Cross Bay bridges to drive slower because of the high winds.
Crews were out on other bridges and the Staten Island Ferry with anti-icing gear and other equipment, OEM said.
Amtrak trains were running on a modified schedule on both the North East Corridor and Empire lines because of the cold, the train service tweeted.
"Vulnerable populations, such as seniors and infants, are most at risk during extreme weather events, so it's important to check on friends, family and neighbors if you think they need help getting to a warm place," the OEM said in a Monday statement.
Calling all HuffPost superfans!
Sign up for membership to become a founding member and help shape HuffPost's next chapter