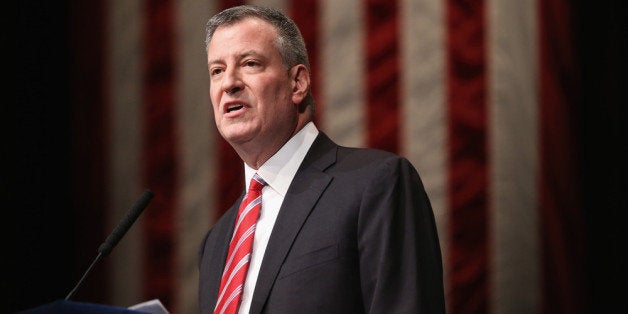 New York City's undocumented immigrants will soon be able to obtain municipal ID cards, Mayor Bill de Blasio announced Monday.
"We will protect the almost half-million undocumented New Yorkers, whose voices too often go unheard," the mayor said during his first State of the City speech. "We will reach out to all New Yorkers, regardless of immigration status -- issuing municipal ID cards available to all New Yorkers this year -- so that no daughter or son of our city goes without bank accounts, leases, library cards… simply because they lack identification. To all of my fellow New Yorkers who are undocumented, I say: New York City is your home too, and we will not force ANY of our residents to live their lives in the shadows."
"La ciudad de Nueva York es el hogar de todos los que vivimos aqui. No dejaremos que ninguno de nuestros residentes viva en las sombras," de Blasio repeated in Spanish, a nod to the city's large Latino population.
A source in the mayor's office told Spanish-language El Diario la Prensa on Monday that de Blasio will officially submit the proposal soon.
The city ID card would not operate as a driver's license, nor would it be accepted as a form of identification by federal agencies.
It does fulfill one of de Blasio's many campaign promises. "These identification cards will also help foster better relations between the police and undocumented people, who often choose not to report crimes out of fear they may be deported," reads a section of de Blasio's campaign website from last year. "In New Haven, Connecticut -- which offers a municipal ID to undocumented people -- crime in the largely-immigrant Fair Haven community declined 20 percent in the two years after the IDs were introduced, even as crime-reporting increased."
City Council Speaker Melissa Mark-Viverito told Politicker she has "full confidence" that "a universal ID will become a reality as soon as possible."
New York State Senators Adriano Espaillat (D) and Jose Peralta (D), both of New York City, expressed support for de Blasio's proposal in a joint statement. They also took the opportunity to advance another cause: allowing immigrants to apply for drivers licenses. From the statement:
"...it is unacceptable that hardworking immigrants are made to break the law in order to commute to work or take their kids to school," they wrote. "Providing undocumented immigrants the opportunity to obtain drivers licenses will ensure that all New York drivers are properly credentialed, educated and operating registered, inspected and insured vehicles, making our roads safer and benefiting all New Yorkers."
De Blasio himself has previously supported allowing undocumented immigrants in New York to apply for driver's licenses.

Popular in the Community