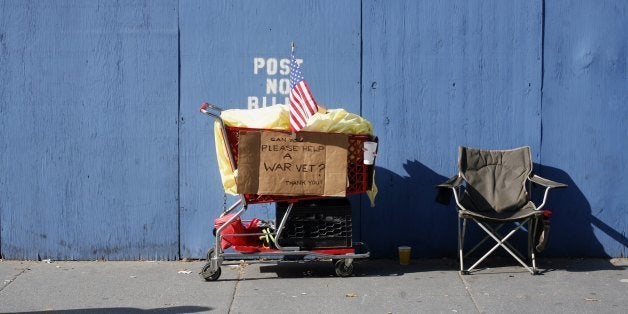 New York City is on track to reach its goal of ending veteran homelessness by the end of 2015, according to numbers from Mayor Bill de Blasio's office, a potentially remarkable achievement for a city with one of the largest homeless populations in the country.
The mayor's office has determined that there are 990 homeless military veterans in New York City. Of these, 971 are in city shelters and 19 have been identified as living in the streets.
That represents a 40 percent drop from the number of homeless vets the city identified last year, and a 75 percent drop from 2012, when there were nearly 3,800 homeless veterans in New York City.
"On our watch, the number of homeless veterans in New York City has dropped significantly, and Mayor de Blasio is fully committed to ending veteran homelessness by the end of this year," a spokesperson from the mayor's office told HuffPost.
During his State of the City address in January, de Blasio promised to end veteran homelessness by the end of 2015 as part of the Mayors Challenge to End Veteran Homelessness, an initiative spearheaded by First Lady Michelle Obama.
"Those who fight abroad to protect our freedom should never be left without a home here in the country they defended," the mayor said. "It makes no sense, and we won't let it happen."
De Blasio's plan has included a push to get local veterans to sign up for federal housing vouchers from the Department of Veterans Affairs. It also moved veterans to the top of the waiting lists for state-funded supportive housing, Medicaid-funded housing with health services and affordable units in public and subsidized housing set aside for the homeless.
According to the mayor's office, the city has placed 200 veterans in homes so far this year.
The city has also completed housing plans for 96 percent of the remaining veterans, which means the New York City Department of Homeless Services and other city agencies have established the best available housing options for 950 homeless veterans. How quickly those plans can be implemented depends on available funding and the cooperation of the individual veterans in question.
"I don't believe that there are only 19 homeless vets sleeping on the street," Markee told HuffPost.
"[The Department of Homeless Services] claims that around 3,000 people are sleeping on streets each night" he added. "It's not plausible that only 19 of them veterans."
Good data on unsheltered populations in the city is always hard to come by, Markee said, and New York City's method of counting people on the street likely has "methodological problems."
A Department of Homeless Services source told HuffPost that the current estimate for unsheltered veterans comes from a count conducted by homeless outreach teams, who are on the streets around the clock encouraging individuals to come indoors.
Markee also said that while data surrounding the sheltered homeless population is more reliable, there are probably many homeless men and women who don't self-identify as veterans, and therefore didn't end up getting included in the city's latest census.
Still, he thinks "it's a worthwhile goal" to end veteran homelessness in the city by the end of this year, and says he's "encouraged that the administration is taking it on."
Tori Lyon, executive director of the Jericho Project, a New York-based nonprofit that houses homeless veterans, said there's "definitely a sense" among many city agencies and advocates for the homeless that New York can end veteran homelessness by the end of this year.
But Lyon, who also sits on the Executive Council of the New York City Continuum of Care Veterans Task Force, added that "we're not going to get from 990 to zero." That's because there will always be newly homeless veterans, as well as veterans who have slipped back into homelessness for the second or third time.
Rather than eliminating every single homeless veteran, Lyon said, the idea is to reach what's called "functional zero" -- a point where there are so few homeless veterans that the city has the resources to have a "quick turnaround" whenever a vet does become homeless. The goal would be to get the vets re-housed within 90 days, which she characterized as "ambitious" considering the city's tough housing market.
Functional zero, Lyon elaborated, is the point where the "system and resources match the need" of vets who have recently become homeless. In order to reach this point, she said, the Executive Council thinks the city will likely need to get the number of homeless veterans down to below 300.
On Monday, the first lady announced that the Department of Housing and Urban Development and the Department of Veterans Affairs will offer states $65 million in rental assistance, aiming to help house more than 9,300 homeless veterans across the country.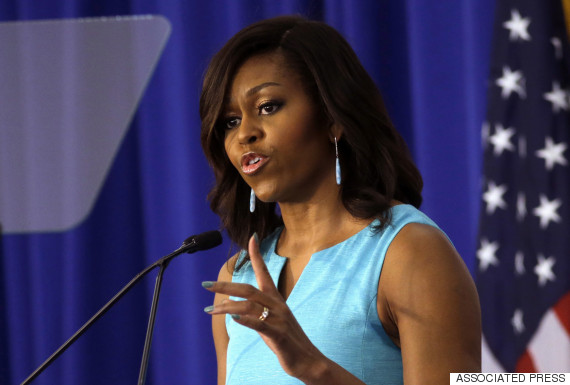 Obama made the announcement from New Orleans, which last year became the first city in the country to house all of its homeless veterans.
"You all have proven that even in a city as big as New Orleans, veteran homelessness is not a reality we have to accept," the first lady said. "It's not an impossible problem that is too big to be solved."
"And now, we want cities across the country to follow your lead," she added.
Of the $65 million in new federal funding that Obama announced, the state of New York will get $3,957,771. A large chunk of this will almost certainly go to New York City, where many of the state's homeless reside.
Related
Before You Go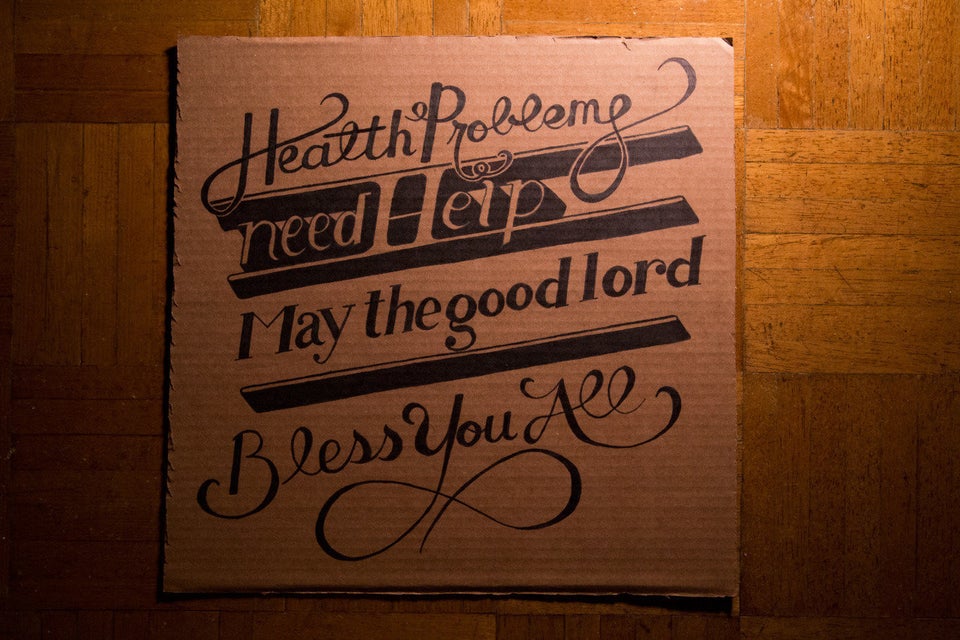 Artist Redesigns Signs For Homeless People
Popular in the Community