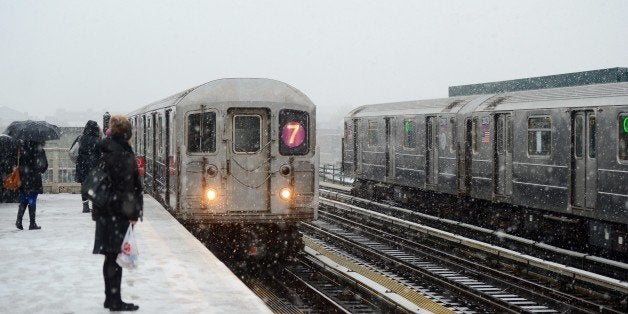 By Trevor Kapp and Claire Cameron
MIDTOWN — After a week of snow and brutal cold, New Yorkers are being urged to brace themselves for a fresh dump of the white stuff on the weekend.
The city could be hit with up to 5 inches of snow and see extended periods of sleet and freezing rain Saturday as a low-pressure system sweeps in from the west, according to the National Weather Service.
Flakes started falling around 8 a.m. and were forecast to intensify throughout the morning, eventually turning into sleet and freezing rain by Saturday night, according to the NWS. The agency said to expect 3 to 5 inches of snow, along with icy conditions on the ground.
The nasty weather should finally taper off Sunday around 5 a.m.
Temperatures for Saturday were expected to reach a high of 30 degrees, according to the National Weather Service, but on Sunday night that was set to plummet once more to 25 degrees.
The Dec. 14 record for snow is 5.8 inches, set in 2003. The record temperature high for the day is 67, set in 1881, and the low is 12, set in 1976. 
The city's Office of Emergency Management urged New Yorkers to use caution when going about their weekend. The agency asked those out for a stroll in the snow to beware of ice on sidewalks and be extra careful at pedestrian crossings, as ice on the roads could lead to accidents. 
For people worried about getting stuck in the snow, the OEM plow tracker shows where plows have managed to clear roads, and the schedule for the day.
In preparation of the storm, the MTA canceled all scheduled weekend work except the following lines:
5 Train: Northbound and southbound trains will bypass Pelham Parkway. Free shuttles will be available between Pelham Parkway and Morris Park stations.
6 Trains: Trains will skip Middletown Road and Castle Hill Avenue stations in both directions. 
G Train: Service was suspended between Court Square and Nassau Avenue from 11:45 p.m. Friday to 5 a.m. Monday. Free shuttle busses will be available between Nassau Avenue and Court Square, as well as the Lorimer Street L station and the Court Square G station.
Additionally, MTA crews will be clearing the tracks of outdoor subway lines throughout the snow fall. They will also be clearing snow and ice from platforms and staircases. This may impact service on lines with express service, according to the MTA.
More information about the severe weather alert can be found at the Department of Sanitation website. Real time weather information can be found at the National Weather Service.
REAL LIFE. REAL NEWS. REAL VOICES.
Help us tell more of the stories that matter from voices that too often remain unheard.