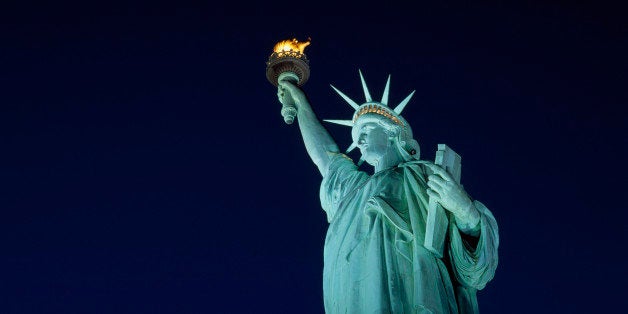 Living in New York City with kids isn't easy, but visiting my hometown with kids is an cinch. Really. Here are some of the best free or super cheap things families can do while visiting New York.
Sony Wonder Technology Lab. This is free for all ages, but you must make advanced reservations by calling 212-833-8100. This is my own elementary-age daughter's favorite spot in New York. This may be the most techno-cool place in Manhattan. Kids sign in with signature photos, sounds and colors, which they love. Video games, a recording studio, movie-making apps and a live newscast opp make this a kid favorite, of course, but also a parent's. Who knew you could learn so much just shadowing your kids?
NY Public Library Children's Center. Plan for a nice calm, quiet hour here. Unlike many other libraries, kids actually beg to visit this place. Yes, it's a remarkable building; there are amazing exhibits that adults will want to prowl through slowly; but this kids' section with its low-key vibe, its short stack chairs, computers and kid-friendly lounge are irresistible. Plus, the original cast of Winnie The Pooh -- yes, the stuffed animals that A.A. Milne based his famous books on -- are here. Check if programs like KidsLIVE and TeenLIVE, which feature authors, artists, filmmakers and musicians, are happening during your visit.
Statue of Liberty: Head down to Battery Park and stand at water's edge to see the iconic lady standing proud in the harbor. For a closer look, you can board a ferry at Battery Park and for $12 per person stop at the Statue of Liberty. It's free to enter the park, where you can approach the pedestal. Want to climb to the crown? That will cost three bucks a person and the National Park Service recommends you reserve tickets several months in advance. If you just want to get close enough for beautiful photos, save money by taking the Staten Island Ferry, which gives you a double dose of Lady Liberty as the ferry goes from Manhattan to Staten Island and back again for free. A few added bonuses: gorgeous New York skyline views on the way back and a snack bar that sells beer.
Although it's neither free nor cheap to visit the new Freedom Tower, the Museum of the American Indian, which is run by the Smithsonian, is located within the WTC Complex and offers free admission for everyone. There are rotating exhibits that range from ancient artifacts to contemporary Native American art.
Carnegie Hall and Lincoln Center. Two of the country's best music venues often have free concerts for families. Carnegie Hall's Neighborhood Concerts for children 3 to 6 run most weeks at the Judith and Burton Resnick Education Wing. On the first Saturday of every month at 11 a.m. the glassed-in David Rubenstein Atrium, part of Lincoln Center, hosts performances for families raging in style from musical theater to opera. Plan to stop for photos and fun at Lincoln Center's Revson Fountain, which has five-minute water ballets throughout the day. Go at night and you'll also see a gorgeous light display.
Central Park. Families can easily spend a day or two rambling Central Park, but there are a few very special places not to miss.
Belvedere Castle, which is open Tuesday through Sunday, is a Victorian folly of impressive proportions soaring above much of the tree line. Not only can you climb to the turret for the best view in the park, but the building is also a scientific outpost with animal skeletons and microscopes. Plus, there are family programs throughout the year led by rangers.
Hans Christian Anderson Storytelling Center: Every Saturday all summer long for past half century, families with young children have gathered around the Hans Christian Andersen statue at the Conservatory Pond to hear his famous stories read by expert storytellers and actors.
Alice in Wonderland Statue: This statue may be the 'It" spot for the under-12 set. The very young scamper at its feet, while elementary-age kids climb all over the 11-foot-tall bronze statues of Alice, the Mad Hatter and the White Rabbit. This has family photo op written all over it.