There isn't a harder working gal in New York City than Marti Gould Cummings. From hitting clubs like The Ritz and now premiering at Bottoms Up, Marti is simply redefining what it means to be a queen dedicated to her craft. She is stepping out of her comfort zone and into the spotlight with a show with Broadway and television star Alan Cumming, and then on April 1st, a rock show at the legendary 54 Below! We sat down with Marti to talk about navigating through the clubs of New York City, committing to working hard, and taking risks.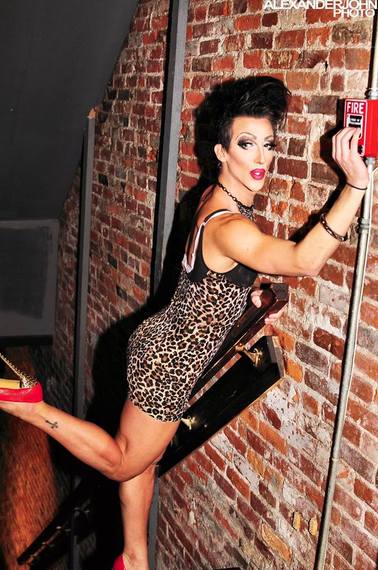 You are one of the busiest gals in show business nowadays!
It's crazy right?! It's a good thing, but it's definitely crazy and I like to stay active; I don't like to be bored.

On Monday, March 15th, you'll be at Therapy in New York City with Matt Doyle and Alan Cumming. How did such an eclectic cabaret show come to be?
That's my weekly stage based talk show that I do with my amazing piano player Brad Proctor. We have had people like Cheyenne Jackson and Rumer Willis come through, some really great amazing performers. I've known Alan for a long time socially through friends and our schedules just never seemed to line up to do a show, and this week they finally did. My friend Matt Doyle has done a ton of Broadway stuff and has a new album "Uncontrolled". Matt's going to do some songs off of his album and Alan and I are going to talk about everything, nothing is off the table. It will be a great way for people to get to know him on a more intimate level. People know him from "The Good Wife" and from Broadway in "Cabaret," and now people are going to get to see him shoot the shit and just have a really good time, you know?
Have you gotten the chance to work with Alan on the stage before?
You know, I haven't. We're friends, but we've never gotten the chance to be on stage together. This is a new adventure for the two of us. I'm both nervous and excited.
Therapy is the perfect kind of location for a cabaret-style act, especially with such an intimate setting! I think people will really get to see him in a totally different way.
Absolutely. You know, Alan is so chill and go with the flow, and he loves the community. There's no pressure, we're just going to sit on stage and have fun.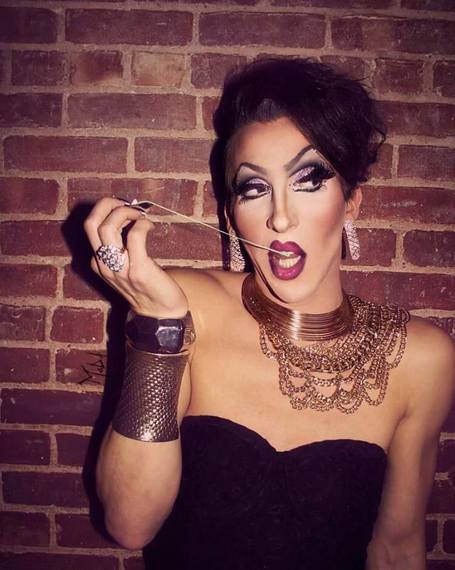 Speaking of your busy New York City schedule, you're leaving The Ritz after five years of headlining there. Why the change at this stage of the game?
I love The Ritz, and Tommy (owner Tommy Greco) is great! I don't have one bad word to say about them or my time there at all. I started there five years ago and that's a long time. This is going to sound so cliche, but when Oprah left her talk show, she said that she would "rather leave on top" before the show got stale. I've been there for five years; I've done two hundred and eighty shows there, and I've had over two hundred guests. Everything from Broadway leading ladies to drag queens from England to "RuPaul's Drag Race" girls to singers you had never heard of that were just starting out. I've had every type of performer I could have there and done every type of joke I could do. I had been thinking about it for a long time and I think someone else should have the opportunity to do a show there and i think I have run my course. I want to try something different, more low key and chill. I'm moving to a new venue this week, and it's going to be a more cabaret style show than big jumps and high kicks.
As for leaving The Ritz, it wasn't an easy decision at all, but when you leave your highest paying gig, I knew a lot of queens would be talking about it and wanting the gig. I'm going to be moving to Bottoms Up, which is right down the street, and I'm going to be the only show that they have. I am excited to start that adventure and new chapter for them. Richie (Friendly) has given me this new opportunity and it's going to be a new chapter for both of us.

One word that many would think of when you come to mind would definitely be a "risk taker" You are definitely up for anything.
You know, one of the best things about being in show business is that if you don't take risks, you're not going to grow. If i had stayed doing the same show at The Ritz for another five years, it probably would have been great, and I would continue to have a full house like i have now, and people would have loved it. I wouldn't grow though. It's going to be a new challenge, but I won't know unless I try. I think a lot of performers get comfortable and I never want to get comfortable.
On April 1st, you're doing a rock concert at the legendary 54 Below with your band, Marti and the Cummers! Speaking of risks, this sounds like one of your biggest ones yet!
I had this great opportunity and I asked Cady Huffman, who won the Tony for "The Producers" if she would do my show. She said yes and did it, and we became friends. She called me about a month later and she called me and said she was directing this Off-Broadway show with Daphne Rubin Vega (the original "Mimi" in "Rent) it's written by Kenyon Phillips, and she said "we can't find anyone to play this one role. My mind keeps going to you, so no audition and no questions asked, would you like to star in this show at Webster Hall with these people"? It's one of those moments where you really realize if you do great work it will pay off. Having a Tony winner come star in her directing debut. starring with Daphne Rubin Vega, one of my idols, I mean what is my life? I was so incredibly grateful. To be on stage with those people at Webster Hall, which is so iconic, kind of lit the spark under me. It told me that I could do a show with live music, I can sell tickets to a show like this. I love all my drag shows and am so grateful for them, but I finally decided to do a real live show with a band. My dad and I, growing up, I had to commute from the country to the city for school, and for two hours a day, we listened to David Bowie, Eric Clapton, The Doors, that's what I grew up with. My dad inspired me musically.
My music director, Eric Miranda works with Robert Plant and Led Zeppelin, and he's brilliant. Cady Huffman is going to sing a number with me ,Hernando Umana ("Kinky Boots") and Michelle Dowdy ("Hairspray") were on Broadway, they're going to do a number with me. My very first roommate, Andre Jordan, from when I first moved to New York City is my backup singer. It's just so out of my comfort zone and so scary, but if I don't challenge myself, I'l never know if I can do it. 54 Below is so beautiful, and I feel really lucky. I'm going to be 29 this year, I want to do bigger, better and be the best performer that I can be. If I don't take the risk doing any of these things, I'll never know. I think that's so important as an artist. I think fear is good; fear in your body is essentially the same thing as excitement. You just have to turn any fear around into excitement.
You're doing things in your career that some of the winners of "RuPaul's Drag Race", like Jinkx Monsoon and Bianca DelRio are doing now that they have actually won the crown.
Yeah, but their booking fee is just a little bit higher LOL! Look, I would love to be on "Drag Race" if that opportunity came to me. I mean, RuPaul it's "RuPaul"! So many great girls have come out of that show, but so far it hasn't presented itself in my career. A lot of girls wait around thinking it's the be all end all of drag and of their careers. I know for me, I have a job, I still have bills to pay, whether I'm on the show or not. I still have to work, challenge myself, and put on quality material for people whether I'm on the show.
I've talked to other girls about the difficulty of booking themselves and weeding through the sea of 'Drag Race" girls that many of the bars and nightclubs really want to book. How much of a difficulty to you see that being in your career?
Sure it's a challenge. But I don't take no for an answer. I work out of town a lot because I put on a quality show. I go out of town and I'll tell bookers that I'll do a booking for "x" amount of money, and if they like me and want to book me, you can have me back. It's all negotiations and being smart about it. I don't think it's an un-humble thing to say you're a good performer. Do I question every show I do-yes, do I question every joke or song-yes. I question everything, but I know that If I wasn't good I wouldn't be working, so why wouldn't they want to book me, regardless of what show I am on. You just have to go in with the confidence and go in with a package, showing them that this is what they are getting, and we are going to put a great package together!
You still get nervous despite being such a seasoned performer?
I have the worst stage fright! I have little rituals, superstitious things that I do, I am such a nervous wreck. I ask my friends and my boyfriend after every show if it was good, and they always thinking I'm crazy and tell me it was fine!

Where do you want to be in 5 years?
Well, in five years, I'll be 34 ? Right now, I'm doing 54 Below and having Alan Cumming on stage with me. In five years, I would like to have Alan Cumming on my own tv show. I would like to do town hall at 54 Below or Live At Lincoln Center. Five years is really not that long of a time, but I have only been doing drag for six years. So why cant i do those things in five years?

You've gotten so far because I think you have one of the best attitudes.
I love what I do; I genuinely love what I do. My body aches all time, but I love the exhaustion. If I get 4 hours of sleep, who cares because i put on a great show. If i ever lose that, I don't know what I would do. Thats why i had to leave a venue and challenge myself and do new things. I love what I do and I think a lot of performers forget the love of it and start counting the gigs or the money. If one person's day was changed because of your show, then you've done your job

You're very centered and have a great deal of clarity. Do you think that comes from being sober within the clubs?
For some people it's difficult, but when I go into do a job I don't think about drinking, I'm there to work. I'm there to do a job. I know that everything in my life is because I decided to put down a drink and drugs and get sober. I have a career today, I have a relationship with my family today, I have beautifully friendships, a wonderful boyfriend, and a chosen family. I feel that my side of the street is clean if i get into an altercation I can make amends and own my part and apologize for it. I'm thankful to have those tools. Every wonderful thing I have in my life is because I am sober.
"Stage Fright" starring Marti Gould Cummings welcomes Alan Cumming Monday March 14th at 10:00 p.m. Therapy Lounge (348 West 52nd Street, NYC)
Marti Gould Cummings and his band, Marti and the Cummers perform 54 Below on April 1.
Calling all HuffPost superfans!
Sign up for membership to become a founding member and help shape HuffPost's next chapter