New York City's first ever Steampunk Weekend kicks off tonight, Friday August 9 at Lincoln Center Out of Doors with two events. At Josie Robertson Plaza, check out the stylings of San Francisco's avant-cabaret circus troop Vau de Vire Society and the neo-punk-hip hop-Latin brass band swirl of local favorite the Hungry March Band followed by Edwardian pagan lounge ensemble the Rosin Coven and Amanda Palmer and the Grand Theft Orchestra at Damrosch Park Bandshell. The summerfuncrazy begins at 6:30pm and it's free, so there's no viable excuse to miss it. Be there or be square, people!

The weekend has been put together by the fabulous 24 hour party people, Gemini & Scorpio, who are celebrating their tenth anniversary of producing exciting events that have ranged from wild circus throwdowns to dazzling vintage dance socials to Russian baths bashes, per their website: "The events are often marked by offbeat themes, fantastic costumes, mind-blowing music, burlesque and circus performances, lavish art and decor, and wild dancing into the morning. G&S is particularly unique in bridging the underground and high-culture spheres, and for our 10th Anniversary celebration, we are proud to present the ultimate mash-up of these two worlds, with a steampunk flavor and hand-picked performers traveling to NYC just for this event."
Besides Amanda Palmer, who should need no introduction to Huffington Post readers (please check out her recent Glastonbury run-in with the UK tabloid The Daily Mail which she's of course turned into a fabulous art project) the Rosin Coven opens the Friday night show at Damrosch Park (their M.O.: "Edith Piaf does the cha-cha with Charles Mingus, Erik Satie tangoes with Sun Ra, and Kurt Reil broods over Doris Day"). Oh, and? This is Palmer's only scheduled show in New York City this year (she's on tour in Europe, Australia and New Zealand for the most part), and it's FREE so please take my word for it and GO. And by the way if you are not in town and can't make the scene in person, the show will be live streamed beginning at 8:30pm via Lincoln Center's home page or directly through LincolnCenter.org/watch. The Lincoln Center-produced live-stream is also viewable tonight on GeminiandScorpio.com and Amanda Palmer's livestream PartyOntheInternet.com.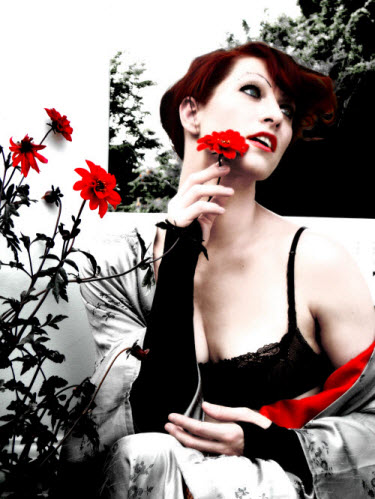 Amanda Palmer. Used with Permission.
Saturday August 10th the fun continues with The Lost Circus at Brooklyn's Irondale Center in Fort Greene, tickets here, starting at 9pm and going all night long. The producers describe this evening as circus meets dark cabaret with a steampunk twist. For the first time on a New York City stage, the co-producers and headliners of San Francisco's Edwardian Ball will bring New Yorkers a festivus of steampunk gloriousity. Dress code: "Dark cabaret, traveling circus, steampunk Victorian, neo-tribal, funky formal, desert wanderer, Edward Gorey, Tim Burton, Mad Max, City of Lost Children. Effort required. Stilts & characters welcome." Classically trained dancers, acrobats, contortionists, cabaret performers, fanciful body art, tarot readings, specialty potions and lots more along with gypsy punk music from Amour Obscur and the "Russian mafia" band Debauche out of NOLA; Desert Sin's exotic fusion of dance and theater; The Armored Combat League exhibits medieval combat moves; DJ Joro Boro will make you dance.
But wait, there's more! Sunday August 11th the party continues on a cruise taking place on a three-level Mississippi style paddleboat, The Queen of Hearts, with the Hungry March Band serenading you along with DJ Joro Boro, $mall ¢hange and Shakey.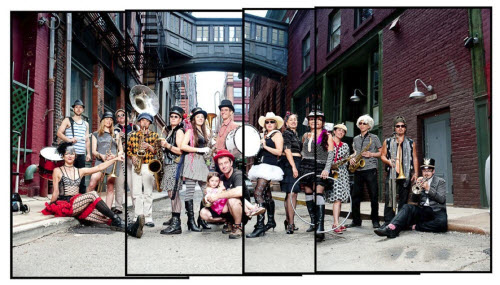 The Hungry March Band. Used with Permission.
Get your Game of Thrones on for what TimeOutNY has called a "spooky baroque bash" and, per Business Week, "cover yourself with sparkles and revert to the days of decadent disco"! A full event weekend pass is available for $45 or VIP access for $65 and tonight's show at Lincoln Center Out of Doors is free.
More info on the weekend's events can be found here.
Calling all HuffPost superfans!
Sign up for membership to become a founding member and help shape HuffPost's next chapter