 America's middle-class is struggling, and as City Council Speaker Christine Quinn emphasized in her State of the City speech Monday, New York City's middle-class is too. Like, really struggling.
Quinn described an "affordability crisis"in the city and outlined a plan to borrow money and build 40,000 new middle-income apartments. "I refuse to accept the notion that large portions of our city are destined to become a luxury only available to the wealthiest among us," she said.
City Council defines "middle class" as those with a household income within 100 to 300 percent of the area median income (AMI). In New York City, that means an income ranging from $66,400 to $199,200:

Some of the report's takeaways: the median middle-class income has plummeted, middle-class unemployment rates are up, housing costs drain a bigger chunk of middle-class incomes here than almost anywhere else in the country, and jobs that pay a middle-class wage are becoming increasingly scarce.
For more on Quinn's plan to slow the "middle class squeeze" go here.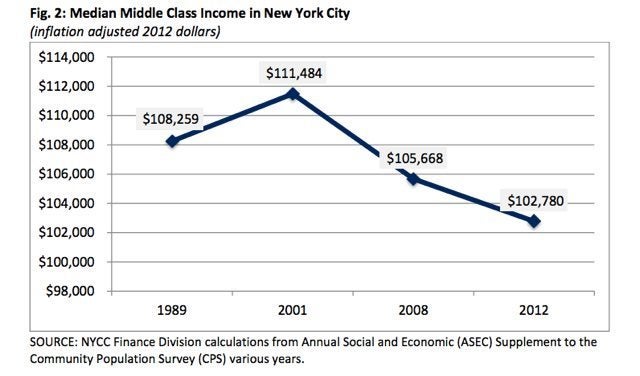 NYC's Struggling Middle Class
Related
Popular in the Community