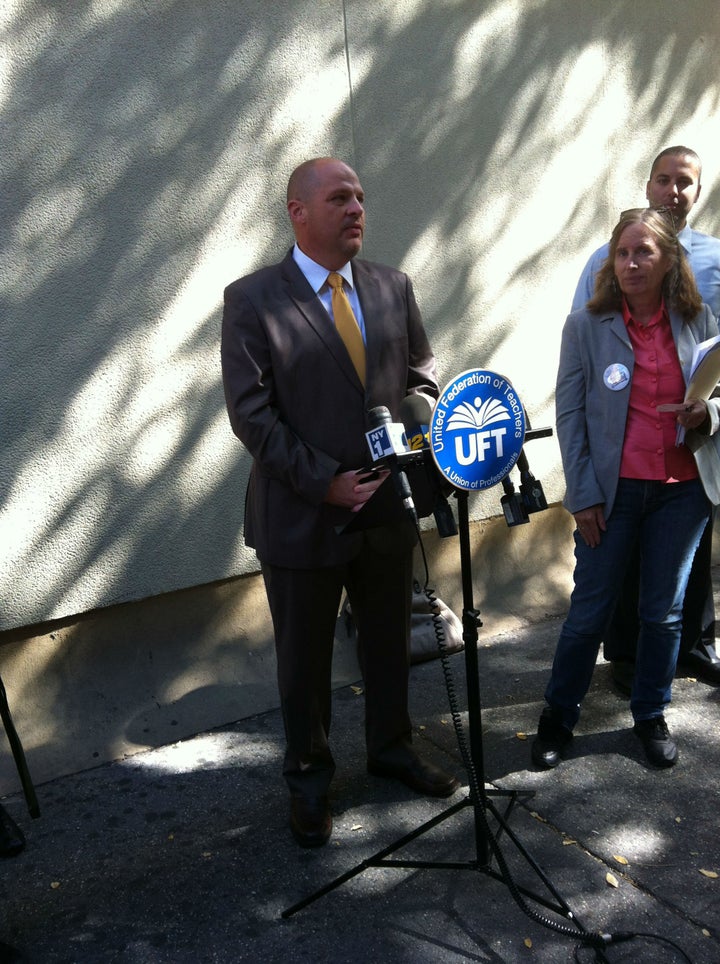 NEW YORK -- Nearly half of New York City's public schools have classrooms that are more crowded than the teachers' union contract allows -- a "very disturbing trend," United Federation of Teachers President Michael Mulgrew said on Tuesday.
Mulgrew, speaking outside of the New York City Museum School in Chelsea, blamed the city Department of Education and Mayor Michael Bloomberg's administration for failing to make lowering class sizes a priority, despite what he said was evidence that smaller classes aid students. A teachers' union survey found that a record 670 schools had what their labor contract calls oversize classes, up from 660 last year. The union also found the number of overcrowded special education classes more than doubled over the past year to 270 from 118, based on school registers.
"They came out yesterday and spoke about educational research backing up one of their new initiatives -- about early childhood education, yet at the same time they choose to completely ignore all the educational research on class size," Mulgrew said. "It's absurd, and it needs to stop."
Mulgrew's criticism came as Republican presidential candidate Mitt Romney was across town at NBC's Education Nation Summit, saying class size is a factor in improving education, "but not a big one."
"We know the answer as to what it takes to fix our schools, is to invest in great teachers. Teachers are the answer," Romney said, reiterating his dismissal of class size as important to educational outcomes. Romney has mocked President Barack Obama for trying to keep more teachers in the classroom.
The UFT contract establishes limits for class size as follows:
Pre-kindergarten: 18 students with a teacher and a paraprofessional.
Kindergarten: 25 students.
Grades 1-6: 32 students.
Junior high school/middle school: 33 students in non-Title I schools; 30 in Title I schools.
High school: 34 students; 50 in physical education/gym.
Nationally, the ratio of students to teachers increased 4.6 percent in 2010 from 2008, according to the U.S. Department of Education. Now, the ratio is almost what it was in 2000, with 16 students per teacher.
The size of special education classes in general education are dictated by each student's Individual Education Program. Most IEPs require class sizes of no more than 12 students.

With regard to what Mulgrew said were class-size violations of the UFT contract, he said, "If they continue to violate it, we can take further legal action. What we need to do and what we're doing right now every year is using up a lot of our own resources -- the union's resources -- to fight on these issues about the oversized classes, because it is not a priority of this administration."
The union contract doesn't address the size of special education classes. Mulgrew said the union would report IEP violations to state regulators.
"If we start changing IEPs based on a budget and mandates from the Department of Edu., then we're going to hurt a lot of children," Mulgrew said. "It's one of the reasons we've been very diligent in pushing and making sure that the parents are getting the right information on special education."
The total number of oversized classes decreased this year to 6,220 from 6,978 last year, according to the union survey.
The Department of Education took issue with the union's survey because of its reliance on school registers, "which are incomplete as they do not account for changes that reduce overall headcount," spokeswoman Erin Hughes said in an email. The union findings "never end up being accurate" as the department's class size report shows each November, Hughes said.
"If Mr. Mulgrew does in fact share this concern, he should accept our many proposals to stop paying those in the absent teacher reserve pool who are draining resources that could otherwise be used to put permanent, effective teachers in the classroom," Hughes said.
Haimson said the Department of Education's 14 percent cuts to school budgets since 2007 and a resulting 8 percent reduction in the number of classroom teachers are pushing class sizes higher.
At Tuesday's press conference, Museum School teachers Amanda Fletcher and Marie-Claire Chaudoir spoke to the effect increased class sizes has had on their teaching.
Fletcher, a Spanish teacher, said teaching quality has declined since last year, when Museum School teachers had smaller class sizes.
"I know that when I come in in the morning, my goal is to give every student the kind of education that I want to give them — and to reach them personally and intellectually," Fletcher said. "However, when there are more then 34 students in some of my classes, that becomes nearly impossible."
Chaudoir, who also teaches in the foreign language department, said, "It's imperative that we have extra time to be able to spend with our students and give our students the individual attention that they need in order to really progress in our subject -- and I assume that the same is true for subjects across the board."
Related
Before You Go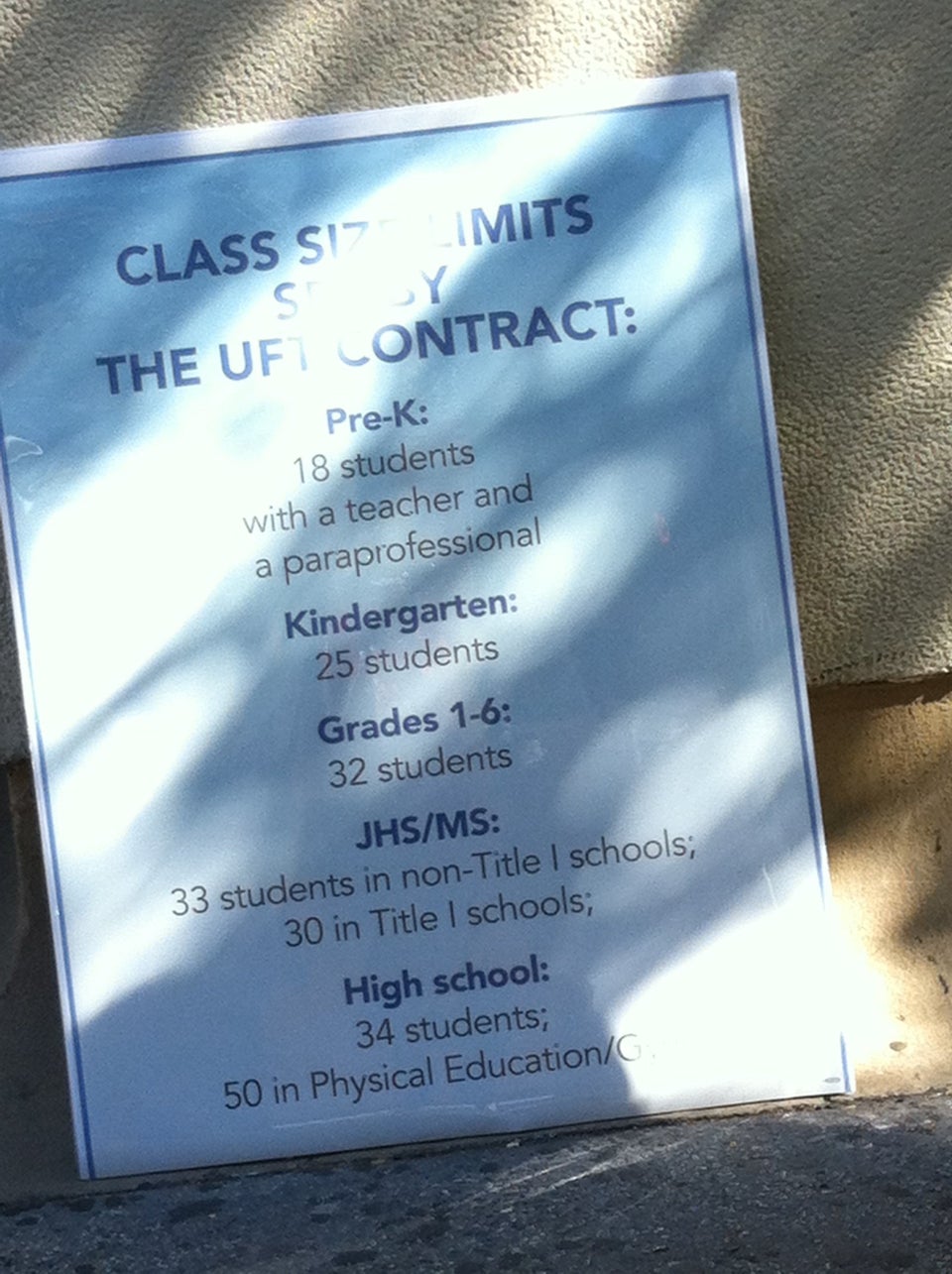 UFT Class Size Survey Results Announcement
Popular in the Community