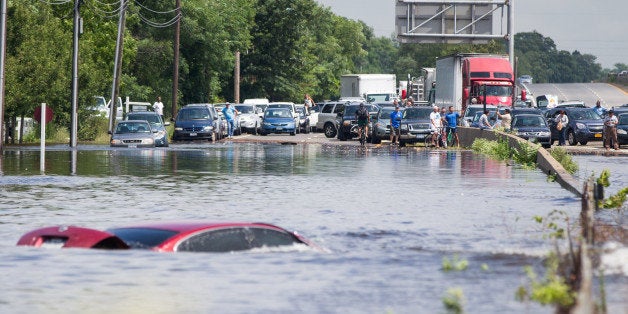 Late last month, a stalled weather front dumped more than 13.5 inches of rain in a few hours on Long Island, flooding over 1,000 homes and businesses, opening massive sinkholes, and forcing hundreds to evacuate. That's almost as much rain as Long Island typically gets in an entire summer.
In addition to the cleanup costs -- which could exceed $30 million -- what is disturbing is not the storm's historic nature. It's the fact that this kind of extreme weather is becoming all too common across our state.
Today, I released a report, prepared by my office, analyzing historical weather data. It revealed a disturbing increase in the intensity and frequency of storms across New York. The number of storms that produce the heaviest amounts of rainfall in 24 hours rose so dramatically between 1978 and 2007 that so-called 100-year storms are now happening, on average, every 60 years.
The report also finds that, based on the United States National Climate Assessment, if greenhouse gas emissions follow current trends, the frequency of extreme rainstorms that typically produces 4 to 6.5 inches of rain a day in New York is projected to increase 300 to 400 percent by century's end.
The bottom line is clear: Climate change is a reality, and it is having a real impact on New York communities today.
Long Islanders know this all too well. While no single weather event can be explained by climate change, anyone who has lived here for an extended period knows how our climate is changing and how it affects critical industries like fishing and tourism.
But you don't have to live near the coast to feel the effect. The research shows that massive storms are causing devastating floods that take an enormous toll on communities in every part of our State.
In 2011, Hurricane Irene dropped over 11 inches of rain in 24 hours on the Hudson Valley, eastern Adirondacks, Catskills and Champlain Valley, causing catastrophic flooding. Over 1 million people lost power, more than 33,000 had to evacuate, and 10 were killed. Damage estimates totaled $1.3 billion.
One week later, Tropical Storm Lee dumped up to a foot of rain on the Southern Tier, then moved north into areas already reeling from Irene's devastation.
In 2009, severe thunderstorms dropped nearly 6 inches of rain in less than two hours in Cattaraugus, Chautauqua, and Erie counties, causing extensive flash flooding. Cattaraugus Creek rose from 6 to nearly 13 feet in less than hour, damaging over 400 structures and leaving many families homeless.
Unfortunately, despite the urgency of the situation, gridlock in Washington has forced our state governments to step up when it comes to reducing the emission of greenhouse gases and making our infrastructure more resilient by planning for increased rainfall and flooding in construction projects and building codes.
That is why my office's Environmental Protection Bureau has worked aggressively and creatively to reduce greenhouse gases, harden our critical infrastructure, and ensure clean air and water for every community in New York.
We successfully defended the Regional Greenhouse Gas Initiative, a multi-state agreement that puts a price on carbon pollution to reduce emissions.
We sued the Environmental Protection Agency for violating the Clean Air Act by refusing to effectively limit air pollution from wood heaters and led a coalition of seven states in filing a notice of intent to sue the EPA for failing to address methane emissions from the oil and gas industry.
And we proposed legislation to require electric and gas utilities to incorporate storm hardening into their planning.
The pattern and impacts of more frequent and more extreme rainfall are undeniable. To overcome the challenges of climate change, we must act now to ensure a safer and more sustainable New York for the present and the future.