Comic conventions these days can sometimes feel weighed down by big corporate conglomerates. What began 50 years ago as hundreds of fans trading comic books in a hotel suite are now high-profile events with massive displays and presentations in every category of popular entertainment. So it was refreshing at this year's New York Comic-Con to see so much of the creative energy coming from the fans. Wildly imaginative costumes used established monsters, superheroes and sci-fi characters as a starting point to create very individual looks. And the panel and exhibition offerings that attracted the greatest enthusiasm understood that the line between creators and consumers of content is dissolving.
At the panel presentation for the "open-world" video game Disney Infinity 2.0, the game creators told the fans that, based on feedback from players, the new version will provide even more choices for selecting characters and creating environments. With "story" and "free play" modes, players can tell their own stories with their favorite characters from many different Disney franchises.
Characters from Pixar, Marvel, and Disney can interact in the environments where they first appeared or something completely new. The people who write films may think that Captain Jack Sparrow and Iron Man and Wall-E live in different worlds, but if consumers want them to have adventures together in a new place that looks like a cross between Thor's Asgard and Merida's Scotland but upside down and polka dotted, why not?
The programmers revealed a new setting sure to please the attendees; a New York Comic-Con experience, with the Disney Infinity characters racing through the same spaces at New York's Javits Center as the audience viewing the presentation. The game designers understand the Comic-Con experience well enough to give the game characters challenges that are very familiar: trivia questions, costumes, getting separated from your group, and staying out of the reach of security guards.
Perhaps the ultimate proof of the disappearing line between users and producers of content was the inclusion on the panel of Patrick Efird, his first-ever time in New York. Like the rock band Journey replacing its lead singer with someone from a tribute band they found on YouTube, Disney brought in math teacher Efird, who had been assigning math problems, like how many buildings Hulk destroyed, to help create Infinity 2.0. By next year's Comic-Con, someone in this year's audience could be up on the panel talking about Infinity 3.0.
And at some future Oscar ceremony, a filmmaker could be thanking a company called Padcaster, which provides low-cost adaptors and resources that turn iPads into professional-level movie and webcast production equipment. Aspiring filmmakers can use their iPads to create movies with the same quality of editing, sound, zooms, slow-motion, color correction, and even special effects previously only available from studio equipment costing thousands of dollars.
The most rapid changes may come from 3D printers, which were among the most popular stops in the Exhibition Hall. A regular photo can be turned into a personalized bobblehead. Why buy just another superhero action figure when it only takes five minutes and a full-body 3D scan and you can get your own personalized mini-me replica from Forge Studio?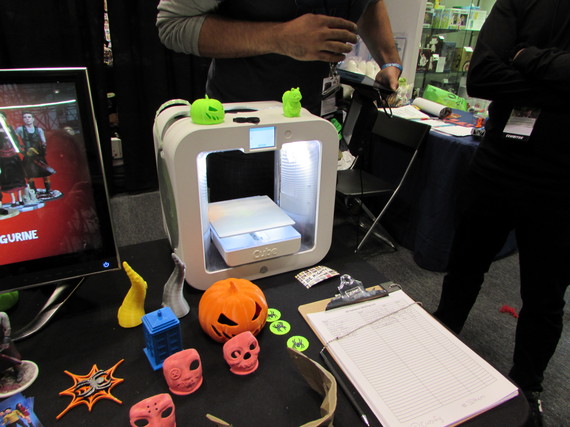 But the ultimate DIY was the Cube, a 3D printer for the home from 3D Systems and Cubify. 3D Systems' spokesperson, Keith Ozar, told me that they think of it as doing for 3D what Photoshop does for 2D. They have templates to allow people to create their own figures from Walking Dead, Ghostbusters, Boxtrolls, and Star Trek -- and some can be adapted to let the users put their own faces on the characters. Users can also upload their own designs, to make them available to everyone. 3D printers are giving the users the ability to create or adapt whatever they imagine, from shoes and jewelry to Halloween decorations, toys or a ukulele -- and, of course, props for your Comic-Con costume in 2015.
Popular in the Community